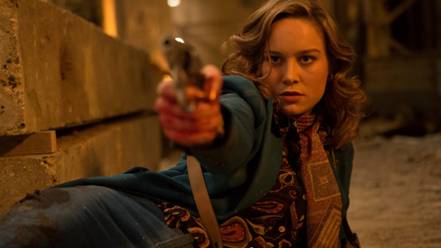 In the words of Sir Winston Churchill, Ben Wheatley and Amy Jump's Free Fire is most aptly described as the film that follows the "end of the beginning." In a medium filled with the subjective opinions of filmmakers, critics and audiences, there is no arbitrary number of films a filmmaker must have to their name in order to be considered "accomplished". Perhaps as Jeffrey Goines (Brad Pitt) says in Twelve Monkeys: "There's no right, there's no wrong, there's only popular opinion."
Regardless of the question of how critics and audience validate this status - with critics asserting "accomplishment" and audiences asserting the "bankability" or "financial viability" of a filmmaker - it must inevitably be a progressive journey from promise to fulfilment.

From his debut feature Down Terrace in 2009 to 2015's High-Rise, consistent critical acclaim has identified Wheatley as an important cog in the contemporary British filmmaking machine. And inevitably there comes a point at which we ask whether the filmmaker has transitioned from "promise" to "accomplishment". If you consider High-Rise perhaps representing Wheatley and Jump's progression to fulfilment, Free Fire follows the "end of the beginning".
Together, High-Rise and Free Fire represent an exploration of claustrophobia within the storytellers' body of work. From High-Rise's apartment building to the warehouse that is the stage for the violently explosive dramatics of a gun deal gone awry in this film, each is oppressive. And the provocation for drama in the high-rise building is not far removed from the provocation at the heart of Free Fire, as characters ricochet off one another, sometimes one-on-one, and other times in colluding factions. The claustrophobic space plays directly into Wheatley and Jump's desire to create two narratives with a simmering and uncomfortable tension. In each film, the space becomes a collaborator in the wider concerns of the plot – the accidental hero.
Meanwhile on a thematic level, High-Rise taps into the philosophy of desire and, specifically, Arthur Schopenhauer's philosophy of the burden of desire, which is integral to forming any understanding of Tom Hiddleston's central character. Free Fire adds a further connecting thread between the two films, looking at the philosophical nature of the two forces of action that shape our future - man versus fate. While there are parallels between the two films, Free Fire is more mature than High-Rise, which struggled under the weight of its intellectual socio-political inclinations.
The overly simple argument would be to assert that this is because Free Fire is built on a simple premise, which begins with Justin (Brie Larson) accompanying two Irish men Chris (Cillian Murphy) and Frank (Michael Smiley) to an illegal gun deal at an abandoned warehouse. There they meet Justine's contact Ord (Armie Hammer), who proceeds to introduce them to the sellers, Vernon (Sharlto Copley) and Martin (Babou Ceesay). As the group grows, the gun deal quickly goes south, leading to a prolonged shootout in which verbal banter flies around the warehouse as quickly as the bullets. From there it is a matter of who will survive and who can be trusted.
Yet within this simple premise, the character interplay is one that must be finely judged, both with the orchestrated movements of verbal tension and violent interaction, for which a balance must be struck.
The script could be likened to an orchestral score. There is the verbal banter between the characters, each of whom carries their own unique instrumental sound that is then conducted with a visual and editorial flourish by Wheatley. The director resembles a sniper who remains unseen, but whose presence can nonetheless be felt. Every beat of the film's 90 minutes is designed to thrill or evoke laughter. From the over-the-top, even slapstick Copley, to the cool and confident Hammer and Murphy, Free Fire's characters roam to archetypal extremes. Regardless of their distinctions, each is written and performed with one intention - to create a cinematic reverie.
Mention should also be made of the pitch perfect performances from Copley, Larson and Hammer, as well as Sam Riley as Stevo and Jack Reynor as Harry, whose personal feud is the spark that ignites the tension. Together with Murphy and Smiley, the cast carefully nurture the rhythms of comedy, action and drama.
Free Fire is an example of the writer and filmmaker succeeding in an exercise in filmic language, offsetting more adventurous films such as A Field In England and High-Rise that allow for reinvention. In this the first step after the "end of the beginning", Wheatley and Jump show their ability to speak a common language within an archetypal and simple premise, while having previously demonstrated a propensity for greater personal expression. And if there is a moment where the film feels too drawn out, it only serves to play into the unfolding claustrophobic entrapment that spurs the film on towards its conclusion.
Reviewed on: 17 Oct 2016
Share this with others on...