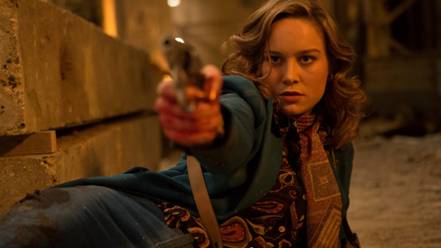 The DVD and blu-ray release of Free Fire comes with a decently loaded set of extras. Chief among them is the audio commentary track with director Ben Wheatley and stars Cillian Murphy (Chris) and Jack Reynor (Harry). The trio have a strong level of banter that results in a good mix of anecdote - shooting guns is apparently "like holding a firework" and factual information about the shoot, such as Wheatley explaining the importance of cut-away shots.
The whole thing emphasises the physicality of the shooting process and the generally laddish nature of the production. In addition to the revelation that the lads took great pleasure in drawing cocks on various parts of the set, in the dying seconds of the commentary, one of them - it would be a shame to tell you who - announces, "I've let one off".

The Making of featurette, is decently put together. Although there is the usual hyperbole - things are "very" and "completely unique". - there is also a fair smattering of technical details, such as storyboards and floor plans. Away from the soundbites, the cast also offer some interesting observations, such as Sam Riley, who says of Wheatley: "Even if you've got gravel in your underpants at the end of the day, he's a very rewarding director."
Two interviews are also included, one with Wheatley, who talks about the origins and logistics of the shoot, with details on how they shoot a van running over the head of one of the actors a highlight. The second is with Murphy and Michael Smiley (Frank), offering observations on their characters and Wheatley's shooting methods.
The feature, though sadly not the extras or commentary, are subtitled and there is an audio descriptive track.
Reviewed on: 04 Aug 2017
Share this with others on...