Eye For Film >> Movies >> For Whom The Bell Tolls (1943) Film Review
For Whom The Bell Tolls
Reviewed by: Themroc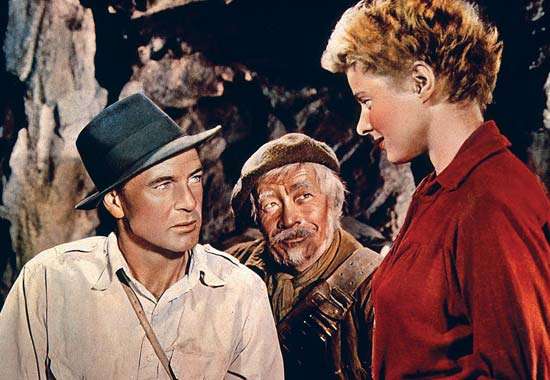 Adapting esteemed works of fiction for the screen can be a tricky business, not least because the reverence with which the source material is regarded more often than not leads to a failure of creative nerve. Perhaps the reason why the most interesting literary adaptations are frequently those made by arrogant mavericks is because their irreverence and self-confidence allows them the freedom to bend the source material to the demands of their own medium. The least interesting adaptations, on the other hand, are those made by writers and directors so in awe of their source that they take the notion of fidelity into the realm of worthy, turgid literalism. It's the difference between creative re-interpretation and slavish transcription.
Paramount must have thought that they had an open goal when they acquired the rights to Ernest Hemmingway's 1940 bestseller For Whom the Bell Tolls. It's an epic tale of love, derring-do and sacrifice in the Spanish Civil War, laced with tragic fatalism and written by one of America's most famous and respected (if controversial) men of letters. On paper at least, the prospective film ticked a lot of the boxes required to qualify as a beloved American classic.
Once Gary Cooper (who had already starred as the author's alter-ego in Frank Borzage's 1932 adaptation of A Farewell To Arms) and Ingrid Bergman were cast, it must have seemed like all anyone had to do was make everything look pretty and the awards would pile up. In the event, the film was nominated for nine Oscars and won one (Best Supporting Actress, Katina Paxinou) but the fact that not one of those nominations was for either direction of screenplay gives some indication of what's wrong with the film.
There are three interdependent storylines – American mercenary Robert Jordan's (Cooper) mission to destroy a strategically important bridge; his flowering love affair with brutalised young refugee Maria (Bergman); and the tensions within the band of rebels with whom he collaborates. The problem is that neither the script nor the direction seems sure about how to juggle these three competing narratives in a way that makes for gripping or involving drama. David Nichols' script feels less like a structured or thoughtful dramatisation than the product of a process in which passages from the novel were simply underlined in red and then stitched together in order, regardless of dramatic effectiveness. The resulting narrative arc is clumsy and disjointed due to inconsistent pacing, the tone varies uncertainly between grit and a kind of solemn sentimentality, and most of the scenes drag on so long and artlessly that the drama runs out of them.
None of this is helped by Sam Wood's barely competent direction. Wood had previously worked successfully with the Marx Brothers, but seems incapable of building tension and empathy effectively in the context of what is meant to be a romantic thriller. Scenes don't feel as if they've been badly directed - they don't feel as if they've been directed at all. More often than not the action is simply staged and then recorded in an arbitrary wide shot, irrespective of what is being said or why. Cooper is okay, but deprived of the inner voice through which the novel's narrative primarily unfolds, the film's protagonist is frequently reduced to the status of stony bystander. In addition to which, since his scenes with Ingrid Bergman are for the most part unconvincing and rather dull, neither actor is able to carry the remains of the picture in spite of their respective talents. As a result, many of the awkwardly staged sequences around the camp are stolen by Akim Tamiroff's unstable alcoholic Pablo and Paxinou's Oscar-winning turn as the rebels' de facto leader Pilar.
The Technicolor photography does look nice, though, and in the longeurs the syrupy strings of Victor Young's omnipresent score are cranked up to paper over the cracks, which I suppose might be vaguely pleasant if you like that kind of thing (I do not). But in the final analysis, the film is basically just a polished turd – as pretty and anonymous as it is boring and banal – which exhaustingly replicates the novel's sequence of events whilst completely failing to capture the passion and muscularity of Hemmingway's prose. Now, if 25 years later, someone had asked Sam Peckinpah to adapt it…
Reviewed on: 04 Jun 2008
Share this with others on...