Eye For Film >> Movies >> Freedom Fighters (1996) Film Review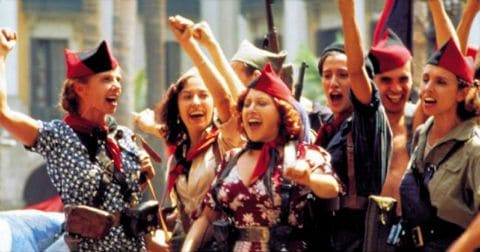 Originally associated with the avant-garde tendencies of the Barcelona School in the 1960s, in the later stages of his career (he is still working) Vicente Aranda has repeatedly returned to the themes of sexuality (fleshy depictions of carnal desire abound) and the past. Putting its Spanish Civil War setting aside, Freedom Fighters (Libertarias) feels anomalous within his later filmography because in the place of his habitual tales of twisted sexual jealousy instead we find a celebration of female friendship and solidarity as a group of radical left-wing women fight for freedom on political and personal levels.
The initial plot - a young nun, María (Ariadna Gil), flees her convent as the Civil War begins and unwittingly seeks refuge in a brothel - sets up certain expectations given Aranda's reputation, and indeed the brothel's madam obliges by immediately stripping María and serving her up to the next john through the door (a Monsignor, no less - you'd think that, as Republicans were hunting clergymen around the city, he might have had more pressing matters to attend to - Aranda's crassness is comic at times). But luckily the real story begins with the arrival of three female revolutionaries intent on liberating the prostitutes from sexual servitude and inspiring them to join the revolution.

What is refreshing about the depiction of women in the film is that they exhibit friendship and genuine solidarity with each other above all else, and Aranda prioritises those relationships within the narrative. Turning in María could have been a coup for these women set on proving themselves in a male-dominated arena - a couple of the prostitutes deliberately draw attention to the nun in their midst in order to deflect attention from themselves - but their ostensive leader, Pilar (Ana Bélen - in earnest Head Girl mode), takes one look at the traumatised María and declares her to have been a former prisoner of the clergy, newly liberated.
María is taken under Pilar's wing and inducted into her group of educated and politically committed, anarchist female friends - the stand out performance among whom is Victoria Abril as the radiant and radical Floren - more than Pedro Almodóvar, Aranda is the director who has stretched Abril as an actor and she has given some electric performances across the twelve films she has made with him to date. They then take the young woman with them to the frontline. Belonging to the anarchist group Mujeres Libres (Free Women), Pilar and friends are fighting for a political cause they passionately believe in but also for their own revolution - to be considered autonomous adults and given the same rights as men.
The women prove their bravery on the battlefield but Pilar argues that women are not equals of men, but rather equivalents who should be as valued for their female difference as for their determination and grit. They earn the respect of the men in their unit (played by José Sancho, Jorge Sanz, Antonio Dechent, and Joan Crosas) who will later demonstrate their solidarity in a display of insubordinate defiance against an order for women to be sent away from the frontline (due to the spread of venereal disease, which is obviously entirely the fault of women).
The film has its flaws, chief among which is María. 'Innocents' in Aranda's films are typically underdeveloped - or just less interesting - in comparison to characters with darker motivations. María does not change in response to events - she switches from quoting the Gospel of Matthew to reciting Peter Kropotkin verbatim without showing any sign of questioning or defining her own beliefs - and she remains a tremulous innocent who is unavoidably bland when set alongside the vibrant array of other women in the film. But the main strength of the film - an apparent labour of love for Aranda - is that it offers a sadly rare onscreen depiction of genuine sisterhood and camaraderie between complex and passionate women.
Reviewed on: 04 Oct 2014
Share this with others on...