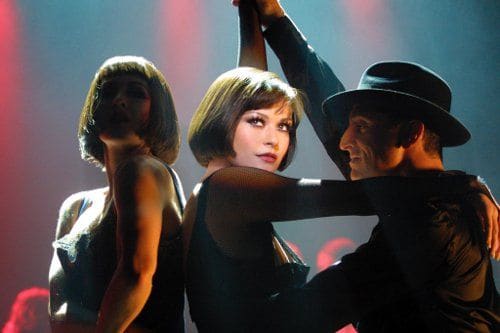 It's been so long that during the opening number at the Onyx Club, as the surviving member of The Kelly Sisters belts out All That Jazz in an atmosphere of smoke and seduction, your heart flips. Why, you ask yourself, did Hollywood give up on musicals?
Chicago is not Singin' In The Rain, nor Seven Brides For Seven Brothers. It is cynical, satirical, sensational. There are witsy one-liners ("Screwing around is foolin' around without dinner") and machine gun lyrics ("O yes, they both, they both, they both reached for the gun, the gun, the gun") crackling like an electric storm. There are dance routines that melt your undies and humour blacker than the piano player's cheeks.

Roxie Hart (Renee Zellweger) is a bottled blonde, married to a mechanic (John C Reilly) and having a bit on the side with a travelling salesman (Dominic West), who promises he'll make her a star. When she discovers he's as phoney as baloney, she fills him full of lead. By this time, Velma Kelly (Catherine Zeta-Jones) has plugged her little sister for taking her fella to bed. Chicago, 1929, is a city that doesn't hold its passion as well as its liquor.
"In this town, murder is a form of entertainment," says Billy Flynn (Richard Gere). He knows that justice is show business and "it's all a circus, kid." He's the hottest lawyer in a city awash with crime, who specialises in dangerous dames on capital charges. "I never lost a case," he boasts. For $1000 down, he'll create a fiction around the facts, turn a villainess into a nun, razzle dazzle 'em with particular panache. For him, the courthouse is a theatre.
On the one hand, you have the ingenue who learns that fame is a game and the razor-tongued hoofer who bends the rules with a shimmy of fishnet, and on the other there is the legal eagle, casting spells over juries and using the press as a front line weapon against the truth, while in prison the corrupt Matron Missy Morton (Queen Latifah) wheels and deals for the prettiest jailbirds with humongous charm.
The Broadway musical was created in 1975 by John Kander and Fred Ebb from a popular play by journalist Maurine Watkins in the Twenties. When the legendary Bob Fosse was brought in as choreographer, something extraordinary occurred. The enduring success of Chicago's revival over the last few years reinforces this.
With such great songs and show stopping routines, how could the film fail? Very easily. Whatever the world according to Liza With A Zee thinks, Cabaret on screen was a glossy fake compared to the stage version and Francis Ford Coppola's Harlem extravaganza, The Cotton Club, through which Gere sleep walked, became an expensive, embarrassing flop.
Screenwriter Bill Condon and director Rob Marshall have retained the spirit of the original. Fosse's influence is everywhere and the only irritation is Marshall's tendency to cut away from dance numbers in order to follow the story in real time.
The performances are flawless, with Zeta-Jones dominating the floor and Zellweger taking Roxy from wide-eyed innocence to calculated celebrity, without the hint of a false note. Gere greases the old tap shoes and loosens his tie. Flynn is a gift of a role, gratefully received.
Chicago sure got rhythm. Watching these girls deliver, especially during the finale, is probably a mortal sin.
Reviewed on: 15 Jan 2003
Share this with others on...