Eye For Film >> Movies >> The Phantom Of The Opera (2004) Film Review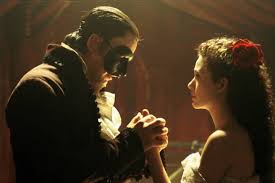 Based on the 18-year-old stage musical, The Phantom Of The Opera is a considerably flawed, yet visually superb, tale of beauty, beast and love.
The Phantom (Gerard Butler, I'm afraid) haunts the Paris Opera House that has recently come under new ownership. He falls deeply in love with Christine (a spunky Emmy Rossum) at the same time that young buck Raoul (Patrick Wilson) is similarly smitten.
Joel Schumacher's visualisation of the epic theatre production is magical to behold. Sweeping camera shots combine with the booming brilliance of the new, improved (despite what some critics have said) soundtrack to create a delightful display of grandiose filmmaking.
What he does well with cinematography, he almost undermines with casting. Butler, star of Tomb Raider 2, plays the Phantom without sympathy, losing a major part of the emotion that was captured on stage. His untrained voice is torn between being gravely and operatic, the second of which he cannot handle. Schumacher has misjudged the ageing of the Phantom also, as Butler is noticeably younger than the faultless Miranda Richardson, who plays his closest human contact - as a girl, we see her help the freak show child escape from a circus.
Rossum is engaging, although remorsefully objectified throughout. Richardson and Minnie Driver, as a temperamental diva, are not given enough to do and, despite praise from other reviewers, Jennifer Ellison is both irritating and boring as Christine's best friend.
The script utilises the lyrics well and production design, costumes and sound are of the highest quality. The beauty of the snowy rooftop scene, in which the Phantom eavesdrops on the young lovers, is very moving, leading to an emotionally engaging climax.
Schumacher wants to make the Phantom an out-and-out villain, which, whilst a complete misjudgement, is opposed by the first 90 minutes of the film, which are spent learning about his tough upbringing - or lack thereof. Another mistake is the ambiguity of the relationship between Christine and the masked maniac. The lyrics suggest that she sees him as a father figure, yet during their first meeting her eyes roll into the back of her head in orgasmic delight when he touches her. From this point, it's a battle trying to determine whether she loves him as a father, or a lover.
Plot holes and cardboard cut out Phantoms aside, the film has the beauty and visual flare of Moulin Rouge!, supported by a thunderous score, which lifted my spirits to the roof of the Opera House/cinema. It is overlong and at times irritating, but nonetheless impossible to turn away from, a flawed work of art that's quality is reliant on the power of the music (of the night).
Reviewed on: 17 Dec 2004
Share this with others on...