Eye For Film >> Movies >> Moulin Rouge! (2001) Film Review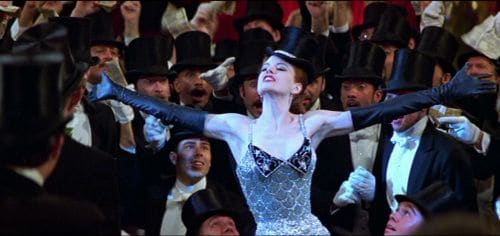 Forget everything you ever knew about Montmartre in 1900. Forget John Huston's movie, with Jose Ferrer on his knees. Forget the can-can, forget yourself. Prepare to be transported into Baz Luhrmann's underworld, where the most famous courtesan in Paris, Satine (Nicole Kidman) is "the sparkling diamond of the Moulin Rouge" and a penniless writer, called Christian (Ewan McGregor), falls in love with her.
Any pretence at realism dies long before Satine sings Diamonds Are A Girl's Best Friend and, in dying, opens your eyes to a visual feast of colour and movement, the songs of Elton John and Madonna and the exuberance and imagination of Hollywood musicals of the Forties.

With its credo - "the greatest thing you'll ever learn is to love and be loved in return" - and tragic outcome, it is closer to opera, intensely emotional and yet gay in the wildest, most old-fashioned meaning of the word. The Moulin Rouge is a showplace, a nightclub, a dream palace, where the ruling classes come together with the lower orders in a seductive mix of sensual exhibitionism, presided over by the larger-than-life figure of Harold Zidler (Jim Broadbent).
Despite a chorus of fools - Toulouse-Lautrec (John Leguizamo) and what T-Rex called "The Children Of The Revolution" - it would be a mistake to dismiss the film as grandiose pantomime. The musical score rides roughshod over historical fact, with scintillating effect. The introductory number has the hip-hop beat of Missy Elliott at its core and, for a brief moment, winking contemptuously at Tinkerbell, Kylie Monogue shakes a tail feather, like a miniaturised Busby Berkeley renegade.
The story of The Duke (Richard Roxburgh), whose infatuation with Satine is capitalised on by Zidler in his search for funding, has a dark and dangerous side to it. She knows what she has to do and she knows the price. Failure would throw her back on the street, from whence she came. "I am paid to make people believe what they want to believe," she tells an idealistic Christian, who cannot bear the thought of her with any other man, especially a depraved aristocrat.
Luhrmann exploits Kidman's grace and beauty. Hardly the waif, she personifies glamour and yet retains her sense of humour. McGregor plays the innocent in a lunatic asylum, with exactly the right degree of naivety and passion.
Being a musical, the language of love is the language of lyrics - "I follow the light, can't stand the night" - choreographed by John O'Connell, with such verve and sensitivity the heart leaps like a salmon. Although unapologetically artificial and outrageously inventive, Moulin Rouge resurrects a moment in the history of cabaret when spectacle ravished the senses in an atmosphere of bohemian abandon.
Reviewed on: 05 Sep 2001
Share this with others on...