Eye For Film >> Movies >> Brussels Loops (1957) Film Review
Brussels Loops
Reviewed by: Chris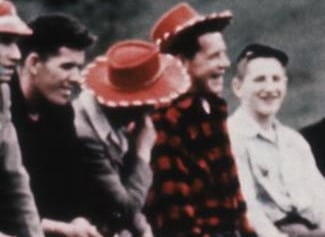 Made two years before her Academy Award nominated Skyscraper, Brussels Loops is an enigmatic series of loosely connected images. Like her Bridges-Go-Round a year later, it is Clarke at her most experimental, making a 'dance' without the use of dancers.
In Bridges-Go-Round, it would be a dance of static structures of New York bridges, whereas here she collects anything that seems to interest her. People on the street, manual workers, demolition an construction, trains, a fairground, outdoor scenes from mountains to deserts, observations of buildings or people using petrol pumps. In one sense it is interesting to see these early 'snippets' that would be developed in later work. Neon signs and wet streets, for instance, are used to great effect in The Cool World. While the images of construction are greatly expanded in Skyscraper.
It seems at first mysterious why the collection is called Brussels Loops. A loop is, after all, a short film where the ends are spliced together so as to run for a potentially infinite amount of time. Yet this film runs for 22 minutes. And nowhere does there seem to be any shot of the European capital.
The answer is that this short work is a composite, made by joining together a series of loops that Clarke made for the 1959 Brussels World Fair at the Hunter Art Museum in Chattanooga, Tennessee. The shots, which are charismatic without any obvious explanation (other than a good eye behind a camera) brought her considerable recognition.
Reviewed on: 03 Jul 2008
Share this with others on...