Eye For Film >> Movies >> Blood And Black Lace (1964) Film Review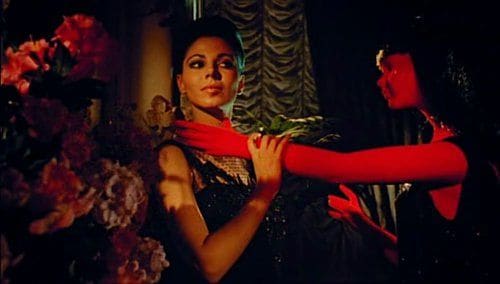 Whilst there are quite a number of Bava films that can fairly be described as essential for those interested in the history of cinema, few have had the impact of Blood And Black Lace. Having launched the giallo genre with The Girl Who Knew Too Much and gone on to thrill international audiences with Black Sabbath, the great director refused to repeat himself with this story of a serial killer on the loose. By eschewing dry detective drama for an artistic take on murder itself, he gave birth to the slasher film that would dominate US horror cinema in the Eighties. Just as Herschel Gordon Lewis was beginning to experiment with sex and gore in the 'States, the Italian delivered something similarly themed but infinitely more elegant, with brutal murders that were not only alluring but also undeniably beautiful.
The action in the film centres around a fashion house where everybody has secrets. Although this is mere background material, Bava uses it to make sly digs at the hypocrisy in Italian society. it's an environment ripe for blackmail, and after one of the models is strangled by a masked killer she meets in the woods, it emerges that she kept a diary which might reveal numerous scandals. Everyone in the company becomes desperate to get their hands on it, but one person is apparently willing to go to any lengths, and a series of murders ensues.
With some pretty awful acting (dubbed into Italian because the original attempt to record in English for a US audience was such a dismal failure), and with a pretty flimsy, predictable plot, the film certainly has its problems, but to focus on these is to miss the point. As with all Bava's work, the real focus here is on the visual. It's one of the most startlingly erotic mass market films of its era, and although there's very little flesh on display by today's standards, this aspect of the imagery has not lost its power. The sheer number of skimpy outfits on display may make it hard to take seriously today but it still manages to be genuinely scary in some sequences, and whilst the high Gothic of Bava's visuals may now be out of fashion, his mastery of shadows can still be nerve-jangling. His vivid use of colour and unidirectional light makes everything look sumptuous but there's no loss of creepiness as a result.
The biggest problem facing this film today is that it has been imitated so many times (including by popular mainstream filmmakers) that many viewers will perceive it as cliché, not appreciating that it got there first. Nevertheless, it has to be acknowledged that few imitations have looked anything like this good. Peter Greenaway has talked about cinema as an opportunity to create moving paintings. For those prepared to overlook the stumbling script which exists merely as a frame, this is a true original, a portrait of murder in oils.
Reviewed on: 21 Feb 2015
Share this with others on...