Eye For Film >> Movies >> Anna Karenina (2012) Film Review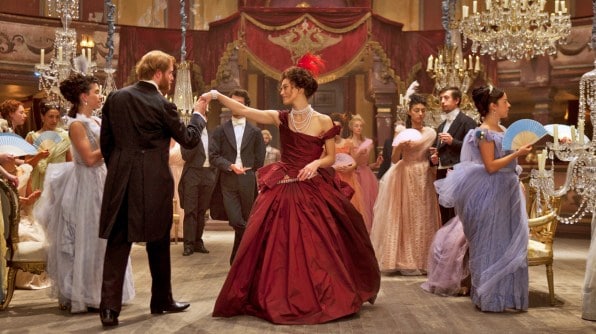 There is no doubting the audaciousness of director Joe Wright or screenwriter Tom Stoppard in this latest adaptation of Tolstoy's book about the multiple facets of love and its sometimes tragic consequences. Taking such a large tome and confining it to a cinema runtime is a big enough ask but they go one step further, employing an 'all the world's a stage' style metaphor by containing the city scenes within the walls of a Russian theatre. Here, action involving Anna and her husband, her infidelity prone brother Oblonsky and his wife Dolly, and much of Anna's love affair with young army officer Count Vronsky sees them move in and out of layers of scenery, through the wings and up in the gods, while subsidiary characters are often found in frozen tableaux, only coming to life when Anna or her circle are present.
It is an idea that has some mileage. Anna (Keira Knightley) and her husband Alexei (Jude Law) are, at least initially, acting out their roles in society - she the dutiful wife and mother, he the buttoned-up official, who plays by the rules and expects those around him to do likewise. There is a sense of characters knowing their place in the class system and the deliberate staginess also accentuates a sense of 'going through the motions'. The clever choreographing also sees the dance scenes, in particular, echo the maelstrom of conflicting feelings experienced by Anna.

The problem with the theatrical conceit, however, lies in Wright's inability - or unwillingness - to consistently maintain it. A pastoral subplot concerning the idealistic Levin (Domhnall Gleeson) and his struggle for the heart of Dolly's younger sister Kitty (Alicia Vikander) are given a much more naturalistic sweep and while you might argue that Wright and Stoppard are hinting at freedoms enjoyed by them that Karenina and her love triangle cannot access, it still feels more like a decision taken to make things easier to shoot than for its metaphorical merits. As with Wright's previous film, Hanna, while there's no doubt that he is striving for symbolism, sometimes it feels as though he sacrifices substance on the altar of showing off.
Much more consistently successful is the spectacular costume design by Jacqueline Durran, which perfectly mirrors Anna's state of mind throughout. From virginal whites, guarded veils and scarlet reds of opulent betrayal through to a key scene in which Anna, emotionally stripped, is also physically walking round in just the skeleton of a dress, dresses up the emotions so they have somewhere to go. The costumes love Knightley and she blossoms in the role, running Anna's fragility close to the surface so that that most subtle of feelings, anguish, is softly, persistently suggested.
The men in her orbit pale in comparison. Law does his best with the limited scripting on offer for Alexei, lending him a tragic air, but Aaron (now Taylor-)Johnson skates on the surface with Vronsky. Although his fast and louche early scenes are convincing, when he is called on to dig into more brooding emotions, he swims over the top when he needs to sink into them. It is Gleeson - in his counterpoint love affair to Anna's - who makes the strongest masculine imprint on the film, giving Levin a sense of longing and emotional heat, although his story has to thrive on scripting neglect. Like its central character, then, this is beautiful and brave even if it fails to fully realise its potential.
Reviewed on: 06 Sep 2012
Share this with others on...