Wright says scenes from The Leopard, left, were an influence on his ballroom scene
Joe Wright's Anna Karenina explores theatrical space, while his spectacular trains venture into uncharted territory with beautiful and troubling women on board. A little Max Ophüls' Lola Montès, a little Aleksandr Sokurov's Russian Ark, puppets, ships as beds, breathtaking Chanel jewels and very modern physicality, choreographed by Sidi Larbi Cherkaoui, merge in Wright's unafraid vision.
When I spoke with the director in New York last week about his formidable approach to Anna Karenina with a luminous Keira Knightley in the title role, he said that for him, "it's about being human. It's a deeply spiritual text." In my interview with Knightley, during which we looked into the symbolism of costume design, she revealed that when she first read Tolstoy's novel as a teenager, she was "getting very bored in the agricultural Levin bits [best friend of Anna's brother, sensitive landowner, and often described as Tolstoy's alter ego]." Previous film versions with Greta Garbo and Vivian Leigh agreed with that reading. Joe Wright and Tom Stoppard, who wrote the script, gave Levin back his prominence, to balance Anna's story: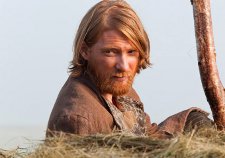 Joe Wright: If you cut him [Levin played by Domhnall Gleeson] then it becomes a terribly bleak story, because Anna is not a heroine. She is cruel and violent and also she is the opposite of hypocritical. I don't know actually what you call the opposite of hypocritical. But she has a belief in love and she has the kind of fire in her belly. I have, like Tolstoy, a highly ambivalent reaction to her. I love her, as Tolstoy fell in love with her. But also, I think in Tolstoy's eyes, she's culpable.
Anne-Katrin Titze: Tom Stoppard undertook the seemingly impossible, by connecting the many strands of Tolstoy's masterpiece into one feature length film.
JW: Tom has been a hero of mine for quite some time and I was only really interested in making Anna Karenina if he were to write it. So I approached him and kind of was terrified on that initial approach. I had never met him before but discovered him to be one of those extraordinary brilliant people, who, when you meet them, instead of their brilliance making you feel small and tiny, he elevates you. And you feel bigger when you're around him. It was as if he were able to humbly ask Tolstoy down from his plinth and they sat across the table from each other and they discussed the novel… After six weeks, he delivered the first draft. Pretty much 85 per cent of the film was in that first draft. It was as close to perfect as any first draft I've ever read. Or any script I've ever read, whatever draft.
AKT: Certain images in your film reminded me of Jean-Francois Millet's paintings, especially the haystacks.
JW: Yes, I see what you mean. That wasn't a direct reference.
AKT: Millet painted them the same year Anna Karenina's first instalment was published in1873. What were some of your painterly influences for the movie?
Joe Wright
Photo: Anne-Katrin Titze
JW:
We looked at a lot of Russian painting, the school of Russian realism. And we looked at some of the amazing photography that was beginning to be developed. I also looked at a lot of theatre work of the post-revolutionary period. In particular, at Meyerhold. He was a big influence on the decision to set the film in this kind of stylised theatre world. His suggestion that stylisation is about subtraction, rather than decoration, I found fascinating. And that was really what I wanted to explore with that theatre concept.
The resemblance to French works of art of the time, turns out to not be a coincidence, as Joe Wright went on to further explain: Russian Culture at that time wasn't really Russian. Russian in a very specific way by trying to be something other than Russian. They wanted to be French. They all spoke French. They read etiquette books on how to behave like French people. They dressed in Paris fashions. The choice to shoot in the theatre was about this idea that they were living their lives essentially upon a stage. What I found interesting was the kind of identity crisis their society was going through. And Anna seems to be going through an identity crisis. The role she has adopted no longer suits her. She has that violent passion that needs to break out.
AKT: Can you talk about the beautiful central ballroom sequence? A dance that changes everything, highpoint and beginning of the descent simultaneously. I was reminded of what Vincente Minnelli does with the ball in Madame Bovary, with Jennifer Jones and Louis Jourdan. Dance as destabilising enjoyment.
JW: I've never seen that one, but the ballroom scene I have been most influenced by was in Visconti's The Leopard. There's an extraordinarily beautiful sequence towards the end of the film, that resolves the end of the Leopard's life. I find it deeply moving and a wonderful metaphor for life in general.
AKT: You bring up Visconti. Some of the coloring is very Death In Venice. Blond men with dark brows.
JW: I like that period of filmmaking. I like the kind of Seventies aesthetic. When was Death in Venice made?
AKT: 1971.
JW: I think the Seventies aesthetic harks back to early silent film and photography. Julia Margaret Cameron and people like that created these amazingly profound visions of humanity in these kind of soft images.
AKT: I noticed that you thank the Scythe Association in the end credits.
JW: England is a funny place with lots of eccentrics in it and we were very lucky to come across the West Country Scything Society, who spend a lot of time scything and are very proud of their scything, and they have scything competitions, and they probably also have cider drinking competitions as well, because they all seem to have very red noses.
Anna Karenina opens this Friday, November 16 in the US.
Share this with others on...