Eye For Film >> Movies >> American Horror Story: Asylum - The Complete Second Season (2012) Film Review
American Horror Story: Asylum - The Complete Second Season
Reviewed by: Martin Gray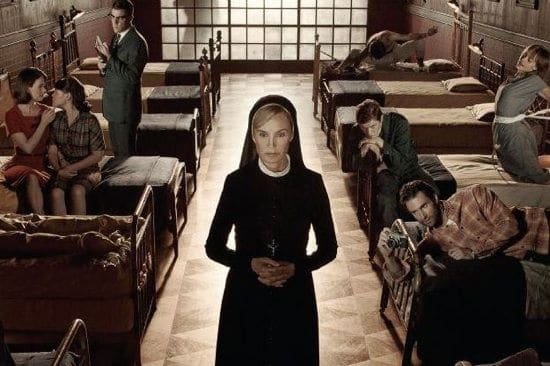 It's 1964 and reporter Lana Winters hopes to make her name with a great story - the success of the bakery at Briarcliff Mental Institution ...
... or not. She's really there to see the arrival of notorious serial killer Bloodyface, who's to be kept at the former TB hospital while being assessed by the courts. The formidable Sister Jude isn't happy when she learns Lana's true motivations, and gets creative with her punishment, impounding the reporter among the patients. Soon she's getting electric shock treatment, with the likelihood of worse to come.
Briarcliff isn't somewhere people are helped with understanding and therapy, it's a place of punishment and pain. So far as Sister Jude Martin is concerned, mental illness arises from Sin, and that's something she can whack out of people. Sister Jude is devoted to Monsignor Timothy Howard, who believes a successfully run institution would put him on the road to the papacy. Also haunting the Victorian corridors are innocent Sister Mary Eunice McKee and forward-thinking Dr Oliver Thredson.
At odds with what he sees as the superstitious ways of the Catholic nun is Dr Arthur Arden, resident doctor and all-round mad scientist. He brushes off Sister Jude's questions about the high number of vanished patients with contempt.
Patients include 'pinhead' Pepper, sex maniac Shelley, Lizzie Borden-alike Grace and Kit Walker, who denies that as Bloodyface he killed his own wife - he says she was abducted by aliens.
Then there are the non-human residents, including the shadowy creatures Dr Arden has Sister Mary Eunice feed nightly and a demon who possesses a farmboy to gain entry into Briarcliff.
And out there somewhere, still stalling and murdering women, the real Bloodyface!
The ingredients are perfect for an over-the-top frightfest, as monsters of the inhuman and human variety fight for control of the hospital, and the residents' souls. American Horror Story: Asylum is a 13-episode rollercoaster ride into the heart of darkness and beyond, with darkly funny scripts, powerhouse acting and pitch-perfect direction. Sure, things get a little silly at times - if you saw the first American Horror Story season, you'll know that everything up to and including the kitchen sink is prone to dripping blood - but the urgent pace means there's never time to question events as you're watching; each 43-minute episode flies by in a tornado of creepy characters and inventive incident.
While there's no narrative connection to the suburban spookiness of the first season, Asylum does bring back many of the actors, like some TV rep company. Chief among them is Jessica Lange, who once again steals the show, as the, shall we say, complex Sister Jude, who runs the gamut from villain to victim. Lange skirts the grand guignol edges of her hooker turned nun, and despite the madness around her, somehow keeps things real. James Cromwell picked up an Emmy as the chilling Arden, who fantasises about sex with Sister Mary Eunice (the luminous Lily Rabe). Zachary Quinto brings unnerving poise to the part of Thredson, while Sarah Paulson convinces as Lana descends into nightmare, and Evan Peters is all confused integrity as Kit.
If you're unwilling to give yourself over to a potpourri of creepy nuttiness, avoid this like a man-made plague. If, though, you like shivers and gore turned up to the max, put your feet up, grab a box of chocolates, and try to catch your breath.
Reviewed on: 22 Oct 2013
Share this with others on...