Eye For Film >> Movies >> American Horror Story: Asylum - The Complete Second Season (2012) DVD Review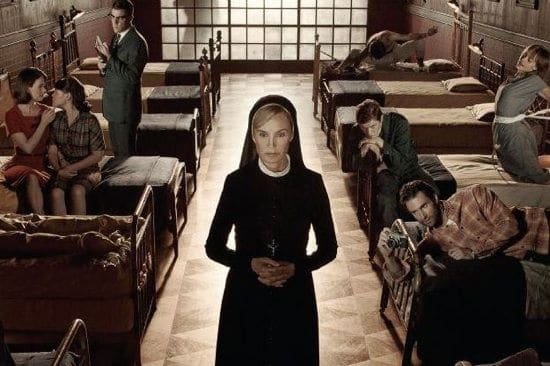 The four extra shorts are inessential, but good fun - as with most bonus material that comes with narrative TV, though, they're not to be watched before the episodes as it's spoilers galore.
The Orderly sees Asylum guard Carl (Mark Engelhardt) lead 'us' - think the 1947 film version of Raymond Chandler's The Lady In The Lake - through the corridors of Briarcliff. He tells us what happened where, with a torrent of clips from the show. And at the end, things get interactive ...
What Is American Horror Story: Asylum is a behind the scenes documentary featuring chats with the likes of executive producer Brad Falchuk ('I always classify this as a workplace drama, it's our version of it, though and so you have Jessica and James Cromwell's characters, and they're fighting for power in this workspace') and Cromwell ('In the Fifties [sic] our relationship with women, gays, ill people ... was pretty damn wacky'). It's a fun collection of contextualising commentary and elegant insight, and seeing the actors, still in costume, having a laugh with the material makes for a pleasant palate cleanser.
Welcome To Briarcliff Manor is a behind-the-scenes look at how the show's visuals were put together, with production designer Mark Worthington, set decorator Ellen Brill, costume designer Lou Eyrich and director of photography Michael Goi. Seeing the likes of Arden's lab, the death chute and the stairway to heaven with the lights on is fascinating, as they're so well-conceived and constructed that they seem barely less creepy. And it's amusing to learn how much thought was put into costume colours given the overall impression is simply 'gloomy'.
There's more interesting craft on display in the final extra, The Creatures, as special make-up effects designer and creator Christian Tinsley, make-up department head Eryn Krueger Mekash, special make-up artist Chris Nelson and key prosthetic make-up artist Mike Mekash share some secrets. Hearing about blood gags, bespoke stumps and inverted faces is a delight, but the special highlight is learning that pinhead Pepper is actually a prosthetics job, and seeing, via sped-up footage, actress Naomi Grossman become unrecognisable.
The extras make for a fun coda to a series created for lovers of frights, or indeed, anyone who wants a dose of fear for Hallowe'en. Watch it at your peril.
Reviewed on: 22 Oct 2013
Share this with others on...