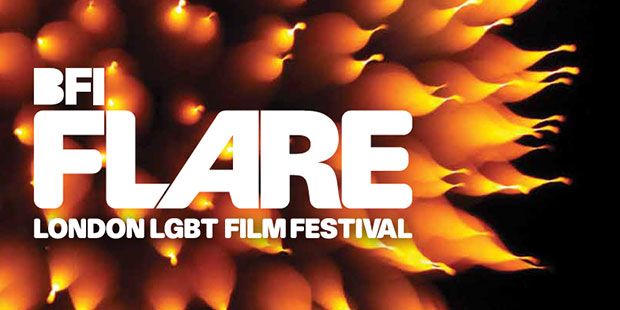 View other Flare Films by strand: Best of the Year, Hearts, Minds, Special Presentations
Being Bebe
(Country: US, Cameroon; Year: 2021; Director: Emily Branham; Stars: Nea Marshall Kudi)
A documentary about the incredible rise of the first ever winner of RuPaul's Drag Race: the legendary BeBe Zahara Benet.
Benediction
(Country: UK, US; Year: 2021; Director: Terence Davies; Writer: Terence Davies; Stars: Jack Lowden, Peter Capaldi, Jeremy Irvine, Matthew Tennyson, Ben Daniels, Kate Phillips, Geraldine James, Gemma Jones, Anton Lesser, Lia Williams, Simon Russell Beale, Kellie Shirley, Suzanne Bertish, Harry Lawtey, Tom Blyth)
Siegfried Sassoon biopic.
Bruno Reidal, Confessions of a Murderer
(Country: France; Year: 2021; Director: Vincent Le Port; Writer: Vincent Le Port; Stars: Dimitri Doré, Jean-Luc Vincent, Roman Villedieu, Alex Fanguin, Tino Vigier, Nelly Bruel, Ivan Chiodetti, Dominique Legrand, Antoine Brunel, Tristan Chiodetti, René Loyon, Rémy Leboucq, André Salson, Astrid Vialard, Jeanne Fauchier)
Camila Comes Out Tonight (Camila Saldrá Esta Noche)
(Country: Argentina; Year: 2021; Director: Inés Barrionuevo; Writer: Andrés Aloi, Inés Barrionuevo; Stars: Nina Dziembrowski, Maite Valero, Diego Sanchez)
Camila's life is turned upside down when her single-parent mother moves the family to Buenos Aires. Enrolled in an educational establishment that is worlds away from the liberal institution she previously attended, the politically-minded Camila is like a breath of fresh air amongst the elite student body, soon drawing the attention of popular boy Bruno and fun-loving Clara.
Death And Bowling
(Country: US; Year: 2021; Director: Lyle Kash; Writer: Lyle Kash; Stars: Will Krisanda, Tracy Kowalski, Faith Bryan, Leontine White Foster, Denise Turkan)
In a fictional meta-critique on trans representation, a transgender actor struggles with what it means to be seen after the beloved captain of his lesbian bowling league dies and a mysterious stranger shows up at the funeral.
The First Fallen
(Country: Brazil; Year: 2021; Director: Rodrigo de Oliveira; Writer: Rodrigo de Oliveira; Stars: Johnny Massaro, Renata Carvalho, Vitor Camilo)
New Year's Eve, 1983. Suzano has returned from his studies in Paris to spend time with his sister and nephew. Rose, a trans performer, prepares for her latest show at a party. And Humberto, recently arrived in the city, documents it all on shaky camcorder. The future looks bright for them all. But eight months later, all three friends find themselves early victims of the AIDS epidemic.
I Am The Tigress
(Country: Germany, Austria, US; Year: 2021; Director: Philipp Fussenegger, Dino Osmanović; Writer: Philipp Fussenegger, Dino Osmanović; Stars: Tischa Thomas, Steve Scibelli, Edward Zahler)
A bodybuilder pushes herself to the limit to defy expectations, both physically and socially.
Long Live My Happy Head
(Country: UK; Year: 2022; Director: Austen McCowan, Will Hewitt; Writer: Austen McCowan, Will Hewitt; Stars: Gordon Shaw)
A profile of illustrator Gordon Shaw, whose enlightened approach to living with a brain tumour fuels his comic world.
Madame Satã
(Country: France, Brazil; Year: 2002; Director: Karim Aïnouz; Writer: Karim Aïnouz, Marcelo Gomes, Sérgio Machado, Mauricio Zacharias; Stars: Lázaro Ramos, Marcélia Cartaxo, Flavio Bauraqui)
A biopic of a legendary figure in Rio de Janeiro: a hustler, transvestite, gangster and chef; a queen who became something of a folk hero.
Manscaping
(Country: US; Year: 2022; Director: Broderick Fox; Stars: Devan Shimoyama, Jessie Anderson, Richard Savvy)
Devan Shimoyama is an Afrofuturist painter who focuses on the barbershop as a social space, Jessie Anderson runs a queer barbershop in Vancouver, and Australian Richard Savvy gets his kit off as The Naked Barber.
Moneyboys
(Country: Austria, France, Belgium, Taiwan; Year: 2021; Director: Chen Yilin Bo; Writer: Chen Yilin Bo; Stars: Yufan Bai, Kai Ko, Zhexi Lin, Chloe Maayan)
Fei works illegally as a hustler in order to support his family, yet when he realises they are willing to accept his money but not his way of life, there is a major breakdown in their relations.
Nico
(Country: Germany; Year: 2021; Director: Eline Gehring; Writer: Eline Gehring, Francy Fabritz, Sara Fazilat; Stars: Sara Fazilat, Sara Klimoska, Javeh Asefdjah)
After she's the victim of a xenophobic attack, a young Iranian woman in Berlin decides to take her life back into her own hands by training in karate.
The Novice
(Country: US; Year: 2021; Director: Lauren Hadaway; Writer: Lauren Hadaway; Stars: Isabelle Fuhrman, Amy Forsyth, Dilone Kate Drummond, Jonathan Cherry, Charlotte Ubben)
A queer college freshman who joins her university's rowing team and undertakes an obsessive physical and psychological journey to make it to the top varsity boat, no matter the cost.
Passion
(Country: Sweden, Spain; Year: 2021; Director: Maja Borg)
After a destructive relationship, the rituals of BDSM and Christianity provide consolation and healing.
The Perfect David (El Perfecto David)
(Country: Argentina, Uruguay; Year: 2021; Director: Felipe Gómez Aparicio; Writer: Leandro Custo, Felipe Gómez Aparicio; Stars: Umbra Colombo, Mauricio di Yorio)
A teenage bodybuilder pushes himself to breaking point.
Sediments
(Country: Spain; Year: 2021; Director: Adrian Silvestre; Writer: Adrian Silvestre; Stars: Alicia de Benito, Lena Brasas, Cristina Millán)
Just as the Earth is, our inner selves are made up of many layers that make up our identity and tell the story of our existence.
This Is Not Me
(Country: Iran; Year: 2021; Director: Saeed Gholipour)
Two young men learn to navigate the Iranian courts in order to begin their formal gender transition.
Wet Sand
(Country: Switzerland, Georgia; Year: 2021; Director: Elene Naveriani; Writer: Elene Naveriani, Sandro Naveriani; Stars: Bebe Sesitashvili, Gia Agumava, Megi Kobaladze)
A death in a small coastal village reveals, with a young woman trying to find out who her grandfather really was.