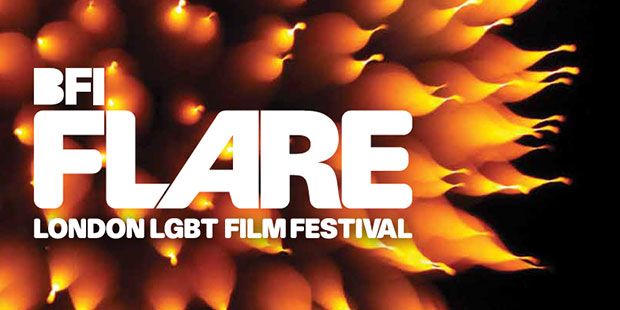 View other Flare Films by strand: Bodies, Hearts
Call Her Ganda
(Year: 2018; Director: PJ Raval)
When a transgender Filipina woman is found dead in the motel room of a US Marine, grassroots activists demand accountability. The ensuing case lays bare a constellation of social and political tensions between the United States and the Philippines.
Cassandro, The Exotico!
(Country: France; Year: 2018; Director: Maria Losier; Writer: Marie Losier, Antoine Barraud)
A portrait of a lucha libre wrestler known for outrageous gender presentation and equally spectacular wrestling moves
Deep In Vogue
(Country: UK; Year: 2018; Director: Amy Watson, Dennis Keighron-Foster)
A documentary about Manchester's Vogue ball scene.
Escape From Rented Island: The Lost Paradise Of Jack Smith
(Country: US; Year: 2018; Director: Jerry Tartaglia; Stars: Jack Smith, Mario Montez, Beverly Grant)
A documentary about the life and work of the radical artist and underground filmmaker Jack Smith.
The Fruit Machine
(Country: Canada; Year: 2018; Director: Sarah Fodey; Stars: Michelle Douglas, Lucie Laperle, Renée Parent)
A documentary detailing the Canadian government's systematic attempts to purge its armed services of LGBT people following the anti-gay hysteria that ran from the beginning of the Cold War through to the 1980s.


Halston and Call Her Ganda
The Gospel Of Eureka
(Country: US; Year: 2018; Director: Donal Mosher, Michael Palmieri; Writer: Donal Mosher; Stars: Justin Vivian Bond)
Love, faith, and civil rights collide in the south as evangelical Christians and drag queens step into the spotlight to explore the meaning of belief.
Halston
(Country: US; Year: 2019; Director: Frédéric Tcheng)
From Iowa to Studio 54, this investigation into the rags-to-riches story of America's first superstar designer uncovers the cautionary tale of an artist who sold his name to Wall Street.
Light In The Water
(Country: US; Year: 2018; Director: Lis Bartlett; Writer: Lis Bartlett, James Cude; Stars: James Ballard, Charlie Bartel, Mauro Bordovsky)
A documentary about the history of the West Hollywood Swim Club, registered in 1982 as the first openly gay masters swim and water polo club.
Making Montgomery Clift
(Country: US; Year: 2018; Director: Robert Anderson Clift, Hillary Demmon)
Using a treasure trove of home movies, audio recordings and meticulous records, the legendary film star's nephew paints a picture of Clift as a fiercely independent, dedicated actor with a fondness for fun and a great appetite for life.
Mapplethorpe
(Country: US; Year: 2018; Director: Ondi Timoner; Writer: Mikko Alanne, Ondi Timoner; Stars: Matt Smith, Marianne Rendón, Mark Moses, John Benjamin Hickey, Carolyn McCormick, Brian Stokes Mitchell, Tina Benko, Hari Nef, Mickey O'Hagan, Kerry Butler, McKinley Belcher III, Karlee Perez, Kenya Brome, Karan Oberoi, John Bolton)
In the late Sixties, art-school dropout Robert Mapplethorpe moves into the Chelsea Hotel with dreams of stardom.
Tongues Untied
(Country: US; Year: 1989; Director: Marlon T Riggs; Stars: Marlon T Riggs, Kerrigan Black, Blackberri)
A depiction of the ongoing black liberation movement and its intersection with the devastation of the AIDS crisis.
TransMilitary
(Country: US; Year: 2018; Director: Gabriel Silverman, Fiona Dawson; Writer: Jamie Coughlin, Gabriel Silverman)
Documents four men and women who risk their families' livelihoods by coming out to the Pentagon's top brass in the hope of attaining the equal right to serve.
United We Fan
(Country: Canada; Year: 2018; Director: Michael Sparaga)
A documentary about fans who harness the power of social media in creative ways to save beloved but endangered series.
Vision Portraits
(Country: Canada, Germany, US; Year: 2019; Director: Rodney Evans; Writer: Rodney Evans; Stars: Rodney Evans, John Dugdale, Kayla Hamilton, Ryan Knighton)
A black, gay filmmaker who is losing his sight explores the lives and work of other visually impaired artists in this documentary.
Water Makes Us Wet
(Country: US; Year: 2018; Director: Beth Stephens, Annie Sprinkle; Stars: Beth Stephens, Annie Sprinkle, Butch, Sandy Stone)
After their adventures in Ecosexuals, in which they married natural phenomena such as lakes and trees, Annie Sprinkle and Beth Stephens return with the second documentary in a trilogy, this time examining their love affair with water.