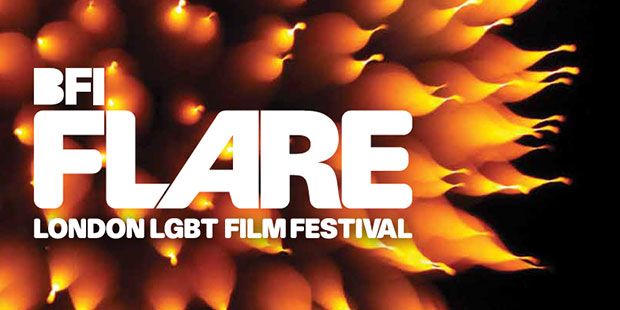 View other Flare Films by strand: AIDS On Film, Hearts, Minds, Second Chance Sunday, Special Presentations
Alaska Is A Drag
(Country: US; Year: 2017; Director: Shaz Bennett; Writer: Shaz Bennett; Stars: Martin L Washington Jr, Maya Washington, Matt Dallas, Christopher O'Shea, Jason Scott Lee, Margaret Cho, Kevin Daniels, John Fleck, Nia Peeples, Adam Tomei, Shivani Bhagwan, Tim Holmes, Jennifer Jelsema, Matt Hudson, Connie Kincer)
Story of an aspiring drag diva who is stuck working in a fish cannery.
The Carmilla Movie
(Country: Canada; Year: 2017; Director: Spencer Maybee; Writer: Alejandro Alcoba, Jordan Hall; Stars: Elise Bauman, Natasha Negovanlis, Dominique Provost-Chalkley)
It's been five years since Laura and Carmilla saved the world. Their life together is the picture of domestic bliss – the happy ending they always desired and deserved. But Laura has started having strange dreams of a woman in black haunting the hallways of an old mansion.
Coby
(Country: France; Year: 2017; Director: Christian Sonderegger)
A documentary grappling with how parents and partners adapt to a transition in the family.
Conversations With Gay Elders
(Country: US; Year: 2017; Director: David Weissman)
David Weissman's documentary focuses on Kerby Lauderdale, a married man who came out later in life, exploring his life as a pastor, husband, father, lover and gay activist preacher
The Feels
(Country: US; Year: 2017; Director: Jenée LaMarque; Writer: Jenée LaMarque, Lauren Parks; Stars: Constance Wu, Angela Trimbur, Josh Fadem)
As bachelorette weekends go, Andi and Lu's is shaping up nicely. Everyone's turned up, the drinks are flowing and even the late arrival of Nikki, Lu's emotionally demanding sister, can't dampen the celebratory spirit. But the party atmosphere is soon derailed when Lu, a little high and more than a little drunk, casually admits to never having had an orgasm in her life.
Freak Show
(Country: US; Year: 2017; Director: Trudie Styler; Writer: Patrick J Clifton, Beth Rigazio, James St James; Stars: Alex Lawther, Ian Nelson, Abigail Breslin, AnnaSophia Robb, Laverne Cox, Bette Midler, Willa Fitzgerald, Celia Weston, Mickey Sumner, Doris McCarthy, John McEnroe, Christopher Dylan White, Larry Pine, Michael Park, Eddie Schweighardt)
A teenager who moves to a small town decides to tackle bullying attitudes by running for homecoming queen.
Going West
(Country: Norway; Year: 2017; Director: Henrik Martin Dahlsbakken; Writer: Henrik Martin Dahlsbakken; Stars: Henrik Mestad, Ingar Helge Gimle, Benjamin Helstad, Iben Akerlie, Bjørn Myrene, Inga Ibsdotter Lilleaas, Marte Germaine Christensen, Anne Krigsvoll, Ine F. Jansen, Reidar Sørensen, Trine Wiggen, Bente Børsum, Per Schaanning, Birgitte Victoria Svendsen, Tuva Børgedotter Larsen)
A man takes his estranged transsexual dad on a road trip.
Good Manners (As Boas Maneiras)
(Country: Brazil, France; Year: 2017; Director: Marco Dutra, Juliana Rojas; Writer: Marco Dutra, Juliana Rojas; Stars: Isabél Zuaa, Marjorie Estiano, Miguel Lobo, Cida Moreira, Andréa Marquee, Felipe Kenji, Nina Medeiros, Neusa Velasco, Gilda Nomacce, Eduardo Gomes, Hugo Villavicenzio, Adriana Mendonça, Germano Melo, Naloana Lima, Clara de Cápua)
A lonely nurse is hired by a wealthy woman as a nanny for her unborn child, but one night has unexpected consequences.
Love, Scott
(Country: Canada; Year: 2017; Director: Laura Marie Wayne; Writer: Laura Marie Wayne)
One fateful night, after leaving a bar in his home town of Nova Scotia, musician Scott Jones was subjected to a vicious and targeted attack which left him paralysed and in a wheelchair. Despite Scott knowing that this was a homophobic hate crime, the assault was not treated as such in the courts, or by the media. As Scott rebuilds his life, he is forced to make sense of the way the incident was handled while also struggling to make peace with his attacker.
Martyr
(Country: Lebanon; Year: 2017; Director: Mazen Khaled; Writer: Mazen Khaled; Stars: Carole Abboud, Hamza Mekdad, Mostafa Fahs, Hady Bou Ayash, Rachad Nassereddine, Rabih el Zaher, Yara Abou Haidar)
An unexpected event during a day at the beach, forces a group of friends to grapple with loss.
My Own Private Hell
(Country: Brazil; Year: 2018; Director: Guto Parente, Pedro Diógenes; Writer: Guto Parente, Pedro Diógenes, Rafael Martins; Stars: Yuri Yamamoto, Demick Lopes, Samya De Lavor)
The dark and strange story of a sailor, a landlady, two gangsters and a rabbit.
Paternal Rites
(Country: US; Year: 2018; Director: Jules Rosskam; Writer: Marc Smolowitz, Jules Rosskam)
A filmmaker retraces the 1974 road trip undertaken by his parents in order to confront deep-seated family secrets.
Pulse
(Country: Australia; Year: 2017; Director: Stevie Cruz-Martin; Writer: Daniel Monks; Stars: Daniel Monks, Caroline Brazier, Scott Lee)
After a series of humiliations, a young disabled man looking for love decides to transition – but not in the manner you'd expect. Set in an alternative present in which medical procedures are drastically different, the question of what it means to change gender is complicated by the question of what it means to find love when you have a disabled body in an ableist world.
Sidney And Friends
(Country: UK, Kenya; Year: 2017; Director: Tristan Aitchison; Stars: Awuor Onyango, Charles Ouda, Michael Daviot)
Scottish filmmaker Tristan Aitchison visited Kenya in 2013. A chance meeting with an activist revealed an underground network of intersex and trans people that wanted their voices heard.
Stumped
(Country: US; Year: 2017; Director: Robin Berghaus; Stars: Angel Gonzalez, Rob Crean, Bohdan Pomahac, Andrew Oliver, Emma Brady, Marlene Sewall, Tom Lautzenheiser, Thomas Fiedler, Caitlin Sachs, Marie José Benjamin, Lisa Pratt, Simon Talbot, Alexis Liakos, Jacqueline Hillriegel, Claire Dacey)
The story of filmmaker Will Lautzenheiser, who turned to stand-up as therapy after having both arms and legs amputated.
They
(Country: US, Denmark, Qatar; Year: 2017; Director: Anahita Ghazvinizadeh; Writer: Anahita Ghazvinizadeh; Stars: Almai Sinai, Rhys Fehrenbacher, Nicole Coffineau)
Tomorrow Never Knows
(Country: US; Year: 2018; Director: Adam Sekuler; Writer: Shar Jones, Cynthia Vitale)
The uncomfortable reality of death is faced by Shar and Cynthia who, upon Shar's diagnosis with early-onset Alzheimer's, make a brave and difficult decision: she will undertake a conscious death, fully experiencing the end of her life.
Uncle David 2
(Country: UK; Year: 2017; Director: Gary Reich; Writer: David Hoyle, Archie Redford, Matthew McCabe, Lucy McCormick; Stars: David Hoyle, Archie Redford, Matthew McCabe, Lucy McCormick)
This dark and disturbing sequel to Uncle David returns us to a bleak caravan park somewhere on the Isle of Sheppey and finds that Uncle David has introduced a new addition to his community, whose warped imagination and love of horror might have led to murder.