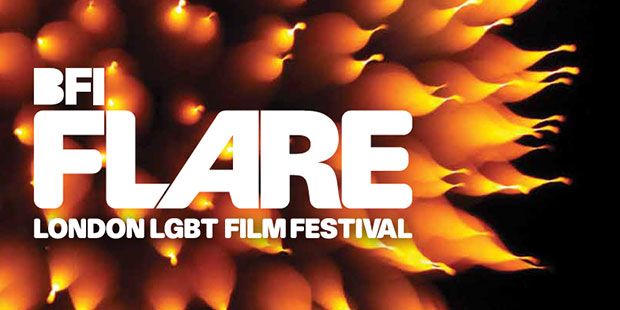 View other Flare Films by strand: Bodies, Galas, Minds
54: The Director's Cut
(Year: 2014; Director: Mark Christopher; Writer: Mark Christopher; Stars: Ryan Phillippe, Salma Hayek, Neve Campbell, Mike Myers, Sela Ward, Breckin Meyer, Sherry Stringfield, Ellen Albertini Dow, Cameron Mathison, Noam Jenkins, Jay Goede, Patrick Taylor, Heather Matarazzo, Skipp Sudduth, Aemilia Robinson)
Life in New York's most famous night club, seen through the eyes of a naive employee.
Alive! (Vivant!)
(Country: France; Year: 2014; Director: Vincent Boujon; Writer: Vincent Boujon)
Five men living with HIV prepare for their first ever parachute jump.
Appropriate Behavior (Appropriate Behaviour)
(Country: US, UK; Year: 2014; Director: Desiree Akhavan; Writer: Desiree Akhavan; Stars: Desiree Akhavan, Rebecca Henderson, Scott Adsit, Halley Feiffer, Anh Duong, Hooman Majd, Arian Moayed, Aimee Mullins, Christopher Baker, Robyn Rikoon, Justine Cotsonas, Jake Katzman, Maryann Urbano, Daniella Rabbani, James Claude Bristow)
A young New Yorker struggles to understand herself in the aftermath of a break-up.
Atlántida
(Country: Argentina, France; Year: 2014; Director: Inés María Barrionuevo; Writer: Inés María Barrionuevo; Stars: Guillermo Pfening)
A hot summer day in a village in Argentina. Adults are nowhere in sight and time has come to a stop. Yet for two teen sisters everything is in motion. It is their feelings and desires that propel the film onwards.
Blackbird
(Country: US; Year: 2014; Director: Patrik-Ian Polk; Writer: Rikki Beadle-Blair, Patrik-Ian Polk; Stars: Mo'Nique, Julian Walker, Isaiah Washington)
A gay boy deal with the difficulties of coming out in the US Deep South, in a small town full of religious prejudice.


Jamie Marks Is Dead and The Falling
Broken Gardenias
(Country: US; Year: 2014; Director: Kai Alexander; Writer: Alma S Grey; Stars: Alma S Grey, Ashley Jack Morocco, Caroline Heinle)
A shy plant lover enlists the help of a young butch dyke as she searches for her missing father.
The Falling
(Country: UK; Year: 2014; Director: Carol Morley; Writer: Carol Morley; Stars: Greta Scacchi, Maisie Williams, Maxine Peake, Joe Cole, Mathew Baynton, Monica Dolan, Ben Kerfoot, Ellie Bamber, Florence Pugh, Hannah Stokely, Anna Burnett, Morfydd Clark, Katie Ann Knight, Sarah Lowe, Rose Caton)
A fainting sickness hits a girls school in the Sixties.
Frangipani
(Country: Sri Lanka; Year: 2013; Director: Visakesa Chandrasekaram; Writer: Visakesa Chandrasekaram; Stars: Dasun Pathirana, Jehan Sri Kanth, Yasodha Rasanduni)
Three young people are entangled in a complicated love triangle in a small Sri Lankan village.
Futuro Beach
(Country: Brazil, Germany; Year: 2014; Director: Karim Ainouz; Writer: Felipe Bragança, Karim Ainouz; Stars: Wagner Moura, Clemens Schick, Jesuíta Barbosa, Fred Lima, Thomas Aquino, Maj. Barreto, Marcus Davis Andrade Braga, Savio Ygor Ramos, Demick Lopes, Jean Philippe Kodjo Adabra, Sabine Timoteo, Yannik Burwiek, Christoph Zrenner, Natascha Paulick, Ingo Naujoks)
A lifeguard finds love in an unexpected place.
Girltrash: All Night Long
(Year: 2014; Director: Alexandra Kondracke; Writer: Angela Robinson; Stars: Lisa Rieffel, Gabrielle Christian, Rose Rollins)
A battle of the bands contest provides the setting for this lesbian rock musical.
Hidden Away (A Escondidas)
(Country: Spain; Year: 2014; Director: Mikel Rueda; Writer: Mikel Rueda; Stars: Germán Alcarazu, Adil Koukouh, Alex Angulo)
First love between Spanish boy and a Moroccan boy reshapes both their lives.
Jamie Marks Is Dead
(Country: US; Year: 2013; Director: Carter Smith; Writer: Christopher Barzak, Carter Smith; Stars: Liv Tyler, Judy Greer, Morgan Saylor, Cameron Monaghan, Madisen Beaty, Erin Wilhelmi, Lizzy DeClement, Noah Silver, Nadia Alexander, Maryann Urbano, Ronen Rubinstein, Fred Tolliver Jr, Connor Antico, Andrew Polk, Ryan Munzert)
No one seemed to care about Jamie Marks until after his death. Hoping to find the love and friendship he never had in life, Jamie's ghost visits former classmate Adam McCormick, drawing him into the bleak world between the living and the dead.
Match
(Country: US; Year: 2014; Director: Stephen Belber; Writer: Stephen Belber; Stars: Carla Gugino, Patrick Stewart, Matthew Lillard, Jaime Tirelli, Rob Yang, Maduka Steady)
A Seattle couple travels to New York to interview an eccentric former dancer.
Of Girls And Horses (Von Mädchen Und Pferden)
(Country: Germany; Year: 2014; Director: Monika Treut; Writer: Monika Treut; Stars: Ceci Chuh, Alissa Wilms, Vanida Karun)
Sent away to a horse ranch for the summer, a troubled girl falls in love for the first time.
Portrait Of A Serial Monogamist
(Country: Canada; Year: 2014; Director: Christina Zeidler, John Mitchell; Writer: Christina Zeidler, John Mitchell; Stars: Diane Flacks, Carolyn Taylor, Vanessa Dunn)
A middle aged lesbian tries to develop a foolproof method for having relationships without risking heartbreak.
Summer (Zomer)
(Country: Netherlands; Year: 2014; Director: Colette Bothof; Writer: Marjolein Bierens; Stars: Sigrid ten Napel, Jade Olieberg, Ella-June Henrard)
A shy young woman falls for a biker chick and tries to find the courage to challenge small town attitudes.
Tiger Orange
(Country: US; Year: 2014; Director: Wade Gasque; Writer: Wade Gasque, Mark Strano; Stars: Mark Strano, Frankie Valenti, Gregory Marcel)
Two gay brothers with very different attitudes to sex and romance try to make their way in life.
Zoe.Misplaced
(Country: Australia; Year: 2014; Director: Mekelle Mills; Writer: Mekelle Mills; Stars: Hannah Raven-Smith, Kaska Zielinski, Clementine Mills)
Zoe's life becomes complicated when she falls for the woman her flatmate has just broken up with.