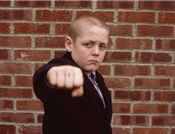 Thomas Turgoose in This is England
The Bradford International Film Festival celebrates its 13th year in 2007 - and some might say it's lucky for some in terms of programming.
Featuring almost 200 films from March 9 to 24, the festival kicks off with the UK premiere of Michael Apted's latest film, Amazing Grace - a biopic of William Wilberforce, leader of the parliamentary campaign against slavery - which will be attended by the director.
Other highlights include a screening of Shane Meadow's This Is England and the world premiere of Travis Wilkerson's freshly edited Who Killed Cock Robin? (Redux). Wilkerson's movie is showing as part of a new strand in the festival: Uncharted States Of America, which aims to "bring the radical edge of American independent cinema to the UK". British filmmakers of the past and present are also celebrated with retrospectives of Ken Loach, Terence Davies and Patrick Keiller. Visual stylist Godfrey Reggio, director of Koyaanisqatsi, will make a rare UK appearance to discuss his films.
View previous years coverage of the Bradford International Film Festival festival:
Bradford Latest Reviews