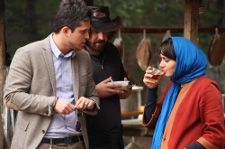 The festival will host the world premiere of Kami's Party
The 17th edition of the festival ran from November 15 to December 1. Films competed in the EurAsia, Tridens Herring, and North-American indie films competitions - read about the winners here. The event also hosted the following sub-festivals:
Animated Dreams - A competition of short animations from the previous two years. Additional non-competitive programmes include a retrospective of a filmmaker and focus on a country.
Just Film - A competition of children's films and youth films, which also features non-competitive special screenings.
Sleepwalkers - Four competitions of selected student and short films from the previous two years, a retrospective of a noted film school and special screenings.
View Films by Strand:
View previous years coverage of the Tallinn Black Nights Film Festival festival:
Black Nights Latest Reviews
Tallinn Black Nights Film Festival Features
Tallinn Black Nights Film Festival News