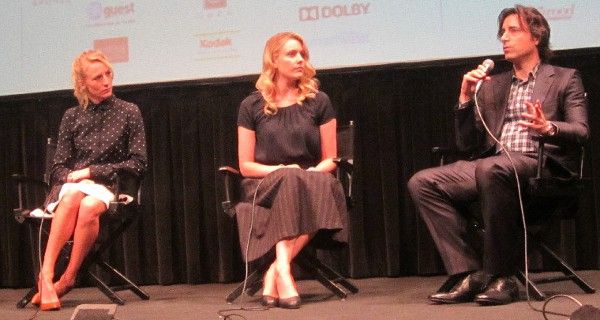 In the second of our dispatches from New York Film Festival, Greta Gerwig shouts "Ahoy, sexy!", not so silent tabus are explored and a film goes unscreened to the public.
Director Noah Baumbach discusses style and the influence of New York City with Frances Ha co-writer and star Greta Gerwig. A Passionless Brian De Palma offers no clues as to why Love Crime was remade so soon. And Tabu director Miguel Gomes toasts, from afar, those attending the press screening.
At the press conference attended by Gerwig, co-star Mickey Sumner and Noah Baumbach, the director called Frances Ha his movie "about location and dislocation, moving forward but also moving in place. I think all of that is true about my experiences in New York City".
"I hadn't shot in New York in a while, and I grew up here and live here, so I wanted it to feel the way I feel about New York. I haven't run through Chinatown holding my friend's hand laughing, or peed off a subway platform, but I have that same general feeling about the place in other ways," he said.
I questioned co-writer Greta Gerwig about the comic timing and the physicality she gives Frances – largely determined by her choice of shoes. Gerwig laughed and explained the heavy clogs, preferred by "waitresses, nurses, and dancers" and the big bomber jacket she wears as "physical limitations". She added: "My mom hates clogs and backpacks and leather jackets. I made a character just for her."
"I'm just so glad we got to make a film with this kind of bond in it, because whenever I see female friendships portrayed accurately, or even sort of accurately, I'm so pleased," Gerwig said.
After seeing this film, "Ahoy, sexy!" could become a new greeting of choice.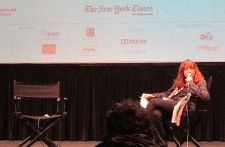 Passion started out on the wrong foot, due to Brian De Palma's last-second absence from the press conference while festival selection committee member Amy Taubin waited in vain on stage wanting to ask him:
"Why would anyone want to remake a film so soon?"
I had a few questions myself... Cynicism, misogyny and carelessness kill this movie. Was this your plan from the start, to see how much you can get away with? Is this The Emperor's New Film?
And, why are you showing Passion in digital?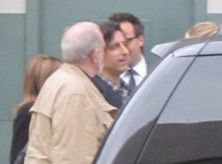 Not only was De Palma a no show at his press conference, he was seen outside of the Frances Ha press screening with Noah Baumbach. There will be a Directors Dialogue between the two this Sunday, at 6pm, prior to another attempt to show Passion to a public audience.
The first public festival and US premiere screening of his film in digital format last Saturday night, was cancelled after a one hour delay. When the same DCP code was tried for the public screening, the file had become "locked" and no one could "unlock" it. All major studios are planning to only make digital copies by the end of 2013. Passion, at this time, has no distributor.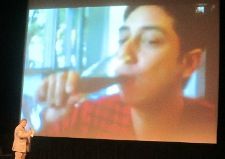 Miguel Gomes, seen here toasting the press audience with a glass of red wine, explained his choices for the unusual narrative structure of his black-and-white exploration of Portugal's colonial past. He begins: "Nowadays, with a senile old lady, and then, going back in time, she was a bizarre version of Katharine Hepburn, like a movie star."
Although Tabu has as much in common with John Huston's African Queen and Katharine Hepburn, as it has with Peter Pan, because all include a crocodile and one a clock ticking, Gomes references other African-set movies. Karen Blixen gets her quote, of course.
Festival director Richard Peña asked: "How was it, filming in Mozambique?" Gomes called it "a little bit of a nightmare to shoot over there". The entire second half of the film was improvised. "Our job was to come up with new scenes. In the end, we knew we would have voice-over. We were making it up during the shooting," said Gomes.
Share this with others on...