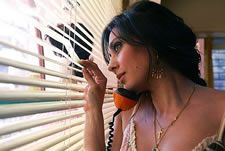 Caramel will show at the fest
The Birds Eye View festival celebrates the work of women in film, focusing both on new work and also celebrating work of female filmmakers from the archives.
This year's fesival runs from March 6 to 14 and feature some of the finest films from women filmmakers from the past 12 months, including the Oscar-nominated Persepolis and poignant comedy Caramel, which will be released across the UK this May.
View previous years coverage of the Birds Eye View festival:
Birds Latest Reviews
Birds Eye View Features
Festival frenzy
Travel the world from the comfort of a cinema, thanks to a host of international festivals this month.