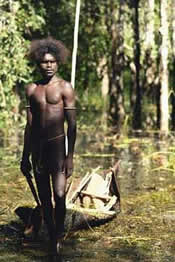 Ten Canoes
Now in its 13th year, the London Australian Film Festival prides itself on showing all the major Australian feature films of the year - and offers a great opportunity to get an early look at some upcoming releases.
The season runs at the Barbican from March 15 to 25, with highlights this year including gala performances of Jindabyneand Ten Canoes.
Throughout the festival, there will also be a series of ScreenTalks from the filmmakers. Read our full news story.
View previous years coverage of the FilmFest Australia festival:
Australia Latest Reviews