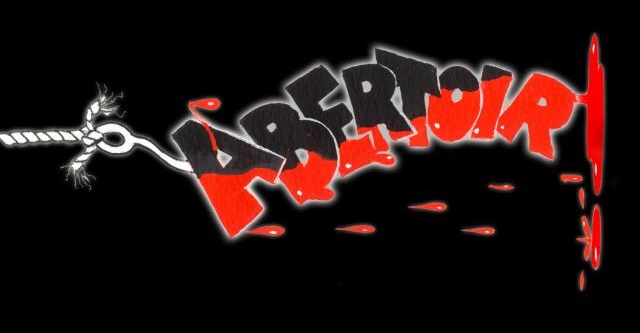 Across The River (Oltre Il Guado)
(Country: Italy; Year: 2013; Director: Lorenzo Bianchini; Writer: Lorenzo Bianchini, Michela Bianchini; Stars: Renzo Gariup, Marco Marchese, Lidia Zabrieszach)
A young naturalist monitoring animals by video in the Alps discovers an abandoned village where something terrible has happened.
All Cheerleaders Die
(Country: US; Year: 2013; Director: Lucky McKee, Chris Sivertson; Writer: Lucky McKee, Chris Sivertson; Stars: Caitlin Stasey, Sianoa Smit-McPhee, Brooke Butler, Amanda Grace Cooper, Reanin Johannink, Tom Williamson, Chris Petrovski, Leigh Parker, Nicholas S. Morrison, Jordan Wilson, Felisha Cooper, Sidney Allison, Nadia Boceski, Simon Patrick Brown, Nathaniel Derrico)
A gang of cheerleaders embark on a supernatural path of vengeance.
Bad Milo
(Country: US; Year: 2013; Director: Jacob Vaughan; Writer: Benjamin Hayes, Jacob Vaughan; Stars: Ken Marino, Gillian Jacobs, Patrick Warburton, Claudia Choi, Toby Huss)
A man with puzzling stomach problems discovers he has a demon living in his intestine.
The Battery
(Country: US; Year: 2012; Director: Jeremy Gardner; Writer: Jeremy Gardner; Stars: Jeremy Gardner, Adam Cronheim, Niels Bolle, Alana O'Brien)
Two former baseball stars struggle to get along as they drive through a zombie-infested New England.
Blood Glacier (The Station, Blutgletscher)
(Country: Austria; Year: 2013; Director: Marvin Kren; Writer: Benjamin Hessler; Stars: Gerhard Liebmann, Edita Malovcic, Brigitte Kren, Hille Beseler, Peter Knaack, Santos)
Scientists investigate a glacier from which a mysterious toxic liquid is leaking.
The Borderlands
(Country: UK; Year: 2013; Director: Elliot Goldner; Stars: Aidan McArdle, Patrick Godfrey, Gordon Kennedy, Luke Neal, Robin Hill)
Vatican investigators use hidden cameras to try and discern the cause of strange happenings in a West Country church.
City Of The Living Dead (Paura Nella Città Dei Morti Viventi, The Gates Of Hell)
(Country: Italy; Year: 1980; Director: Lucio Fulci; Writer: Lucio Fulci, Dardano Sacchetti; Stars: Christopher George, Catriona MacColl, Carlo De Mejo, Antonella Interlenghi, Giovanni Lombardo Radice, Janet Agren, Luca Venantini, Venantino Venantini),
Trailer
After a psychic has a disturbing vision, she and her reporter friend race to rescue the inhabitants of a town where a priest's suicide has released a terrible evil.
Chimères (Chimeres)
(Country: Switzerland; Year: 2013; Director: Olivier Beguin; Writer: Olivier Beguin, Colin Vettier; Stars: Jasna Kohoutova, Yannick Rosset, Catriona MacColl)
After receiving a blood transfusion in Romania, a young man displays the symptoms of a strange infection. He and his girlfriend attempt to keep their relationship strong despite it.
Discopathe
(Country: Canada; Year: 2013; Director: Renaud Gauthier, Marie-Claire Lalonde; Writer: Renaud Gauthier; Stars: François Aubin, Sandrine Bisson, Nancy Blais, Mathieu Lepage, Christian Paul)
A young New Yorker is driven to murder by the pulsating rhythms of Seventies dancehalls.
Forgotten (Du Hast Es Versprochen)
(Country: Germany; Year: 2012; Director: Alex Schmidt; Writer: Valentin Mereutza, Alex Schmidt; Stars: Mina Tander, Laura de Boer, Katharina Thalbach)
Two long-lost friends return to the island where they played as children and gradually uncover sinister secrets about a former playmate who disappeared.
Frankenstein
(Country: US; Year: 1910; Director: J Searle Dawley; Writer: Based on the book by Mary Shelley; Stars: Augustus Phillips, Charles Ogle, Mary Fuller)
An early reimagining of the Mary Shelley classic in which an ambitious scientist gets more than he bargained for.
Ghost Graduation (Promoción Fantasma)
(Country: Spain; Year: 2012; Director: Javier Ruiz Caldera; Writer: Cristóbal Garrido, Adolfo Valor; Stars: Raúl Arévalo, Alexandra Jiménez, Javier Bódalo)
Getting through high school is hard when you're a ghost. Fortunately a teacher with paranormal talents is on hand to help.
The Haunting
(Country: UK, US; Year: 1963; Director: Robert Wise; Writer: Nelson Gidding, based on the book by Shirley Jackson.; Stars: Julie Harris, Claire Bloom, Richard Johnson, Russ Tamblyn, Fay Compton)
A scientist researching ghosts takes a group of people to an old house with a creepy reputation.
Kiss Of The Damned
(Country: US; Year: 2011; Director: Xan Cassavetes; Writer: Xan Cassavetes; Stars: Josephine de la Baume, Roxane Mesquida, Milo Ventimiglia)
A spiteful vampire brings chaos to the life of her mild-manered vampire sister who just wants to settle down with a still-mortal man.
The Machine
(Country: UK; Year: 2013; Director: Caradog W James; Writer: Caradog W James; Stars: Toby Stephens, Sam Hazeldine, Caity Lotz, Denis Lawson, Lee Nicholas Harris, Ben McGregor, Stuart Matthews, Helen Griffin, Sule Rimi, Alan Low, Pooneh Hajimohammadi, Clark Fisher, James Burn)
A cybernetics expert tries to create an android super-soldier.
Madhouse (Deathday)
(Country: UK; Year: 1974; Director: Jim Clark; Writer: Ken Levison, based on the book by Angus Hall; Stars: Vincent Price, Peter Cushing, Robert Quarry, Adrienne Corri, Natasha Pyne, Michael Parkinson)
Trouble ensues when a former horror movie star, long incarcerated in a psychiatric institution, returns to the fray.
Motivational Growth
(Country: US; Year: 2013; Director: Don Thacker; Writer: Don Thacker; Stars: Jeffrey Combs, Adrian DiGiovanni, Danielle Doetsch)
A suicidal man is coaxed back to confidence by a smooth talking mould growing in his bathroom, but it may have a sinister agenda.
The Mummy
(Country: UK; Year: 1959; Director: Terence Fisher; Writer: Jimmy Sangster; Stars: Peter Cushing, Christopher Lee, Yvonne Furneaux, Eddie Byrne, Felix Aylmer)
In pursuit of a mummified princess, archaeologists accidentally restore her vengeful high priest to life.
Painless (Insensibles)
(Country: France, Spain, Portugal; Year: 2012; Director: Juan Carlos Medina; Writer: Juan Carlos Medina, Luiso Berdejo; Stars: Tómas Lemarquis, Alex Brendemühl, Derek De Lint)
Gothic horror entwining the story in 1930s Catalonia of a group of children who cannot feel pain, with a man searching for his biological parents in the present day.
The Strange Colour Of Your Body's Tears (L'étrange Couleur Des Larmes De Ton Corps, The Strange Color Of Your Body's Tears)
(Country: Belgium, France, Luxembourg; Year: 2013; Director: Hélène Cattet, Bruno Forzani; Writer: Hélène Cattet, Bruno Forzani; Stars: Klaus Tange, Jean-Michel Vovk, Sylvia Camarda, Sam Louwyck, Anna D'annunzio, Manon Beuchot)
A woman's disappearance forms the central mystery in this visually stylish neo-giallo.
Zombie Flesh Eaters (Zombiee 2, Zombi 2)
(Country: Italy; Year: 1979; Director: Lucio Fulci; Writer: Elisa Briganti, Dardano Sacchetti; Stars: Tisa Farrow, Ian McCulloch, Richard Johnson, Al Cliver, Auretta Gay, Stefania D'Amario, Olga Karlatos, Nick Alexander, Ugo Bologna, Ramón Bravo, Omero Capanna, Dakar, Giannetto De Rossi, Alberto Dell'Acqua, Arnaldo Dell'Acqua)
A woman searching for her father stumbles on an island of the undead.