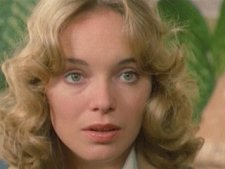 Catriona MacColl in The House By The Cemetery
With starring roles in City Of The Living Dead, The Beyond and The House By The Cemetery - not to mention a cameo in dodgy cult favourite Hawk The Slayer - Catriona MacColl is something of an icon among horror and fantasy fans. It's a curious situation for a sophisticated fiftysomething woman who has also appeared in Shakespeare plays and numerous serious dramas. With her bobbed blond hair and elegant clothes, she still cuts a striking figure. It turns out she is leading an amazing double life. When her friends find out that she used to be a scream queen, she tells me, they find it bizarre and hilarious. Yet she obviously still loves the horror crowd and the warmth with which she is greeted when attending screenings of her films.
How on Earth did it all come about?
"I was young and naive," she tells me frankly, with a wink. "And I needed money. It's never easy when you're a new actress. I was living in London at the time and I got a phone call asking me if I would like to go to Rome for six weeks. It sounded very exciting. I couldn't have afforded to go there otherwise. So I thought I'd give it a try."
She proceeds to tell a story that is familiar coming from giallo stars. A night at the director's house, a very intense reception (Lucio Fulci was famous for intimidating his stars), a script that didn't arrive until the last minute and then turned out to be, well, not quite what she had expected. "But to be honest, I thought nobody would ever see it. My agent said, 'Just do it.' And then, of course, the films took on a life of their own. They became a sort of growing cult and I was known as the horror queen of the Eighties. I feel better about it now. It's also changed - it's more okay to do horror now. At the time I didn't put those films on my CV."
Not really a horror fan herself, Catriona tells me that she enjoys good psychological thrillers and is particularly fond of Hitchcock - those were the films she aspired to appear in as a young actress. Yet her serious quality brought something extra to the horror films she took on, and despite herself she says that she really enjoyed many aspects of making them. "It was a challenge for me as an actress. I'd never really explored the depths of fear, and I just went for it. I found it really liberating to scream. Also, because it was quite heavy going, with all those grim scenes, there was a real sense of bonhomie, a lot of light-hearted humour between the scenes. We shot a lot of them back to back. You know how they say - time is money and we didn't have much of it so we just did it. It wasn't really the sort of thing I was used to and, again, I was perhaps a bit naive about it. When we were in New York City shooting on the Brooklyn Bridge for City Of The Living Dead I didn't know at the time that we had no permission."
"Working with Lucio was a memorable experience, believe me," she says of the famous director. "People were actually surprised by how well we got along, given that he wasn't know for being open or kid about what women had to say. His tantrums were infamous but they were never directed at me. They were so huge that I found them hilariously funny. His scripts were neither here nor there, really. When I asked him if The Beyond was inspired by The Shining he pretended he had never heard of it. He didn't direct actors much - just let me do what I did and if it was okay then he didn't really say anything. I just ran a round a lot, screaming and combating evil. The whole experience was very funny. The sets were pretty good, though not as atmospheric as they are on screen, and the crews were very experienced - they had to be or they couldn't have put up with Lucio. But they were all very fond of him, as was I, by the end. It's sad that most of those talented set builders now work on reality TV building huge sets for Berlusconi."
The most important rule for Catriona was that she didn't have to do anything too disgusting, and it was a rule she managed to enforce apart from one memorable incident. There's a scene towards the end of City Of The Living Dead where a group of characters are standing a room with maggots being blown at them. "Most of those maggots, the ones you see from a distance, were rice," she explains, "but the ones in close-up were real. I remembered having worms thrown at me by my brother when I was a child so I found it really traumatic. The horror you see on my face there is real. Afterwards I found out that Lucio had left the camera running long after he'd got what he needed. But he did make it up to me with a cognac later."
Describing the first night when she read that script, Catriona recalls thinking that the characters weren't very well fleshed out, but she saw that as an opportunity, especially at a time when there weren't very many strong roles for women. "I wanted to make those women I played believable," she says. "I liked the heroine of The Beyond because she's fairly dynamic and in a position where she doesn't depend on men. My character in The House By The Cemetery was more fragile and sensitive but I enjoyed playing her, too. I wanted them to come across as real people."
That must have been quite a challenge, I suggest, when it came to Hawk The Slayer.
"It was fun work making Hawk The Slayer," she tells me. "Very strange, though, and of course I never expected it to be such a success! It's really developed a cult following." She played the hero's fiancée, murdered at the start of the film by his evil brother Voltan, who was played by Jack Palance. "I loved working with Jack," she says. "A lot of people were scared of him. I found him very reserved - subdued but imposing. I'm not intimidated by very many men. In fact, I've always been attracted to difficult, challenging men, I find they're often very interesting. Never dull, anyway! There have been a few in my life, both personally and professionally."
Catriona is now married to a French/Italian man whom she describes as intense and artistic; perhaps ironically, given the troubled hotel business managed by her character in The Beyond, they run a holiday cottage business in France. There have been happy moments in her career and disappointing ones, she says, but ultimately acting is just a job and there is more to life. She feels it's time she tried to anchor her life more now. "I'm still interested in acting, but for actresses over 40, it's a difficult path. There are not many doing it, you know, guts and all - without plastic surgery. Helen Mirren is one, of course, and I see her as something of an icon."
There's no doubt that Catriona herself is still an icon to horror fans. The films she thought nobody would remember look set to be enjoyed for many more years to come.
Share this with others on...