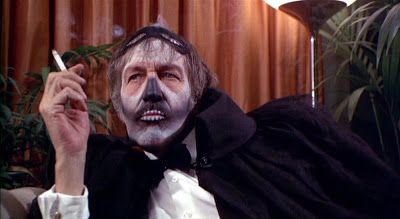 One of the earliest films about horror movie culture - the actors, the fans, the celebrity circuit - Madhouse combines a traditional grand guignol plot (which in some ways anticipates the next decade's slasher films) with a playful look at the film industry. It's a decidedly postmodern piece that nevertheless retains an emotional punch thanks to the sterling efforts of its two leads. Its irony is bounded by affection and it's a real treat for those who love Sixties era horror.
At the heart of the story is Vincent Price as Paul Toombes, an ageing actor once famous for appearing in a series of films as the murderous Doctor Death. Following the unsolved killing of his gold-digging young fiancée, Toombes is confined to a psychiatric institution. The story picks up many years later when he is invited to return to England, where his films were made, by old friend and Doctor Death creator Herbert Flay (Peter Cushing), who wants to revive the character in a TV series. No sooner is he back, however, than people start dying again - in ways that resemble the murders in Doctor Death films. This leaves Toombes unsure of his own sanity - but is he really a killer, or is somebody else playing a sinister game?

As if Price and Cushing were not enough to thrill fans, Madhouse also features Boris Karloff and Basil Rathbone in carefully edited clips meant to illustrate Toombes' past career. There are segments from The Raven, Tales Of Terror and The Pit And The Pendulum as the television industry reassesses the once admired star and the police try to figure out who's behind the killings. Adding to the surreal character of the piece, Michael Parkinson turns up to interview Toombes, but none of this takes up more time than it should and the pacing remains strong. The film is also populated by a host of cheerfully unlikeable minor characters who keep us rooting for its troubled protagonist, plus there's Robert Quarry as a duplicitous producer and Adrienne Corri (weirdly foreshadowing Patricia Quinn's Magenta from the following year's Rocky Horror Picture Show) as Flay's unhinged but sympathetic wife, living in the cellar with spiders whilst her husband pursues his ambitions above ground with accustomed elegance.
Flitting between brightly lit television studios and Flay's crumbling Gothic mansion, Madhouse blends styles and genres in a way that fondly bids adieu to the old horror whilst ushering in the new. A more varied and inventive age is coming yet the masked man in the shadows will be with us for a long time yet.
Reviewed on: 25 Aug 2014
Share this with others on...