It's an old stereotype: the lonely spinster shut away in an attic with dozens of cats, gradually going out of her mind. The women in these films, however, are not to be dismissed so lightly. Their partnerships with cats teach them survival skills, help them see off monsters and put men firmly in their place. This International Cat Day, it's time to celebrate cinematic heroines who know how to treat their furry friends.
Batman Returns - Now TV, Sky Go
It would be impossible to talk about women and cats in film without talking about Catwoman, such a strong figure in Batman lore that she often outshines the supposed hero, as is the case in this 1992 effort by Tim Burton. Though it's impossible to say who has been best in the role, with fine work by Julie Newmar in the Sixties TV series, Anne Hathaway in The Dark Knight Rises and Camren Bicondova in Gotham, Michelle Pfeiffer's incarnation really emphasises the character's mysterious connection with cats, who not only provide her inspiration but come to her aid whenever needed. She - and they - are very much the stars of the film, with the male characters fading into the background whenever she's around, and Burton provides her with a fairy tale Gotham City to define herself against.
Breakfast at Tiffany's - Amazon Prime
Have you ever felt that something is getting between you and the one you love? In this case it's often literally true. Flighty socialite Holly Golightly (Audrey Hepburn) has a big crush on new neighbour Paul Varjak (George Peppard), but nothing can get in the way of her relationship with her beloved cat, the only being to whom she has ever been willing to make a serious commitment. Blake Edwards' film somehow puts a positive spin on Truman Capote's dark novella, but Holly's complexity remains, despite the layers of glamour, giving Hepburn a character she can really get her teeth into. Feline Star Orangey, meanwhile, won a Patsy Award for his work in the film, despite the alleged presence of no fewer than eight stand-ins, and made a big impression on his human colleagues.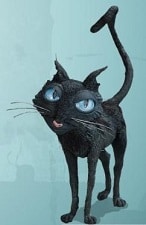 Coraline - Amazon Prime, Google Play
Sometimes a love of cats emerges early in life, and indeed, were it not for her friendship with a certain feline, it's not clear if the young heroine of Henry Selick's animation would survive until the end. She's pretty resourceful but up against a fearsome foe, even if it takes her a while to recognise this. Adapted from the work of Neil Gaiman, this is one of those children's films that may lead to disrupted sleep for a few nights, but if there's a cat in the house, you can rest easy. As everybody knows, cats can walk between worlds, and if children will only pay attention to them then all the intricately woven schemes of otherworldly predators will come to naught. Wonderfully detailed animation and colourful characters, plus a strong voice performance from Dakota Fanning make this an engaging treat.
La Dolce Vita - BFI Player, Amazon Prime
He (Marcello Mastroianni) is a gossip columnist. She (Anita Ekberg) is a starlet. Federico Fellini's opus is generally cast as a romance, between these two characters and between the director and the city of Rome, but underneath it's more complicated, slyly satirical, finding the hollowness at the heart of the Sixties dream. The columnist is not to be trusted yet the starlet is too skittish, too easily distracted for his usual wiles to work. She's also a woman who loves cats. In a key scene, Fellini shows her delighting in a kitten she has found, ordering her admirer to go and find milk in the middle of the night (long before the advent of 24 hour shops), but the kitten is no more willing to be adopted and controlled than she is. It's this wildness that will ultimately force the hero to understand something about himself.
Cat People (1942) - BBC iPlayer
Okay, so in implying that there are no mentally unstable women here, we might have been taking things a bit too far - but the heroine of this 1942 shocker (don't bother with the remake) may be suffering not from a psychiatric illness but from an ancient curse. Originally from a small Serbian village, Irena (Simone Simon) lives in fear of a folktale that says she might turn into a gigantic, monstrous cat when first she submits to a man's embrace, but she finds herself falling for all round nice guy Ollie (Kent Smith), whom she meets when sketching a panther at the local zoo. He likes her so much that he consents to a sexless marriage, but when he begins to fall for another woman's charms, the monstrous side of Irena comes out. It's brilliantly captured by Jacques Torneur's direction and Nicholas Musuraca's innovative cinematography, which would go on to inspire a generation of filmmakers.
The Mummy (1999) - Google Play, Amazon Prime, iTunes
Speaking of ancient curses, it's said that curiosity killed the cat, and when Rachel Weiss' overly earnest scholar Evie takes an interest in things that man was not meant to know, she inadvertently gets the attention of long-dead pharaoh-murderer Imhotep (Arnold Vosloo), who not only wants to rebuild his mummified body so he can take over the world and enslave mere mortals, but wants her body to act as host for the spirit of his dead girlfriend. Fortunately for Evie, she just can't resist a cute cat, and it turns out that Imhotep feels very differently. When she's first in danger, it's the cats who scare him off, no doubt remembering their ancient status as semi-divine beings represented by the goddess Bast. Now that's worth an extra treat or two.
Alien - Google Play, Amazon Prime
If there's one feline who has made a bigger impression on cinema than any other, despite having relatively little screen time, it's the enigmatic Jones, a ship's cat who witnesses things that would put others right off their Whiskas. His human friend doesn't need any rescuing - and despite her willingness to leave potentially infected crewmates to their fate, Ripley (Sigourney Weaver) makes sure she looks after him even when her peril is at its greatest. Four different cats contributed to playing him, and his legendary status has seen him go on to appear in several other forms of media. He even gets to come back at the start of sequel Aliens, staying behind of Earth as Ripley goes off to face HR Giger's creations once again - which makes him, the shorter lifespan of cats aside, the only survivor of the Nostromo.
There are no women in this little Pixar treat, but if you need something to remind you of the special qualities that make even the tiniest of kittens a force to be reckoned with (and, despite their best efforts, very cute), you won't want to miss it.
Share this with others on...