Films that open on Valentine's Day are usually all about romance, insecurity, silly misunderstandings and blissful reunions – not industrial wastelands, debt collectors and fast-talking scammers – but there's nothing about Tanya Wexler's Buffaloed that suggests a willingness to compromise in order to be liked. Starring Zoey Deutch as a small time ex-con with big ambitions and a whole lot of attitude, it's a freewheeling comedy which tickles the bits other V-Day films can't reach. Taking time out on the day of release, Tanya told me how she fell in love with the writing as soon as she read it.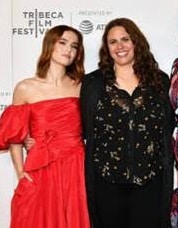 Zoey Deutch and Tanya Wexler
"The script was just hilarious – I mean, so much fun. But I have to say, it was probably the combination of the screenplay and Zoey together, kind of that perfect star for the perfect role. it was pretty irresistible!" she laughs.
So what was the process of working with Zoey like?
"It was fantastic. It was definitely a bit of kismet, it was like we just got each other instantly. We're both very high energy, both very passionate, enthusiastic kind of good students, and we really got each other. So it was this incredible collaboration between Zoey, the writer Brian Sacca and I. The three of us were a very intense triumvirate and even months before the shoot, in development, we were working together doing readings and improving the script. It's what you really hope for and you don't always get"
Brian was also around during filming, as he had an acting role.
"He plays a character called Sal Scarpetta. He's originally an actor as well as a writer and he's been on loads of TV shows and stuff and he's just an incredibly talented guy. So it was fantastic because he grew up in Buffalo. We were a lower budget film so we didn't have all the usual support. Zoey had an amazing dialect coach but we couldn't always have someone on set, but Brian, having grown up there, knew exactly how to help everyone and support them."
The film has a very strong sense of place, I note, and it's also good to see working class characters and characters from troubled backgrounds like these getting represented onscreen.
"I grew up in the Midwest," Tanya says. "I grew up in Chicago, which I guess is a major international city really but it is in the heart of a lot of what feels like abandoned industrial country and it's also in the hart of a lot of farmland, and you don't have to go too far out of the city in Chicago to feel like our own Illinois version of the community in Buffalo. I had a real affinity and affection."
Out and about in Buffaloed
Life can get really tough in those parts of the Midwest, she notes, especially for people who don't have healthcare.
"You know, I never want to take my eye off the prize," she adds. "This is a funny, smart, really enjoyable ride of a movie. You're going to laugh but you might secretly learn a little something on the side. I had more depth than that, which is what I loved."
It reminded me a bit of The Big Short, I say, in the way that it inserted little explanations about how the debt collecting business works in between moments of comedy, like that film did with the stock market. I ask if balancing the tone between those educational moments and the comedy was challenging for her as a director.
"Yeah. I mean, I was really well served by Brian's tremendous script, and then I think it was about delivering what was on the page well, and then, when you get these great actors to bring it to life, taking advantage of all the new stuff they're bringing just by putting real, three dimensional human beings in the roles.
"It's always been interesting to me, I think, whether with Ball In The House or with Hysteria – which really had a lot to say about women even though it was also quite fun – or this new film I'm making, Jolt, with Kate Beckinsale, I'm drawn to where comedy and pain meet. To me that's where the really sweet stuff of life is, you know? It's funny, it hurts a little bit, you walk away having learned a little something but without being fed a plate load of broccoli all the time..."
Looking for trouble in Buffaloed
She breaks off to admit that actually she quite likes broccoli – as do I.
"So that's my favourite kind of material," she continues, "and I really love stories about inconvenient women and inconvenient people. You know, people who just don't fit the big cultural script. To me that's the most fun, the people who just defy our expectations and the boxes we want to put people in."
I found Buffaloed interesting because it's rare to see a female character who lives on her wits.
"One hundred percent. And that stood out from the script. I read the script the night I got it... I heard Zoey's name and I kind of went 'Oh! Man, got to read that tonight! I've gotta jump at it,' and then the first thing that really stuck out for me was that this is a girl – or a woman, I think she was right on the cusp – this is a young woman who doesn't apologise. Right? In a great way... She didn't apologise for being ambitious. She didn't apologise for wanting what she wanted. She didn't apologise for being a protagonist.
"She wanted to do what she wanted to do and we've seen male characters do that forever. Jack Nicholson made a whole career on being a loveable cad. To watch Zoey who just – you can't help but love her and want to put her in your pocket, and then instead she's just like ferocious and unapologetic. It was so exciting to me. I just said 'I have to make this because I wanna see it.'"
Tanya Wexler with Hysteria star Maggie Gyllenhaal
It's also unusual to see a film in which a woman's sexual desire drives the plot, as the heroine is caught between her lust for a lawyer investigating the debt business and the obvious risks inherent in getting close to him.
"Absolutely. Again it goes back to no apologies. She doesn't have a lot of shame, right? And she doesn't have a lot of reluctance to go and live her life and go for what she wants. And I love that.
"There were some moral failings, not about sexuality or anything but maybe about how she was taking care of the people she loved most around her, and she learns a little bit about that. She's a complex character who has a journey, and she's funny, all at the same time.
"You can talk about that and it will sound like a drama. The truth is, it's funny. You watch her struggle in that very human way and it's funny."
I loved Hysteria, I tell her, and felt it should have been a bigger hit than it was. She praises her distributors, Sony Classics and Magnolia, for understanding what she was doing with her films and giving her all the support they could, but acknowledges that it can be tough to get such stories out there.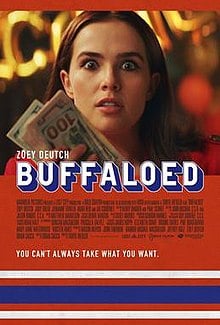 "There's a wonderful Tony award winning theatre director called Lisa Kron and after she got her Tony she said 'people take chances on women based on their accomplishments. People take chances on men based on their potential.'"
This has the effect of limiting budgets and screening opportunities.
"I don't know if it tends to be more guys making the decisions, or how they view the audience, but I think these films, had they been given more screens and more resources, would have continued to perform really well... I still talk to people all the time who say 'I loved that movie!' and I'm like 'How is this possible? I didn't know that many people saw it!'"
She suspects that changes in the way people watch films today is actually bringing them to a bigger audience, but she still loves the cinema experience and that was what she had in mind when making Buffaloed.
"I made it for the big screen and I'd love people to see it on the big screen, but I also want audiences to see it because they're going to love Zoey's performance and they're gonna laugh their asses off. And that's entertainment! This is a medium that's meant to be interacted with. Movies are supposed to be fun and enjoyed by an audience or the story just isn't complete. So for me, I don't really get to finish the movie till today."
Share this with others on...