Kayleigh Gilbert as Tess in Reborn
In the first part of my recent interview with Julian Richards, we discussed how he first got on board with his recent film Reborn, which stars Kayleigh Gilbert as a stillborn baby brought back to life by Chaz Bono's crazed mortuary attendant, her development of electrokinetic powers and her eventual search for her actress mother. Julian spoke of how filming was abruptly halted as a result of the 2017 LA fires and how that gave him time to realise that he needed to recast the role of the mother. We pick up there, as he explains how bringing in genre legend Barbara Crampton changed everything.
Barbara Crampton as an actress hoping her career will be reborn
"Barbara was just so right for the part and is such a reliable actress, and Kayleigh was new but incredibly talented," he says. "So to put them together, I just knew that good things would happen."
And what about Chaz Bono? He's almost unrecognisable in his role. How did Julian get that performance out of someone who may be widely known but still has relatively little acting experience?
"I saw Chaz's reel," he explains. "He had done a piece in American Horror Story and I watched that. We were looking at several actors for the part of Ken Stern and that scene convinced me that he would be quite interesting as Ken. I asked him what his thoughts were and how he would play the character and he had a lot of interesting things to say about Ken's relationship with his mother. We did actually have Ken's mother in the story originally. We had a scene where Ken brings the baby back to the house and we see the environment that she's being brought into, but actually we decided to cut that scene out because it was just a little bit overstated. It was almost comic book.
"Still, Ken's mother became an important sort of reference point for Chaz, for defining the character. On the one hand she was a very dominating and controlling mother but on the other there was some sort of odd, incestuous relationship going on there and somewhere along the line the barriers blurred. You then realise that Ken himself is a product of abuse. So that's something that Chaz brought to the equation that I thought was interesting, and again it helps humanise a character that could otherwise be quite arch."
Chaz Bono as a sinister mortician in Reborn
The film's other big star is the special effects. How did he approach depicting telekinesis on the screen?
"This was a new idea, if you like, within the paranormal subgenre. I don't think I can think of another film where electrokinesis has been used. We know about telekinesis but we don't know about electrokinesis. It was quite challenging because Reborn was made on quite a low budget in a very tight schedule. We had nine days' prep and originally had 12 days to shoot it but I managed to get that up to 15 days. We had quite a few locations and quite a few characters so there was a lot of ground to cover in quite a short time. And therefore we didn't really have the means to do things as practically as we might originally have wanted to do. We didn't have the budget or the time to be able to do that.
"So we relied quite heavily on VFX. This is the first film that I've done which has involved VFX and we had probably about 100 VFX shots throughout the film. It was an interesting learning curve. You sort of have an idea of what you want on the day but you don't actually see it until the thing's been cut together and the VFX team have done their work and put the shots in, and you then find that maybe the VFX team are not on the same page as you are." He laughs. "They're making a Marvel superhero film and you're making a drama.
"It's almost like working with an actor. You sort of have to bring them down. It took a lot of time and a lot of effort to get everybody on the same page and strike the right note with the effects. I remember the VFX supervisor said 'It looks like I haven't done anything!' And my response was 'Great. That's how it should look.'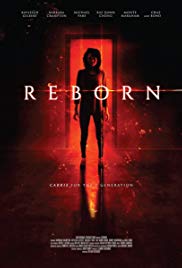 "I felt that because we were working in this genre there is the expectation of spectacle and everybody feels that they need to externalise things a little bit more than you might ordinarily do if you're just doing a drama. I find it's always the case with horror that everybody tends to try a little bit too hard. Often as a director you're spending your time telling people not to do things rather than to do things. Finding the right tone took a while. I didn't exactly know what I wanted until I saw it."
The film screened at Frightfest's Halloween event. He explains that, sadly, he wasn't able to be there.
"Because we were desperately trying to get the film ready in time – we were working probably two or three weeks before the festival, 20 hour days – so by the time it actually came to having to deliver the film, the night before, I think I'd burnt myself out. I got a virus from my kids and being unpresentable and infectious I was unable to attend the première. I also missed the market première at the American Film market. So I've yet to actually see the film with an audience on the big screen. But one thing that came from the screening at Frightfest was that there were one or two VFX shots in the film that needed tweaked and there were one or two moments in the film that were possibly unintentionally funny so we've now actually addressed them and there's a slightly new version"
So what will happen to Reborn now? He explains that it's already scheduled for a theatrical release in Vietnam, where there is currently massive interest in horror cinema, but beyond that he's not sure.
"The world of distribution has changed radically over the past few years with the demise of physical – it's very difficult trying to get a DVD in many territories. Films now tend to go straight to VoD. But on the other hand there are territories that emerging like Latin America and South East Asia where there's still a theatrical appetite for films, and specifically for genre films.
"I think for Europe and North America we're primarily looking at digital distribution. It'll either be through a subscription platform like Shudder or through VoD. Any kind of theatrical exposure is most likely to be through the festival circuit...That seems to be the way films are distributed now. It's getting more and more challenging. There's less and less money involved which means budgets are getting less and less. It's a very challenging environment but we shall see how things evolve!"
Does he still intend to continue making films?
"Oh, yeah. I mean, I would say that a film like Reborn is sort of like a labour of love. There was not a lot of money involved in making the film but it was such an opportunity to practice my craft, I'm fortunate that I'm still in a position to do that."
Read what Julian had to say about sympathetic monsters and working with Kayleigh Gilbert on Reborn.
Share this with others on...