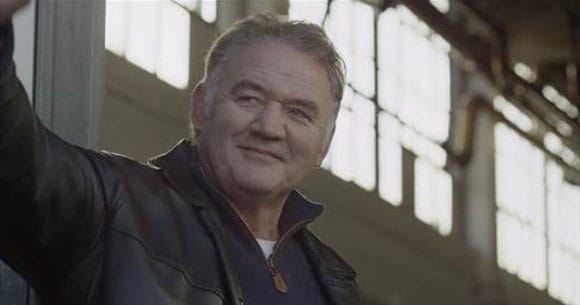 In part one of our interview about Sink, director Mark Gillis and I discussed the film's development, the struggles of working class life in modern Britain and the importance of humour. Subsequently we went on to discuss the humanity on display in the film and the way that hero Micky (played by Martin Herdman) is able to cope partly because of the help offered by other members of his local community.
"That's the one thing, I think, that can draw hope," Mark says. "That people are still supporting each other in these situations and that there is a humanity that can be seen. Thank God! Because otherwise it's just too grim to think about. I love the fact that society is still there somehow, and that gives me hope. And I think the film gives some hope of that – it's both bleak and hopeful... I like the idea that in this darkness there is still hope because otherwise, what do we cling to?"
Helping each other out in Sink
A lot of what makes that work is the chemistry between the actors, I suggest. How did he go about casting with that in mind?
"I knew all the actors, having been an actor myself for a while. I shared a dressing room with Martin Herdman, who plays Micky. We were in a theatre play together. And I aw a short film he made called Rite that was directed by Michael Pearce, actually, who just made Beast. Anyway, he was great in that and I knew he'd be great in it. As soon as I was writing it I knew he was who I wanted for it. Which, of course, then leads you into a whole lot of other questions because he's not a name, he's not somebody who will bring you finance, so that was another consideration.
"We had rehearsal time. I knew that was going to be very important and I insisted on that because we were making it on a tiny budget and any film set is highly pressurised and time-locked. When you're working on such a tiny budget I think those things increase exponentially. I wanted it to have depth and y experience as an actor has always been about the rehearsal being where you find that depth. We had two good weeks of rehearsal before we started shooting. Everybody from the film came in and we ran scenes away from the set. That's where people feel relaxed enough to try things and it's only by trying that you find out where the edge is."
The dialogue was all written out beforehand, but he remained amenable to suggestions, he says. We go on to talk about key scenes.
"One of my favourite scenes is the one where Micky and his son have the big falling out about the drugs thing. I love it because it's the three generations of men together. There's macho anger but there's also a huge tenderness somehow in there and I think the get it really well. I love that scene and I love the other scene of the three of them when they're just watching telly and they have this discussion about what's gone wrong and the son says 'It's not your fault,' Within that tiny little phrase I think there's a wave of sensitivity. I love that with these three big blokes often forced into a tiny little car – which was my car incidentally, and it still is.
Looking out at the City in Sink
"I really like the Job Centre scene where I think they find a humour in this ghastly situation, and it's sort of them playing the system as much as the system playing them. They've found their way through by, in a sense, ridiculing the system, even though they have to abide by it."
He goes on to praise Tracey Wilkinson, who plays the woman with whom Micky embarks on a relationship, and I ask if he thinks that it's because he already knew the actors that he managed to get such good performances from them.
"Yeah," he agrees. "It's really difficult if you're just auditioning people cold. You might get a flash of something but you don't know. There's a danger with auditioning that you see something that is like the character, and often that is so much less important than having a really good actor. Sometimes somebody will do something and everybody will go 'Oh, that's him!' and that's all you get, and it's very surface, and what a really good actor does is bring stuff that makes it work in a deeper way, bring stuff that isn't just about characteristics." He laughs. "Anyway, that's a very long-winded, pretentious way of saying that I liked the fact that I knew everybody and I just knew they'd all be great. Which again, on a film with such a tiny budget, is very important."
It's quite something to get a film with such a small budget to go on general release. I ask him how that makes him feel.
"Well, it's been a long haul, and it's really been difficult. It's funny with this thing, you have what you think is the long haul of getting the film made – you thin the long haul is the shoot and then you realise the shoot is like an afternoon in the park because doing post-production on a tiny budget is a nightmare. And then finally the cut is done and you think 'right, that's it, we're done,' and then there's this whole other thing.
Martin Herdman and Ian Hogg squeezed into Mark Gillis' car
"Nobody wants to set out to make a microbudget film, you know? Everybody wants their film to be funded, so there are reasons for it and in my case it was that I'd written more than one script that had almost been made, one of which was on a five year option that went right to the wire, where they were sending people off to de recces and stuff. So there was the disappointment of having been so close and that not happening and then it happened with a stage play as well where it looked as if it was happening and then it didn't. You get to the stage where you think, if I write something else and it just gets stuck in my computer and doesn't see the light of day I'm going to go mad, you know?
"So when I was writing this one I realised I could do it very cheaply. I lived in the area where it was set and I knew the locations I needed, whose flat I could borrow, you know. I knew I could use my place as unit base and then I knew all the cast I wanted, so it was just a case where I thought, you know, I'm not even going to try and get this funded because I know they'll say 'We can't fund it because you're a first time director and this guy, we can't put money into him because he's unknown.'. So you go through all that and then you come back to it when you're trying to sell it because the first thing distributors say is 'Who's your star?' And if you haven't got any name actors it's really difficult to even get them to look at it.
"We had some fantastic help. A couple of producers saw the film when we had a cast and crew [screening] and really got behind us. We didn't have a great festival run. We did the East End Film Festival but it wasn't really catching fire with festivals. But it got some really terrific backing from industry people.
"I made the decision – when it was all getting really dark and it looked like we couldn't get it out there and nobody would even watch it – I said 'I'm just going to get it out there,' and we did a lot of preview screenings at Labour Party branches and Quaker things and student unions – you know, anywhere that we thought the political edge might be something they might want to do – and always had a Q&A afterwards and the Q&As were just brilliant. They really gave life to the film again and made you think 'Yeah, there's an audience for this.'"
Eventually the film came to the attention of distributor Verve, who agreed to take it on.
"it has been a big boost for us," Mark says, "because now people can go to see it in 'selected cinemas', I think is the phrase..." We both laugh. "But it's out there!"
Share this with others on...