Is Nicolas Cage chasing a ghost?
Where do films begin? Sometimes they're just an idea, a discussion between friends, something that gets gradually rounded out and is always intended for the screen. Sometimes they're screenplays created out of whole cloth and touted round the studios for years in the hope that somebody will bite. Often, they're independent works of fiction – novels or short stories – and that's the case with Pay The Ghost, which stars Nicolas Cage and Sarah Wayne Callies and is released on DVD this week. We spoke to Tim Lebbon, the original author, about the experience of having his work adapted for the big screen.
"I wrote the short story about 15 years ago for an American anthology," he says. "Then some time later I got a call from Ian Levy at Midnight Kitchen Productions. It did come out the of blue. He said he was interested in it so we talked about it and then he optioned it, and Dan Kay adapted it and tried to get it made. It all went a bit quiet for a couple of years, and then Voltage Pictures got involved and they got Nicolas Cage attached. Once it had a big star like that attached, everything was much easier."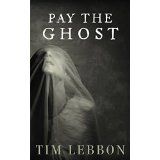 Pay The Ghost, the novella
Did he always have faith that it would happen? He's cautious. "I've had ten or 15 things optioned in the past but there's always that element of hope. Still, only about one in a hundred makes it to the screen. So many movie projects go on for years and nothing happens to them."
Was he happy with the adaptation? "I think I was," he says, speaking positively of Levy and the conversations they had. "I read the screenplay when it was first adapted six or seven years ago but I know it's changed since then and I haven't read later versions. I haven't actually seen the film yet either."
Tim may be more understanding than the average writer because he went through the process in the other direction in 2007, when he was commissioned to write the novelisaton of brutal Arctic-set vampire film 30 Days Of Night.
"30 Days Of Night was a curious one because it was a comic first so it went from comic to movie and then I wrote the novel," he says. That's a complicated business. "it's not exactly writing by numbers bt you have to go through it scene by scene, you have to include every scene and you usually have to include all the dialogue... Then I wrote my own original 30 Days Of Night novel set in London, so that's my own story, it's just set in that 30 Days Of Night universe."
Did that experience make it easier to appreciate what would happen with his story?
"I was able to distance myself a little bit," he says. "I knew it would need to be changed quite a bit because it was only a short story."
Many screenwriters say short stories suit film adaptations better than novels do, don't they?
" I think about novella length actually," he says. "Obviously with a novel you have to cut a lot out. I was always able to think, my story's still going to be there on the shelf in bookshops. I think when something is being filmed you need to be able to stand back and say that's not my baby anymore."
Does he think Nicolas Cage was a good choice for the central protagonist?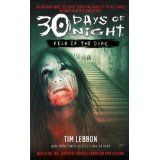 Tim's own take on the 30 Days Of Night universe
"I'm a fan. I think he's done some good stuff and from what I've seen of the film I think he works well. He's a quirky character isn't he? I like a lot of the stuff he's been in and maybe I think with some of the other stuff he's made unwise choices but I'm pretty happy he's been cast. I've arranged a private screening for my family and friends. Pay The Ghost is going straight to DVD in the UK and I really wanted to see it on a big screen so I've arranged a private viewing at a theatre in Newport."
Everybody's talking about it as a Nicolas Cage film, and directors are usually seen as the key creative force in the industry. Should writers get more credit?
"Screenwriters, definitely – I don't expect people who see Pay The Ghost to say what a great short story it was! But I've done a little bit of screen writing and I have screenwriting friends who do bemoan the fact that the director gets a lot of attention, but then there are screenwriting awards. At the Oscars there's Best Original Screenplay and Best Adapted Screenplay so we do get some attention as well."
As the film is released, he's got plenty of other things on his plate.
"I've got a few things ticking over at the moment. I co-wrote a screenplay called Playtime and that's being developed at the moment. I've also written a spooky animated kids film and I'm actually meeting a producer tomorrow about that. I think that's going to go well. And then I've got a couple of things that have been optioned. These things sort of tick over year by year and obviously I hope that one day something will happen with one of them. And then novel-wise I'm working on an Alien and Predator trilogy for Titan at the moment and then I'm working on my own series too, that's called Relics, that's for Titan as well, and I'm also writing thrillers for Avon. I've had my first one published and my second one is out this year."
Could Pay The Ghost increase the chance of more of his work getting filmed?
"I hope so. I think my screen agent's always going to mention it! To be honest I'm not sure it makes any difference but then the whole film world is a bit of a mystery to me sometimes."
Share this with others on...