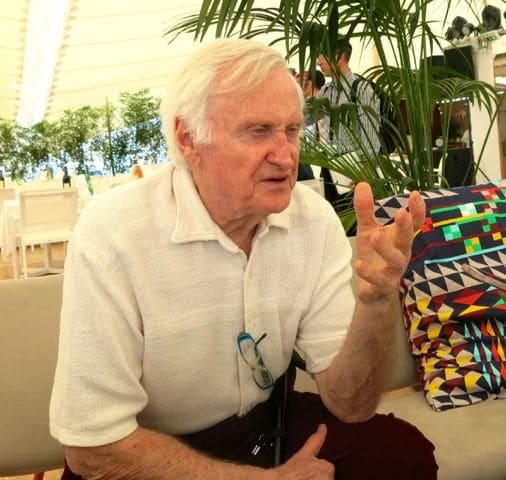 John Boorman: "the relationship between memory and imagination is very mysterious."
Photo: Richard Mowe
John Boorman, the British director who made some of cinema's most seminal films (Point Blank, Deliverance, Excalibur, Hell In The Pacific) has returned to the fray at 82 with Queen And Country, an autobiographical companion piece to his Oscar winning Hope And Glory.
Richard Mowe: How close is the film to your memories of the time and did you almost become an accidental filmmaker?
John Boorman: Very close. All the incidents in the film occurred to me and all the characters were people I knew and met at the time. When I came out of the Army, I got a job as a trainee film editor. I thought I could be very happy being a film editor for the rest of my life. But then I moved to Southern Television, and there, as a director-editor, I was directing short films; and then I was running this daily programme there; and then the BBC headhunted me, and I went and made documentaries in Bristol. I got very confident about using the camera and how to put things together.
RM: Did you always have it in mind to do this second film to follow on from Hope And Glory?
JB: I did not think of it at the time because I always felt that the Fifties were a very dreary time. I was still smarting and paying for my experiences in the Army and I did not want to deal with it at all. It was only recently when I was looking back that I had second thoughts – the Fifties was a period of tremendous change. It was the end of the British Empire and England was becoming a different place. We the younger generation at the time could see that and understood whereas the older ones were hanging on to the past. I felt that it was an important period and worth looking at.
RM: Were any aspects of that military training you have found useful in life and in your career?
JB: I suppose the discipline was useful and faced with rigours of filmmaking and its physical demands some how that training stood me in good stead in pulling a team together and interacting with them. You need to have a certain amount of authoritarianism. In this last film I had my stick [Boorman has slight mobility issues], which came in very useful. I wish I had had it years ago!
RM: Did you relish delving back in to the labyrinths of the mind?
JB: Certainly - the relationship between memory and imagination is very mysterious. Some times I feel that imagination has more truth than memory does. What's really at the heart of the film is the generational changes that were beginning to take place. The regular soldiers had all been through the war, there was pride and a sense of Empire and all those things – which were being challenged.
Callum Turner as a young John Boorman in Queen And Country
RM: How difficult was it to find Callum Turner who plays you in the film?
JB: I interviewed many candidates before I settled on Callum who had no training as an actor. It was his first film and he was playing the lead. It was a big thing for him and for me too but he had the qualities I needed.
RM: Was it strange to watch somebody else playing you and going through situations that you had experienced?
JB: Strangely enough it did not feel as if it had anything to do with me really – at least while I was shooting. It was only later when I was editing and putting it together that I had an emotional relationship with the film. I am 82 and it is probably going to be my last film. After Hope And Glory I never thought of doing this because it was too painful and I was too close to it.
RM: Do you consider the period as a vibrant one for the British film industry?
JB: It is patchy. Michael Powell was a big influence on me. Then we went through the Sixties when things were vibrant and then it fell away. When I was 17 I did a lot of radio work for a BBC youth programme and I persuaded them to allow me to go around the studios interviewing people about their jobs. And at the same time the National Film Theatre opened in London and I haunted the place where I watched some of the great silent films. So it was a fomative period for me. There are not enough British films today to represent our way of life as there were in those earlier days. It has become a kind of cottage industry. Good ones are still made despite all the difficulties of finding finance and so on.
RM: What films would you want to be remembered by?
JB: I want them to forget me [chuckles]. There are some films I am proud of and they have a life. Films have a longer life now and some films that were very successful and loved when they first came out lose their value while for some times the reverse is true. Look at the history of the Oscars and how few of those winners survive. When I went to America to make Point Blank, I felt everything was possible. I found it very liberating, coming from mean-spirited England, and also liberating from the class system… I didn't realise how affected by it I had been until I went to America."
RM: Do you enjoy making films digitally?
JB: Yes – I could not wait to get rid of celluloid with all those scratches. Film stock was developecd to flatter skin tones of white film stars and the amount of control over the colours was slight but with digital you have utter control over the colours. Digital grading has changed things radically. In cinema you are alllowed to stare at the actors but you cannot do that in life - you have to glance. Staring at the actors on screen is one of the great pleasures of filmgoing.
RM: Have reached your pinnacle of achievement?
JB: Absolutely not - I am still learning and there is a lot to learn. Many first films are very good because they are made out of a bit of ignorance. You become more careful as you go forward and that is not always a good thing. It is a matter of relating ambition and vision to knowledge and the balance between those things. When David Lean was working on Nostromo he said I hope I can get to make this film because I feel I am just getting the hanging of it all. I feel the same way.
RM: Does that mean you have something else up your sleeve?
JB (laughs): If I feel strong enough I will definitely have another go.
Share this with others on...