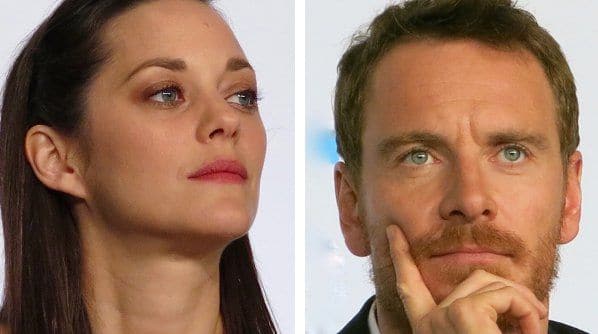 Marion Cotillard and Michael Fassbender in Cannes for Macbeth.
Photo: Richard Mowe
Whatever else happened with his version of
Macbeth
- starring Michael Fassbender and Marion Cotillard - which has its red carpet premiere at
Cannes Film Festival
tonight (May 23) as the last film in the Competition, Australian director Justin Kurzel was determined that it had to be shot on location in Scotland.
He told a media gathering at festival, where the harrowingly bloody epic take on the classic tragedy was greeted at its morning press show with a mixture of applause and the odd boo, that there was a new stage production of Macbeth happening somewhere in the world every four hours.
"Our challenge was to make it cinematic and part of the answer was to shoot in Scotland where the story is set and how that landscape informs the tragedy [location shooting took place on Skye in winter].
"Against that backdrop the characters feel very small in what is an extraordinary story. I also tried to give it feel of a Western, which was integral to the way we made the film. As an Australian, I am used to being surrounded by vast landscapes and to know what that special connection can make us feel," said Kurzel who first came to Cannes with his debut feature Snowtown.
The cast also were suitably affected by their surroundings. Fassbender, who plays the troubled thane, said: "We had to respect the text but at the same time make it cinematic and not theatrical. Macbeth is a very fractured being from the beginning because of his job as a soldier and the fact that he has not been allowed to mourn the death of a child. Of course it is a story about ambition, but it is also about loss - of the relationship between him and his wife, the loss of their child and the loss of their sanity. And one of the best things about being Scotland was, of course, the whisky…"
Macbeth director Justin Kurzel: "I am used to being surrounded by vast landscapes and to know what that special connection can make us feel."
Photo: Richard Mowe
Cotillard, who declared that unlike Fassbender she didn't drink, said she had always dreamed to going to Scotland since she was a child. "I don't why but I was fascinated by images of the country but I had never had the chance to go there. I discovered the elements of mystery that I had fantasised about. The conditions in winter were horrible with hail and fog - but all of it helped to reawaken the atmosphere of the story."
Although Fassbender caught up with every filmic Macbeth he could, including his favourite version Throne Of Blood by Japanese director Akira Kurosawa, Kurzel stayed away from them because "they all come with so much baggage". When Fassbender worked out that he believed that Macbeth suffered from post-traumatic stress order it gave him a key into the role. "It was not just that the battles take place with bare hands, but you find out what it is like to pierce the skin through the muscle and in to the bone. It is the same effect that soldiers have coming back from Iraq and that made sense to me," he said.
Although Cotillard had never previously played in Macbeth, she relished the chance working in the language of Shakespeare. "The text was so subtle and at times soft despite the violence. Lady Macbeth's incapacity to face up to her fear leads her to do things that are monstrous. She tries to build a wall of protection around them and around herself and that leads her to madness."
Revealingly, the Oscar-winning actress admitted that she continues to suffer self-doubts. "I am very strict with myself and always scared that I will not be up to a part. I don't really consider what other people think of me, but there is always this fear that I might disappoint people. That is all part of the relationship I have with myself."
Fassbender gallantly rallied to give her confidence a boost by saying that as an actress she was "the best in the business". He added: "When she portrays a character, the audience has a mirror in front of them in which they can see bits of themselves in her. It is a simple thing but the best actors are also the best listeners, and she listens brilliantly."
Share this with others on...