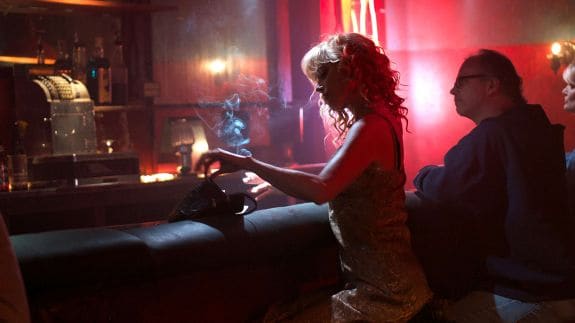 Melanie Griffith in a scene from Rachel McDonald's Thirst
She remains one of the most familiar faces in Hollywood although the work offers Melanie Griffith used to get from the studios have more or less dried up.
The daughter of Hitchcock muse Tippi Hendren and still the wife of Antonio Banderas until the current divorce proceedings go through, Griffith, 56, found time to take a chance on an unknown first time film-maker Rachel McDonald, 31, and her first short Thirst (presented at the Locarno Film Festival in the Talents of Tomorrow section).
She plays Sue, an alcoholic who gives succour and solace to a young man Billy (Josh Pence) after he wanders in to her life in a haze of drink. The wilted beauty decides to save him from himself and provides him with inspiration to take the first halting steps toward a new sense of purpose.
"It is not like lately I have been offered a whole lot of jobs," she says. "Once I had read the script and met Rachel I knew I wanted to do it. I thought it was a great challenge to play an alcoholic since I am a recovering alcoholic. I considered it would be a good way of getting all that out of my mind and my body. I could easily have been Sue but I managed to stop before I got to that point. When I met Rachel, I saw something in her and in her eyes that was familiar to me."
Melanie Griffith: "Acting is a child's game played with adult rules."
Photo: Richard Mowe
Of the scripts that do come her way these days she says most are hardly worth fighting over. "I don't go to the movies at the moment because there is nothing to see. There is not very much, just some little movies, but the big movies are all cartoons and super heroes."
Griffith relished the experience of working with McDonald because she knows exactly what shots she wants. "She had it completely planned out. It is stunning visually. She gave me great freedom and allowed me to do what I thought was right for the character of Sue."
She is of the view that "acting is a child's game, played with adult rules. I do all my homework and figure out the character but it would not make sense to anyone else. There are no small parts, only small actors. If it is a short film it is the same amount of work as a five-and-half-hour epic."
The mum of three claims to be so old in Hollywood terms that she is past the point of no return. "I did take a lot of time off to raise my kids," she says. "But now I am doing a lot of work – I have a couple of films coming up and in January I have Pippin coming up on Broadway. I am in the position of being able to do what I want to. I have only one child left at home and he will be gone in a couple of years. Then I can do whatever the fuck I want to!"
She will not, however, be allowed to see daughter Dakota Johnson in the forthcoming 50 Shades of Grey because she has barred her parents from watching it.
Melanie – who won a Golden Globe Award and was nominated for an Academy Award for her performance in Mike Nichols' Working Girl – has no doubts that film-making is about teamwork.
She claims that she still gets as nervous going on the set for the first time as she did when she was starting out. She suggests: "I've done a lot of movies. I've worked a lot but still I don't like to watch myself."
Share this with others on...