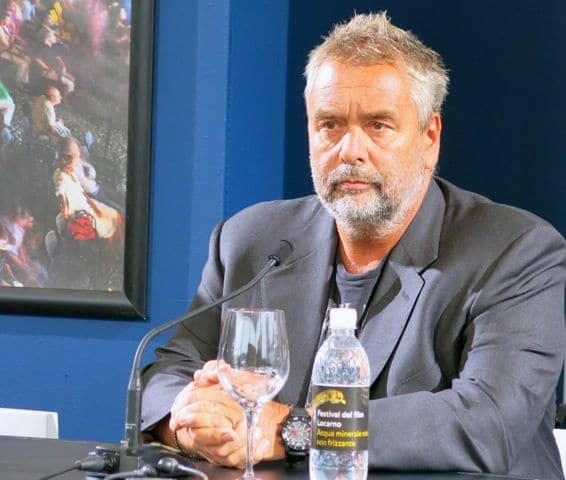 Luc Besson: "I am a bit like the great chefs who pick up tips and recipes from their travels. My greatest fear is to make the same film. I am not interested in that. I always want to go in different directions ..."
Photo: Richard Mowe
French filmmaker
Luc Besson
is the closest France has to a movie mogul with his company Europa Corp, which is a major partner in a recently opened studio in Paris, Cité du Cinéma. He has produced or co-produced some 100 movies across an eclectic range of genres, all aimed for international success and many - such as the
Taken
franchise - targeted at the mass market.
Now he has returned triumphantly to the director's chair with Lucy featuring Scarlett Johansson and Morgan Freeman, already a breakaway hit of the summer and very much in the Besson mould of films with strong female roles at their core (Nikita, The Fifth Element, Joan of Arc, The Extraordinary Adventures Of Adèle Blanc-Sec, and The Lady, about Burma's Aung San Suu Kyi). The film tells the story of Lucy (Johannsson), a woman who transforms into a super-human warrior after her mind becomes scientifically-enhanced.
At 55, the man who is proud he never went to film school talks about his craft and ambitions as the film opened the 67th edition of the Locarno Film Festival last night (August 6).
Looming large over the Piazza Grande in Locarno: Luc Besson's introduces the premiere of Lucy
Photo: Richard Mowe
Richard Mowe:
Lucy already has opened successfully in the States and is about to release in France and the UK. What are your feelings about it as 6000 people await its premiere at the Locarno Film Festival?
Luc Besson: Whether a film works or not is in the lap of the gods. You offer the film up to the public and the critics and they decide. It is a bit like an adolescent of 18 who leaves home, and you have a little tear in your eye, but you hope he has a good life. Lucy is coming out in more than 80 countries, and then after that it could last 20 years or so on the DVD shelves. So I hope it has a long life.
RM: The subject of brain power is fascinating - where did you get the concept?
LB: Nine years ago I met this woman at a dinner. She was a professor in nuclear cells which got cancer. I had an amazing conversation with her for about four to five hours, and I saw her twice after that. Then I met a couple of professors – and I just started to get very curious and very excited about all this, because it was new to me and fascinating. Then I became a member and founder of an institute called ICN, which is all about brain research. At a certain point I thought I wanted to do a film about the subject of brain research, not a documentary, but an actual film. I started to think about what I had learned and what I would love to see, and then divided the idea into four concepts, which is control of yourself, control of others, control of matter and control of time – which is the ultimate control. Basically that is what I started with.
RM: Does your role as a producer ever get in the way of Luc Besson, the director?
LB: No never. Firstly, because when I direct my own films such as Lucy I always have a producer – somebody else. So when I am on the set of Lucy, I am only a director. When I am a producer, I am a producer. Being a producer is pretty easy by comparison. You are on the bench and the job is to scream at the guys who are running about with the ball. You sometimes don't know why but you just scream anyway. So that is the easy part. The hard part is to be on he field and playing the game and getting involved in the nuts and bolts.
RM: The investors and the markets don't like risk, but risk is part of film-making. Was Lucy made as part of some corporate strategy because it is one of the most ambitious films you have undertaken as a director and probably one of the most challenging?
LB: First, if you don't want to take risks then don't go into the cinema business, get another job. Second, I am a director on this one, so the business aspect is not in my mind. I have delivered this film. It was a lot of work because I started it nine years ago. I started by talking to many eminent professors about the brain and intelligence and it is quite difficult for a creator to imagine a film that is fast and fun but also intelligent at the same time and in which we talk about the brain. Are we allowed to do this in one film? That was my concern but today I am proud because I think I succeeded. Of course, there are always people who may not like it. But that was my challenge and that was my concern over the last five years.
RM: Were you influenced by Arthur C Clarke's 2001, turned into an iconic film by Stanley Kubrick?
LB: It was an extremely important film in the history of cinema and therefore if you decide to make a film with those kind of elements it will be a point of reference but not necessarily an influence. I was 11 years old when 2001 was released and at the time, I have to confess, I did not understand everything that was going on. Now I have better grasp of it all.
RM: Are you attracted, in particular, to strong female characters?
LB: That is true to a certain extent but I also write strong roles for men such as Léon and The Big Blue as well as Atlantis and The Last Battle. I know that journalists like to imagine that I have a particular affinity to female characters but I try to spoil men as much as women. Simply, I try to write the best roles for men and women. I don't want to be accused of being sexist in either direction!
RM: Did you think that the film would not work as well with a male character as the main focus?
LB: That wasn't in my head. What was interesting for me about Lucy was to take a character, who represented Miss Average. She could have been me, or she could have been you. She had no particular characteristic. She studies but she doesn't know what she is going to do with her life. She more or less has a boyfriend. She is really average. She is away from home and unlike many of the protagonists, she doesn't speak Chinese or Korean. She has no idea how to defend herself. If the character had been a young man he might have tried to fight back and escape. Lucy had no idea how to get out of the situation.
RM: How did you work with Scarlett Johannson – and what tools did you give her to work with?
Besson on Johannsson: Scarlett is very hard working and just threw herself into it
LB:
With a whip as always! There was obviously a lot of discussion in advance – this isn't the kind of project where you can say, "Let's go". Because Lucy suddenly is using parts of her brain that have been dormant we had to look at modulating the voice, which was all done before we starting shooting. It was like learning a new language. Scarlett is very hard working and just threw herself into it.
RM: You drew on an extremely international cast – did that present challenges in terms of your work as a director?
LB: I had admired the Korean actor Min-sik Choi, star of the original Oldboy but he had never worked previously outside his home country. We had dinner in Seoul with a translator who was very nice but did not really know about cinema. When I realised that she had read the script in English and translated it for him I thought that something might have been lost. So I told him the whole story at the table in two hours or so and he just sat and listened. And at the end it was clear he was bowled over by it and immediately he said he would do it.
In the film there are French who only speak French, Koreans who only talk in Korean, Taiwanese who speak in Taiwanese and Americans who talk English – so I had three or four translators at my side. It was a bit complicated when they were all talking at once, and also they had to be close to the actors at all times. Once we got used to the idea we had quite a few laughs and we also used sign language.
RM: It is said that you are more in the style of an American director than a French one. What do you think?
LB: A creative person is there to open doors. If I had listened to what people told me I would be making Léon number 8 or Nikita number 12. The only way to reinvent yourself is to travel – either in your head or in reality – and to soak up flavours and colours of wherever you are. I could not have made Lucy without having had all those previous experiences to add to my palette. I am a bit like the great chefs who pick up tips and recipes from their travels. My greatest fear is to make the same film. I am not interested in that. I always want to go in different directions, like Picasso and Miles Davis did in their respective art forms – not that I am putting myself on level with them.
Lucy is released in the UK on August 22 and is currently on release in the US and France. Read more about the film on its Facebook page
Share this with others on...