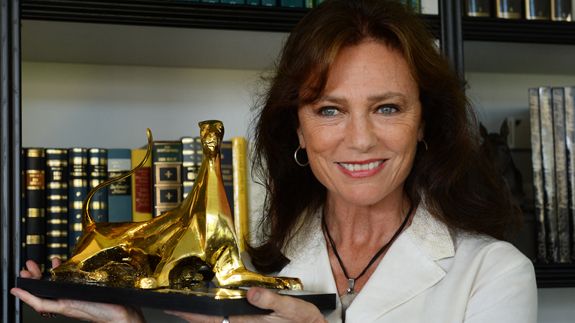 Jacqueline Bisset with her Locarno award.
She moved from the UK to Hollywood aged 23 but Jacqueline Bisset continues to exude glamour in a simple white blouse and pristine linen trouser suit. Richard Mowe has an audience...at the Locarno Film Festival.
The sea-green eyes still sparkle. The lips may pout a fraction less, but they're undeniably sensuous. And, of course, the cheekbones remain to die for. As a VIP guest of the Locarno Film Festival, where she has received a lifetime achievement award, Jacqueline Bisset has been treated like Hollywood royalty.
She's here to talk about the legendary director George Cukor (the subject of a retrospective) with whom she worked on Rich And Famous, his last film in 1981 – a project she also co-produced.
She starred alongside Candice Bergen in a story of female friendship over a couple of decades. "It took three years to put together at a time when women were not really listened to in Hollywood. It placed my female soul in a very dodgy position as we were up against a macho studio thing. It was, at times, an excruciating experience.
"Cukor was nice in some areas, but he was tough, 'old school' in many ways. He just wanted us to go very fast, it felt like a whipping – '... faster, faster!'. He used to say if you slow it down and leave a space, you lose the audience. I was trying to warn other young actors when they entered the production, if you don't want to be shouted at, don't try and milk your scene! And some of the fight scenes were very difficult to do because he pushed us emotionally beyond what I felt was depth."
In her private life Bisset has been something of a collector of relationships. There was a fling with Gallic heart-throb Vincent Perez for one, and Canadian actor Michael Sarrazin for another. There was also restaurateur Victor Drai and Russian ballet dancer Alexander Godunov. She likes men who are "vulnerable - but who also talk a lot and are opinionated. That makes me feel safe," she says.
It was love that kept her in Hollywood in the first place. As an ingenue British girl she came to the attention of Darryl F Zanick, the infamous head of 20th Century Fox who spotted her in Stanley Donen's Two for the Road with Audrey Hepburn and Albert Finney in which she played a teenager with measles.
Suddenly at 23 she discovered herself en route to the States to do tests, which resulted in a ten-year contract. "I went there completely alone. My mother put me on the flight and off I went. I had no idea what to expect - I thought it was the land of pink negligées and heart-shaped swimming pools. But I never saw any. They sent me first to South Africa to do a remake of Pick Up On South Street with Clair Trevor and James Brolin - it was his first film under contract too - and then there was The Sweet Ride, a beach movie. I had no idea what was going to happen." In Casino Royale she made a memorable entrance, if nothing else, with the immortal words: "I'm Miss Good Thighs."
One surprise from those years in the late Sixties and early Seventies was The Grasshopper, in which she played a 19-year-old girl from British Columbia who ends up as a Las Vegas call girl at 22. "It was based on an actual magazine article, and caught the mood of the times. It was about the whole thing that women were feeling...the permissive society was starting to be recognised. Women were getting used up and flitting around without really understanding what they were doing. More a sort of defensive attitude rather than a chosen act."
Bisset, who kept her defences up, appeared on the whole simply to ignore Hollywood ..."I always have. When I read books about the place, I wonder where these writers go. What made me stay was an actor with whom I was having a romance. I lived at the beach like every other hippy in the late Sixties.
"I took up smoking," she says "and lost 20lbs, managed to pack in a lot of work, and loosened up a bit. I didn't see that I would ever go back home to stay."
She never did. Born in 1944 in Aberdeen her family moved south in search of work to Weybridge, Surrey, the sleepy Shropshire village where she spent most of her formative years. Her mother Arlette was French and a lawyer which gave her daughter a bilingual advantage. Her father Max was a Scottish GP whose roots were in Perthshire. They married during the war. Her father once told her: "You happen to be a rather pretty girl, but it has nothing to do with you and it won't last anyway, so go out and develop yourself as a person."
She has described them as "two wonderful people, who didn't have a kernel of affection between them, only civility. It left me with a sadness." Perhaps that is why she has never committed herself to marriage. "There have been suggestions, but the timing never seemed to be right," she says warily.
She began ballet lessons aged four, then tried some modelling during her teens. She started going to the cinema at 15, where she saw Jeanne Moreau's film Jules Et Jim. "It was after that I decided I wanted to act for sure," she suggests.
At the time her home life was anything but glamorous. She describes it as "shambolic" - books were strewn everywhere, and there was enough furniture for three houses. Subsequently, she and her brother rebelled against such disorder by becoming pathologically tidy. When her mother succumbed to a long-term illness, Bisset took over the running of the house. The marriage foundered, her father left home, and she discovered early adult responsibility thrust upon her. Her father died, but her mother survived into her eighties.
"I had to grow up fairly quickly on one level, but the rest of me is still trying to catch up. Part of me is still very young. I feel it with my female friends who seem so much more mature than me," she says.
She gives the impression that her career developed in ad hoc way. "If anyone cast me, I was just grateful and happy. I wasn't making any judgements about what I was doing, as long as I didn't have to compromise myself. I didn't think about the way I looked. People said I was decorative...well I wasn't that decorative," she says disparagingly. She had her first small part in The Knack by Richard Lester and then Roman Polanski told her to "get skinny" for a role in Cul-de-Sac.
She was cast with a clutch of leading men including Steve McQueen in Bullitt, Frank Sinatra in The Detective, Paul Newman in The Life And Times Of Judge Roy Bean, and Ryan O'Neal in The Thief Who Came To Dinner.
She caused a sensation with Nick Nolte in The Deep by emerging from the ocean in a wet tee-shirt. She shrugs off the prurient interest by saying: "Look, the last thing I was thinking about was my tee shirt. It was even close cut but the publicity helped the film make money, even if I felt betrayed. I was more concerned with plucking up courage - I have a tremendous fear of water, and I cannot tell you the terror I felt when we had to go under for up to 45 minutes at a time."
It took French director François Truffaut to realise the full potential of her talents in the award winning Day For Night in which she plays a famous actress recovering from a nervous breakdown. "What was fascinating for me was to be filmed with such care and attention. He asked me to bring my star wardrobe, but I didn't have one and I had to go out immediately and buy three Missoni outfits." Truffaut defined her appeal succinctly: "Most women with sexy bodies lack that special spark of mystery, she has both." The film marked a substantial detour into European cinema, often giving her the kind of challenging roles she lacked in the States, such as working with Claude Chabrol in La Cérémonie.
There were compensations in the States, however. Teaming up with Sinatra for The Detective proved an easy-going experience. "I was in awe of him, sure. We'd played all his records at home. But I wasn't intimidated. He made it all so simple. He was due to accompany me to the premiere in New York. I was staying at the Plaza Hotel when the phone rang. The voice said 'it's Francis here.' I said I don't know anyone called Francis. He replied "It's Frank for Chrissakes - and I'm coming round now so set me up with a vodka. He arrived, downed the drink and we set off for the screening. I was wearing a short wig, and everyone seemed to think I was Mia [Farrow]." In fact, Bisset replaced Farrow in the film when she went off to make Rosemary's Baby.
When she made Class for director Lewis John Carlino what started out as rather a poignant role of an older woman becoming involved with her son's best friend was cut drastically, turning her into a bimbo and seducer. "It was quite successful, and made the studio lots of money," she consoles herself, "but it wasn't the film I signed to do and I felt betrayed."
She worked twice with the late, great John Huston. On the first occasion she felt he was "a terribly dangerous man. I was wary but admiring. On the second occasion [for Under The Volcano] it was better - and I felt he must admire me as an actress because he'd actually asked me three times. Being around John, you felt there was a very macho atmosphere, and as a woman you felt a little lonely. But on Volcano I was also working with Albert Finney for the third time, and we got on great."
Bisset considers herself to be a restless being who is never content. Her mind appears as a battleground between reason and throwing caution to the wind. There are no longer that many roles that she desperately wants. "Just sometimes I see a film I turned down, and get annoyed thinking what I could have done with the role. You learn to stop trying to justify everything. But that's hard too, because you know you're always being judged," she says.
"I still am sort of a lead in independent projects, like the one I have just done now with Gérard Depardieu and Abel Ferrara, but it's simply about the work, I don't give myself limitations. When I read a script it's like my own little journey, and in some level it's a personal thing. So this award in Locarno is an encouragement, it's not the end."
The Ferrara film is Welcome To New York, inspired by the downfall of former IMF chief Dominique Strauss-Kahn who faced charges, later dropped, of attempting to rape a chambermaid at the Sofitel Hotel. Depardieu plays DSK as he is known in France and Bisset takes the role of his now ex-wife Anne Sinclair.
At 68 she is determined to keep youthful, not just in body but spirit. She works hard to keep herself in trim. At home she walks up to four miles a day, which in a car crazed culture such as LA represents a considerable achievement. "I like to embrace life and avoid people who are a drain on my spirit. It's amazing how exercise pulls you out of yourself," she says.
Share this with others on...