DOC NYC partnered with Echelon Donates for City Harvest Food Drive to benefit the neediest victims of superstorm Sandy
Photo: Anne-Katrin Titze
As the third annual DOC NYC showcase of documentary films in New York reached its halfway point on Monday, November 12, Eye For Film caught up with artistic director Thom Powers to talk about the festival's expanded, energised line-up of films and panels lighting up the Big Apple.
Anne-Katrin Titze: We are at the midpoint of your third and most ambitious DOC NYC festival, so far.
Thom Powers: That's right.
AKT: How are you holding up?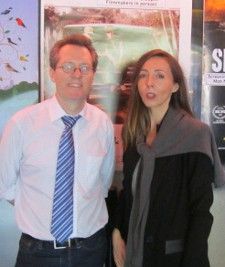 TP: Still managing to smile. It was an unusual year for everyone in New York City. We've had this hurricane (the October, 29, 2012 superstorm Sandy) that took place some 10 days before the festival was supposed to begin. We had a week of the press screenings cancelled (The IFC Center lost power) and it was also a week where our tickets were off sale, because of the power outage. Normally in that week, we would sell about 40 per cent of our tickets. Then we had to catch up, getting our films in, that had been hung up in transit. And frankly, just the kind of psychological recovery of our staff.
AKT: Were you okay? Did you lose electricity?
TP: My wife, Raphaela Neihausen (executive director), who runs the festival with me, and I, lost power in our house in New Jersey. That was out until the festival started. We needed to move out of our house and move to a place downtown. You know, for a week we were like gypsies, we stayed in four different places.
AKT: Downtown was without power as well.
TP: They got power back on Saturday, we moved there on Sunday. But it's hard to complain when you know some people lost their home or worse. It emboldened us to go forward.
AKT: You did a food drive.
TP: We did a food drive this weekend. We filled up lots of boxes for City Harvest.
Thom says Rafea: Solar Mama took on added significance in the aftermath of superstorm Sandy
AKT: I saw them stacked in the green room, when I interviewed two of your filmmakers for Far Out Isn't Far Enough: The Tomi Ungerer Story (directed by Brad Bernstein).
TP: We also felt like we had a different kind of nourishment to give the city, which is the nourishment of stories. You know, we have 61 feature films, 32 shorts, 22 panels.
AKT: More than ever. Plus an extra location (Chelsea's SVA Theatre).
TP: Yes, they are a big jump up from last year and two new theatres.
AKT: After I wrote my five DOC NYC highlights, I noticed that four of the directors are women. Which is great.
TP: I noticed that in Toronto this year. There was a very strong showing of female directors.
AKT: Any films you think are particularly fitting nourishment for NYC right now?
TP: It's funny, there were connections that I didn't really make until I stood up to introduce them. For example the film with Rufus and Martha Wainwright, Sing Me The Songs That Say I Love You: a Concert for Kate McGarrigle, their mother. That's a film about mourning and loss and the kind of healing power of music. That felt very apropos for a week and a half after the storm. There is another film called Rafea: Solar Mama by Jehane Noujaim and Mona Eldaief, which is about a woman in Jordan, an illiterate grandmother learning how to bring solar power to her village. Certainly the fact of being powerless, in a much smaller way here in New York City, was a connection to make.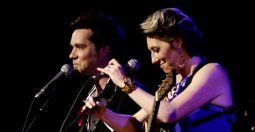 AKT: Speaking of standstills. One of the parallels I noticed between two very different films in your programme, The Pervert's Guide To Ideology (directed by Sophie Fiennes featuring Slavoj Žižek) and David Bromberg: Unsung Treasure (directed by Beth Toni Kruvant) - was the "inertia of the Real", that authentic passive experience of history in the form of the crumbling old theatre, the aeroplanes in the desert, the wreck of the Titanic. Did you notice any themes that jumped out at you?
TP: No, there's too much of a multiplicity of voices to discern any theme. And that's the way I like it.
AKT: Sometimes they just happen, for example, last year's New York Film Festival had a lot of ends of the world and a lot of Wagner.
TP: Yes, sometimes you see little clusters. There were more music documentaries this year than in the previous two years, so we created the section Sonic Cinema. Last year, there were a lot of profile films, so we did a section called Icons. This year we didn't renew that section.
AKT: When I spoke to Brad Bernstein last weekend, he told me that at Toronto, they were hoping for a meeting between Slavoj Žižek and Tomi Ungerer, who both attended the festival with their films. It didn't happen. Are there any interesting meetings of people from different spheres, you can recount?
SVA Theater in Chelsea DOC NYC screening of The Pervert's Guide To Ideology
TP:
Right. That's a good question. There's all kinds of surprises. You know, Anjelica Huston walked in the theatre the other day to see Sing Me The Songs That Say I Love You and Courtney Love came out yesterday to see the Solar Mama film. That's a fun aspect of New York City, you see those people that you admire for other achievements coming out and supporting the doc fest.
AKT: For New York to have a documentary festival has been long overdue. And you took up the challenge.
TP: And it is a challenge. Here you are competing against 50 or 100 amazing other things happening every day. The New York audience brings high expectations.
AKT: Tougher than Toronto? (Thom also programmes for the Toronto International Film Festival)
TP: Oh, much tougher. Toronto are a famously generous audience. For a documentary to make it here, it can make it anywhere.
AKT: I read Michael Cieply's article (Racing to the Screening Room To Outpace Oscar Rivals, November 12, 2012) in the New York Times this morning about Tom Hooper's (the director of Les Misérables) plans to attend six screenings in eight hours of his film for Academy voters in Los Angeles and the logistics of travel.
Now that you have two theatres (a mile apart) with four screens and introductions, and Q&As, are you taking the subway?
TP: Over the weekend, my wife and I split up those theatres. She was here at the IFC Center, I did the SVA introductions.
The third annual DOC NYC runs till November 15, at the IFC Center, with dozens of more screenings of the best documentaries with many of the filmmakers present to participate in Q&As. There are eight remaining Doc-A-Thon Panels, four on Protect Your Rights on Wednesday, and four on Reach Your Audience on Thursday.
The festival partnered with Echelon Donates for City Harvest Food Drive to benefit the neediest victims of superstorm Sandy.
Added screenings DOC NYC:
Wednesday, November 14
6pm Melvin & Jean: An American Story at IFC Center

Thursday, November 15
5:40pm Birth Story: Ina May Gaskin & the Farm Midwives at IFC Center
7:30pm Big Star: Nothing Can Hurt Me at IFC Center
9:30pm Zipper (in addition to previously scheduled 3pm show) at IFC Center
9:15pm Central Park Five at SVA Theater (in addition to previously scheduled Closing Night Gala 7pm show) at SVA Theater
Share this with others on...