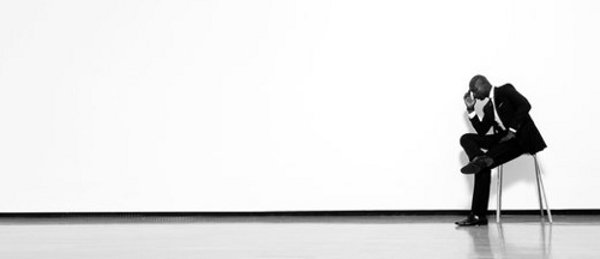 I was scheduled to interview British fashion designer Ozwald Boateng in New York, about A Man's Story and was surprised when I arrived, that Varon Bonicos, who directed the documentary, was also in the room, working on his laptop, pretending not to be there. I should have expected him, because the documentary chronicles Boateng's life in precisely that way, with Bonicos playing the designer's shadow for more than a decade.

In the film, Ozwald Boateng, the "killer of the cut," explains about fabric, saying that "touching is also understanding" and that he wants his clothes to "enhance who the person is". "That's what I live for," says the Samurai of Savile Row.
Some of the celebrities captured on camera, wearing and being fitted by Boateng in order of appearance, are Paul Bettany, Forest Whitaker, Gabriel Byrne, Will Smith, Richard Branson, Spike Lee. At 28, he became the youngest tailor to open a shop on London's historic Savile Row.
Anne-Katrin Titze: I see, he never leaves your side [referring to Bonicos]?
Ozwald Boateng: At this particular moment, absolutely.
AKT: This is already what I thought would be my last question. Will there be a part two?
OB: That's the question we always get. After the first 14 years, I'm not sure about the next 14.
AKT: The film spans 12 years and then the last two were post-production?
OB: Yes, the edit and the final release. So, it's been a long journey. Many times during that journey, I thought, man, what am I doing? But, you know, somehow, trusting the person.
AKT: Trusting him, your director?
OB: Trusting the person to do the film, which is in itself quite something.
AKT: [to Bonicos]: Did you ever feel it was too much?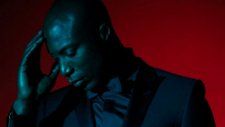 VB: You know, since the first moment I met Ozwald, it was too much. So that's the starting position. I heard about him. He's just a mythical kind of creature in London. So I finally got to meet him. I really didn't know what to expect. So I go into that incredibly red room with these clothes everywhere. I'm not really a fashion person. So he sat down like this [leaning back in his chair] with the big long legs [Boateng is 6'4"], and in basically the first sentence he starts talking about life, and how there's a door that you can push and if it opens, you go through it and if it doesn't… In amongst all of that, that was kind of my initial meeting. I never met anybody like him. And didn't really understand how that person operated.
AKT: And so you kept pushing many doors open?
OB: Very good. Absolutely.
AKT: I was wondering what it does to your memory. If you have 12 years of pivotal moments, private and professional on film. I just know from photographs, even childhood photographs, how memory changes. I remember the picture, not the moment.
VB: Great question. [He stops working on the computer and waits for Ozwald's response]
OB: Well, wow. Well, the first time I saw the film, I went into shock. And I couldn't talk to him for like maybe four weeks. A friend of mine basically said to me, "why you are so much in shock is because usually when you see that level of detail in your life, is usually when you're dying". Yeah, so I was Iike, wow. Because it really did affect me. It was not just a question of seeing the film. I went back to that moment.
AKT: And there are so many important moments exposed.
OB: Yes, so many moments, which is quite an impactful thing. So the question is, how I see it now. I realise it for what it is. Life is a series of many many moments. And it's about how you enjoy each of these moments. The moments of pain and of laughter are partners. That's what allows me now to watch it and enjoy it for what it is.
AKT: Do you feel that it's taking over the memory itself? For example, the morning you started out as the creative director at Givenchy in Paris, you allowed yourself to be filmed.
OB: I remember being in the car. I remember how I felt. I'm a designer, a creative. I am always judging everything. Image. How does something look? I'm obsessed with this. But the film has kind of taught me to let go.
AKT: You learned to lose control.
OB: And to trust in the process of the making of that film. When you design a piece, you go: let me change this, let me change that, and then you've got to let go.
VB: Yeah, letting go for 14 years.
OB: Just imagine. It wasn't even the millennium yet. It was 1998 when we started.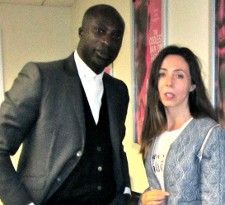 AKT: The film is also about time passing. Obviously it is about you, but not only. It is interesting to see the creative process. You said, you didn't want to make a fashion film but it is about fashion as well.
VB: It's a man's story. Fashion is the backdrop. You very rightly point to time. By the way, time is the biggest luxury that very often isn't dealt with. Ozwald hasn't changed very much in his appearance. So when you look at it, it's kind of confusing and exhausting. The pace at which he works is also tiring. So time is absolutely a key thing.
AKT: Time and speed.
VB: Time and speed. I mean, Ozwald's output in his day to day life is very extreme. He doesn't sleep much.
AKT: Ozwald, what about your own short films?
OB: I want to make a feature film. I am very keen to make movies. To direct. I've been probably one of the first designers to make short films a part of his fashion show.
[There are loud swishing and whooshing sounds coming from Bonicos's computer now]
Varon, what are you doing? We're in the middle of an interview, dude.
VB: I'm sorry. It just restarted itself.
AKT: I thought you were killing monsters. Game over.
OB: Game over. One level up. That's great.
AKT: Who are some of your favorite filmmakers? Have you seen any movies recently that you liked?
OB: I'm a big film guy. I saw a documentary called The Imposter on the plane, which was really good. One film I really loved was The Prophet. A French movie about this guy who is sent to prison. It's basically about how he survives this. I'm trying to think, what else?
AKT: Have you seen The Master?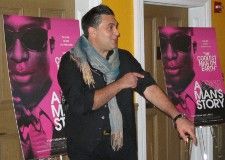 OB: No, not yet. I've heard about it. I've got to see that. Directors, I like James Cameron, I like Spielberg, I like obviously Scorsese. There's a new kid out in London, called Ben Drew, who directed a movie called Ill Manors. And it's a real English hard-hitting film. He's a singer, musician. It's a bit hard, a bit of the dark side of the London ghetto.
AKT: Giorgio Armani looms large in your life. In the film you say he was the starting point.
OB: You've got to look at the times. When I was 16, and I made the decision I wanted to be a designer, I looked at all the top designers. And Giorgio Armani was one of them. It was the Eighties and I was trying to define myself. I noticed that all of the important designers used their names, so I used my name. And because I decided I wanted to do menswear, Armani was at the top.
AKT: Was it clear for you from the start that it would be designing for men?
OB: At the time I was actually doing both. Men's was much harder because you're much more restricted. Men's needed to be more exciting, like women's, you know. Giorgio Armani was famous for creating unstructured suits.
AKT: I remember them very well in the Eighties. I recall my father's first Armani suit. It was grey green. For a moment I didn't recognise him, that's how strong an impact it made.
OB: Exactly. Miami Vice and all these films. He did the clothes for American Gigolo.
AKT: Right, Richard Gere. What better clothes to wear for a descent into hell?
OB: He redefined the suit of that period, that's what the name Armani meant. So I thought, that's what I'm going to do. My name is going to mean something. Armani is responsible for taking the structure out of the suits, so I'll be responsible for putting the structure back in. That's what I did. He inspired me to have that level of vision.
AKT: In the film, right after interviewing Armani, you talk about detail. That if you start overlooking….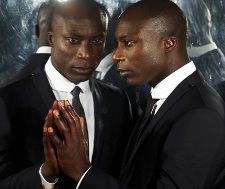 OB: Big one. It's letting go of one detail. And allowing it to expand into another thing. Letting go and letting go, until you can't recognise yourself. And Armani is an expert in keeping that focus.
AKT: Tell me about your relationship with Ghana.
OB: Ghana is my roots. I'm very active with a lot of things in Africa. Right now, Ghana has discovered something like a trillion dollars of oil. So now, I am focused on making sure that that resource and that opportunity for Ghana is fully exploited from an infrastructure point of view. So that the woman on the market selling cloth to the kid who goes to school can benefit from that new resource. I'm very much about that.
AKT: At Givenchy, at that first meeting you announced that you wanted to find the essence of the Frenchman. And later, we see the runway and the models wearing hats, and a pout, a little like Jean-Paul Belmondo, and there it is. Can you see the essence of you in this film?
OB: I suppose it is. I haven't really looked at it like that. I'm very good at detaching myself. Because when you create, you have your name in people's clothes. And you automatically have a detachment to your name. You look at it from the outside.
Now I can look at the film and enjoy it, even the pain. I understand the conversations, why shows didn't work.
AKT: Were there things you said 'no' to, things that would never get into the film?
OB: There are a ton of things I never wanted to be in that film. I talked about it. But I had to trust Varon. I'm in the business of image. And always very aware.
AKT: What about your vanity?
OB: I cringe, but ultimately, that's what this thing is all about. You got to let go of that. It's not always about looking pretty.
VB: I was not going to sugar coat it.
AKT: And you didn't stage anything?
VB: No, nothing. Actually, I staged it all. I got the Academy Awards (Jamie Fox was wearing Boateng the night he won the Oscar for his portrayal of Ray Charles in Ray), the Queen of England, I got Gaddafi…
AKT: I spoke to Abbas Kiarostami at the New York Film Festival about capturing moments, where the audience just senses these are moments of truth. Beyond ego, beyond the personal.
VB: He kind of forgot about me. I mean, he didn't remember my name for the first six months. And that forgetting was the reason I could just get all of this.
OB: Actually, that's a good point. Varon was really good at filming me without me realising it.
VB:
It was also the camera and the lens that I used. There was a really great direction of microphones. Super long lens. So you get that kind of fashion-y feel, kind of warm. It was like hunting.
A Man's Story captures the original private and public journey of a man crossing borders, overcoming challenges, persevering, driven to succeed on his own terms.
After our conversation, Varon offered to take a photo of Ozwald and me. Not before he cleaned the lens of my camera, though, while proclaiming: "this has never been cleaned!" [He was right]. He wiped off the Manhattan dust and promised that I'll see the world differently.
A Man's Story opens in New York on Friday November 2. In the UK it is available on DVD from Amazon.
Share this with others on...