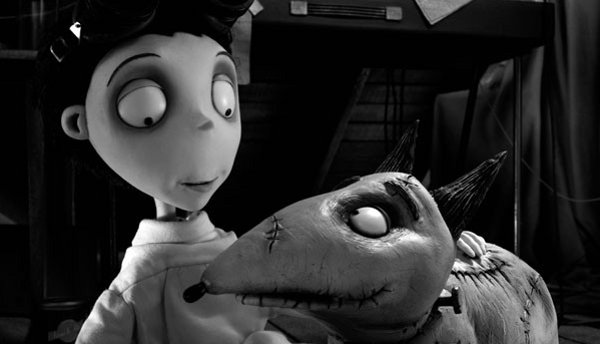 "When we first started this film there was no Olympic stadium and by the time we finished it was all over," says Tim Burton. We are at The Corinthia Hotel in Whitehall for a press conference on his latest glorious offering, Frankenweenie, which opened the London Film Festival last week. To get overly literal, the film actually took 28 years to make, considering that in 1984 a short of Frakenweenie was made by one Tim Burton.
Those were the days before the likes of Beetlejuice, Ed Wood and Edward Scissorhands helped make him one of the most strangely marketable directors in the biz. Those were also the days when animation was going through something of a market slump. Conditions which led to, well, over to Tim… "It wasn't like, y'know, The Apprentice 'You're fired!'. The Alan Sugar of Disney didn't point a finger and do that. It was more Disney friendly. It was like, 'Let Goofy show you the nice exit with beautiful cherubs on it – the magic forest door…"
This parting of the ways is clearly not a source of contention this time round. It was Disney who approached Burton with the notion of extending his tale of a boy named Victor Frankenstein who uses science to bring his dead dog back to life. No expense or resource was spared to enable the film – in its new 87-minute incarnation – to conform to its director's vision. As a black and white 3D stop-motion animation, it's really a showcase for where we're at in so many areas of the trade. To Burton these elements were vital to show off the beautiful wide-eyed puppet characters.
"It was something that's hard to put into words but for me, it made it more emotional. When you look at these puppets you see the reality and the tactile nature of them. Everything is hand-made and the black and white and 3D process really shows you the work that the artist put into it."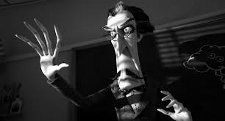 The most legendary of a cast made up of Burton favourites is doubtlessly Martin Landau who voices Mr Rzykruski (The cast advise pronouncing it as 'Mr Rice Krispie') Victor's creepy genius of a science teacher. Rail thin and possessing a gravelly European accent, Landau describes him as looking a little like Vincent Price and a little like himself in his younger years. Landau says he wanted to work with Burton ever since he saw Beetlejuice at the cinema with his daughter. He subsequently worked with the director on Ed Wood and describes the on-set atmosphere both then and now as like a playground. "Good directors do that. It's a fun place to work with Tim Burton and any time he'd ask me to do something I would drop what I was doing – including my pants…"
To make the conference feel that little bit more special, Landau then treats us to a pretty damn good impression of Alfred Hitchcock. Asked, in lieu of the recent stories regarding Tippi Hedren and unwanted approaches from Hitchcock on set, whether he had a comment to make about the director, he says in a pristine English accent. 'Well I got along with him very nicely, thank you. He certainly did not make advances to me."
Good to have the cleared up. Alfred Hitchcock did not crack onto Martin Landau on the set of North By Northwest. You heard it at Eye for Film.
Frankenweenie is out on general release now.
Share this with others on...