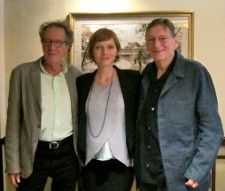 Geoffrey Rush, Fred and Alexandra Schepisi in The Regency Hotel, New York
On a drizzly, still hot and humid, post-storm afternoon in New York, I talked to The Eye Of The Storm director Fred Schepisi, his daughter, actress Alexandra Schepisi and Geoffrey Rush about everything storm related: Shakespeare, Australian manhood in the early 70s, sword fighting, intellectual cuts, and American emotions.
Director Fred Schepisi (his name "rhymes with Pepsi", he confirms) has taken on the seemingly impossible task of bringing Nobel Prize winning novelist Patrick White's book to the screen. "Many have tried and failed," Schepisi states, including Joseph Losey, with an unrealised adaptation of White's Voss. "Too interior," is the problem. Rush, who plays Sir Basil, famous actor, returning son, tortured soul, knew Patrick White late in his life and was involved in a couple of his plays. So were several of the other actors in the film, like Helen Morse (Lotte, German Cabaret artist and cook) John Gaden, and Robyn Nevin, who are both fantastic as the Wyburds.
Matriarch Elizabeth Hunter, played by Charlotte Rampling, holds all the strings in her hands. The director starts out by explaining his casting of her:
Fred Schepisi: You had to find someone who is beautiful and seductive. That was important. When you read the book you could very easily play it where that woman was extremely hard, not bitter but biting, like a viper waiting to strike all the time… Charlotte, during rehearsals, was doing it so that she is seductive. You should have seen the crew. There she is, looking 75, and has the crew drooling.
AKT: Even with that lavender wig…
FS: Yeah, even with the lavender wig. Big hairy grips drooling over her...
Mother Hunter is cruel to each person in a different way. Her attacks are nuanced, the cruelty is hers, nothing personal. "Stop ruining my furniture," she scolds her (adult) daughter, who has the habit of nervously kicking her leg. No wonder her husband divorced her, if she was "going around Paris, kicking furniture". Did she love him enough?
She uses King Lear, one of her actor-son's greatest failures in the theatre, in more than one way against him. "They gave you the knighthood, BEFORE you played Lear," she sighs. So, of course I had to ask Rush about it.
AKT: What is your relationship with King Lear?
Geoffrey Rush: Nothing personal. In the original screenplay, Judy Morris, the writer, had written a bit from Lear which is where he and Cordelia are being taken to prison. "We shall sing like two birds in a cage" (he says in unison with Alexandra Schepisi) - she just played Cordelia (to Robyn Nevin's female Lear), - it all overlaps, I think I suggested to Fred, look, he is in the middle of the outback, it just feels filmically, he needs to be on the heath - I have been in the play twice, as Lear's fool, a little bit of him going mad might be interesting. We could have chosen any piece of Shakespeare. I quite like the idea of him testing his vocal power in the middle of the outback. It was fun shooting it, Fred said, "I'll be very close on your feet squishing in the mud, and then I am going to go wide, and then I'm going to go even wider, and then he stands on a bit of rusty iron."
AKT: Very painful to watch that scene with the barbed hook in your foot.
GR: I'm going to put it on my show reel. I got to do a bit of The Tempest, in The King's Speech, in a scene with my boys, I did a bit of Caliban. There are these strange coincidences where you get to do a bit of Shakespeare in different films.
Rush goes on to explain his early relationship with Patrick White...
GR: There was a huge cultural shift happening that is a kind of zeitgeist that Patrick was tapping into. A fading set of the Sidney aristocracy. You know, Vietnam War. And with a new Labour government, our leftist socialist government coming in in 72. All coincided with a lot of new Australian writing. A lot of playwrights started to write in a local voice, We were on the cusp of the film industry starting to slowly kick start itself again after maybe four or five decades of almost nonexistent production.
On his acting gods of the early 70s...
GR: As young actors we would be looking at someone like Dustin Hoffman being in The Graduate, and then Little Big Man, Midnight Cowboy. His New York roots of theatre influencing his films. Looking at early De Niro and Pacino, I got absolutely obsessed by and fascinated by their acting heritage from Lee Strasberg, the Actor's Studio. I couldn't quite work out how they could put together such monumental, dangerous, unpredictable performances in those great classic American kind of movies, like The Godfather. The film takes place in the early Seventies that's when I started as an actor.
AKT: I very much liked your use of lions and swans and horses.
FS: Oh, well done.
AKT: You are doubling the themes, the lions coming back in Lotte's song and there is the painting in Basil's bedroom.
FS: Yes, the swans are in Patrick's book. And there are the roses and mirrors everywhere. A lot of it had to do with who Mrs Hunter was, her taste she imposed on everybody.
AKT: It's rare to see a film where the set design is so subtly thematically linked to what you are emotionally experiencing.
FS: Well, hopefully you find that in all of my films. Because I believe where things are taking place is frequently as important as what's taking place. I don't believe audiences are stupid. I don't like catering down to them. (Overstating it so that they know what is going to happen). I'd much rather be ahead of the audience, not too far to leave them behind. One of the things I learned in America was to allow emotion to happen. Americans like to hang on to emotional moments, way longer than I do.
Schepisi continued, by explaining an intellectual cut.
FS: Before the argument finishes, you cut to a door slamming, and you think it would be him walking out of the room. In fact, it is another character walking through another room and sort of taking the angst out on somebody. That's what I refer to as an intellectual cut. Everybody knows what is going to happen, therefore let's surprise them. And what I learned from America - if you set people up for an emotion, you got to allow that emotion to happen. You have got to give time otherwise you're short changing them. This film is an extraordinary collaboration. Actors were constantly contributing from their point of view.
AKT: One question about Basil and the food.
GR: He is a man of big appetites. When he sits in Wyburd's office he likes to act that he's a great man of the world, who can look through legal papers and eat biscuits and be very intelligent, you know what I mean?
AKT: Hard to do.
GR: I deal pragmatically with what a character does. Let the resonances of that add up by the way Fred chooses to frame it or shoot it or the way Kate (Kate Williams) chooses the rhythm of the edit.
Having the 600-page novel next to the 105-page screenplay was like having a special research bible. What's Basil thinking over 20 pages here that I can use to help inform the qualities within this scene? When he first goes in to meet his mother there's about half a page just on his knees cracking. I heard that last night on the soundtrack... I had to find photos of my own theatrical collection, that could look like it was me in the 1940s and 50s, not me in the Seventies and Eighties.
Rush shifts gears to recount his training with sword fights during the rehearsal process for Pirates of the Caribbean:
GR: We worked with this great maestro, Bob Anderson, he was the sword master. He played the original Darth Vader in Star Wars. Even before that, he used to tutor Errol Flynn back in the Fifties. He was about 80 when he worked with us 10 years ago. He gave us a master class. We would only get through two moves with a sword fight and he would say stop. It was like working with Peter Brook or some great Russian director, or whatever. He said it is a dialogue with a blade.
AKT: Is there a scene in the book that you would consider your entrance way into the character of Flora Dora?
Alexandra Schepisi: There's so much more information in the book. The characters are so densely written. It was just the biggest joy to have access to that back story. She really struggles with being a woman at that time in Australia, and how sexist men are. There's a certain bitterness and unease about her. That was magic having access to all that information.
AKT: There is a scene in the novel, in which Flora is so desperate about her two options in life. Either she can marry someone she doesn't want or she can clean up old women for the rest of her life. The despair of that little scene is not in the film, but I could sense it in your performance later on, as a reaction to something different, as a reaction to Basil.
AS: There was not a lot of opportunity for women at her level of education at that time. Her desire to bed someone famous is a real desperate need to get out. There's a hunger for something else. She is serving those people who are so much wealthier, perhaps smarter and have so much more than her.
GR: Her name in the book is Flora Manhood. Patrick used to invent very curious names for characters in all his novels.
AKT: Cherry Cheeseman….
GR (laughing): It's great, it's great isn't it? I haven't thought of this before, but with Manhood it's like he has given her Flora for conventional femininity. But Manhood being that she's taken on the strength of what's acceptable in males at the time.
AS: Yes, and to explore it.
FS: There are a great number of pages for each character inside their mind… This is better for her children.
GR: I never earmark a moment to go, THIS must be the moment. Sometimes they happen out of the chemistry of rehearsal.
Rush on Judy Davis...
I've done three other films with Judy. We played husband and wife a couple of times. She always amazes me. It's partly to do with a Schepisi style and also Patrick White material. She gives such a fantastic performance, even though it's a dramatic portrait of a woman off balance with herself, culturally, geographically, within her own family, Judy just gets that slight comic, almost screwball edge of not being completely upright vertical, you know what I mean? Stomping over to get roses out of the garden to present them to the people in the country. Her comic timing is great.
Alexandra Schepisi is pregnant with what will be Fred's first grandchild. Geoffrey Rush's future projects are diverse.
GR: I've just done a film with Giuseppe Tornatore, who did Cinema Paradiso. We shot for the last four months in Italy, which was a fantastic experience. And I am about to do A Funny Thing Happened On The Way to the Forum, a very early Stephen Sondheim musical, in Melbourne.
Share this with others on...