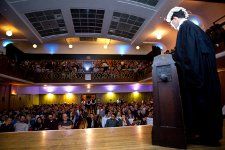 Conway Hall Courtroom Secret Cinema Q&A of The Imposter
As The Imposter, Bart Layton's documentary about the disappearance of Texas teenager Nicholas Barclay and Frederic Bourdin, the man who claimed his identity, gets ready to hit cinemas, the filmmakers have been hitting the road to discuss the film with audiences. Given the controversial, nearly unbelievable subject matter and numerous unsolved mysteries the film leaves the viewers to chew on, it is well-suited for live discussion.
Playing on the audience-as-jury concept, a spectatorial point-of-view that the filmmakers intended, Secret Cinema, the organisation behind secret, immersive cinema events across the UK, had its own try at blurring fiction and reality by screening a preview of the film in an actual courtroom, including an cross-examination with a real barrister as well as special guests including the dogged private investigator Charlie Parker (one of the first significant figures to suspect the imposter), director Layton and Dimitri Doganis, the film's producer.
The event took place on August 15 at Conway Hall in Bloomsbury, the space being transformed into the operating Conway Hall Courtroom with a barrister, counter clerks and police officers, all presided over by barrister Luke Ponte from 3 Raymond Buildings and made up of a jury - the audience.
Charlie Parker's private investigation office had also been recreated on location, where he was able to interview the actor, Adam O'Brian, who played Frederic Bourdin in the re-enactments of the real life events.
The filmmakers were also present for a lively Q&A, in a more traditional setting at the Picturehouse Hackney cinema on August 19, hosted aptly by cataloguer of the weird Jon Ronson.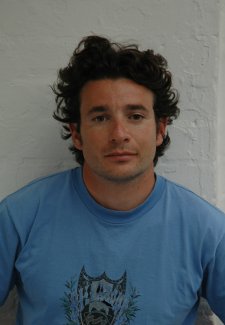 Bart Layton talked about how the design of the film changed after he began investigating the case, which he first saw mentioned in a Spanish magazine: "Part of the structure of the film is about finding a way to reflect for the audience some of the experience that we had been on in this slightly twisting and turning detective story."
As for working with faker extraordinaire Bourdin - whom Layton contacted via his Youtube account of all places - the director said: "The thing about Frederic is, you just can't have one response to him, you have several. One thing I realised soon after meeting him was that he certainly invites sympathy, you feel like you need to look after him, like with a kid. At that point, you start to realise he is doing to you what he does to everybody, that is part of the manipulation.
"There were times when I sympathised with him and saw what I guess is a twisted logic of his which goes something like, 'I had my childhood stolen from me so what I did is justified in that I was stealing it back. They were a family with no kid, etc, etc'. That was when I realised that he had to look the audience in the eye, you had to be on the receiving end."
Layton was referring to the film's particular stylistic trait of ensuring Bourdin (not initially identified by name the film, though his is the first speaking voice you hear) is tightly and frontally framed in close-up in his interview sequences, with no background visible. At times the camera simply lingers on his face without him saying anything at all. "The reason he looks down the lens, the reason he is so large in the frame, we did this consciously so that you the audience would have a level of interaction with him," said Layton.
Parker revealed that for him, the mystery still isn't fully solved yet. Having gone over the route Nicholas walked before he vanished, and having pored over the backgrounds of those who lived in the neighbourhood, Parker believes that the answer to his disappearance lies with the family. "I feel like he made it home that day," Parker said, " If he made it home, he was never again seen by the neighbours, by anyone else. So that's my feeling on it, he made it home."
As for whether or not he thought that because of the film there would be more revelations, Parker firmly said "I believe there will be." He also had an enigmatic afterthought: "In fairness to the family, the real Nicholas Barclay was a changeling. You look at him in one photo, he looks like a gang banger. In another - a sweet little boy. Which little kid isn't a changeling?"
Parker stated that he still feels baffled by Bourdin's scheme, which seemed to involve no financial gain. In fact, when rifling through his possessions following Bourdin's arrest, Parker recounted how he found nothing beyond a few Michael Jackson tapes, two pairs of jeans and shirts: "I saw no gain at all. So what was his real motive? He never accomplished anything except hurt that family."
Going into more detail about the way the structure of the film emerged, Doganis explained: "What we realised pretty quickly was that we wouldn't be able to answer the question about the missing child, that's not ultimately what the film ends up being about. The audience learns the information as the people in the film learn. That makes it feel faithful to the events but also less like a documentary, and more like narrative, a feature film, that's how feature films work.
"It is a really a way to answer the great challenge about making a film about objective truth - when there are unreliable witnesses, or at least one unreliable one."
Layton added: "It became about four or five conflicting versions of the truth, and that, in a sense, became what the film was about to me, and finding a way for you the audience - to go on everyone's journey simultaneously. That felt like the right way to tell the story."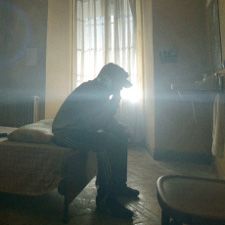 The filmmakers were asked what Bourdin thinks of the documentary. According to Layton, he has yet to see it, unlike the Barclay family who were given a pre-release viewing. Layton said: "As of today he hasn't seen the film but that hasn't stopped him from attacking it and being rather vicious. He's reviewed it on Youtube. Maybe the idea that he isn't in control is problematic - he sees all these things being written about him and sees people reviewing it, talking about it, some describe him as a psychopath or as a poor kid to be looked after. There are widely polarised views out there and I think he finds it difficult to see that without controlling it, and if you are him, you don't want your story set in stone, you want it malleable."
Doganis concluded: "What he clearly has is an ability to understand what people's motivations are. He is a master manipulator of people. He is a very unusual and, in a way, highly skilled individual. There are very few people who could pull off this thing who could fool all the authorities as he did. There are people who have never played an instrument in their life but if you hum a tune they'll play it on the piano, he's got that. He understands people, what they need, and how to play them. It is striking and unusual."
The Imposter is in cinemas across the UK from Friday.
Share this with others on...