"Everybody dies. There's nothing you can do about it. Whether or not you eat six almonds a day. Whether or not you believe in God," wrote Nora Ephron in her book I Remember Nothing: And Other Reflections.
It's a typically acidic and witty observation from the author and filmmaker, who died in New York on June 26, aged 71, after suffering from acute myeloid leukaemia.
Ephron brought the same spiritedness to her screenplays, giving strength and depth to female characters so that they were the equal of their male counterparts in romantic comedy hits including When Harry Met Sally and Sleepless In Seattle.
Born in Manhattan on May 19, 1941 - although she would be brought up across the country in California - Ephron was also born into the business. Her parents, Henry and Phoebe, were successful Hollywood writers who penned film scripts including Carousel, There's No Business Like Showbusiness and Desk Set, and her younger sisters Delia, Hallie and Amy would also become writers.
Her mother once told her that "everything is copy" and it's a sentiment that Ephron took to heart, often drawing on personal experience as the basis for her work - even turning her messy divorce from second husband Carl Bernstein into bestseller Heartburn and the film adaptation of it.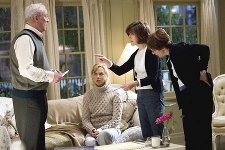 Setting her heart on becoming a journalist from a young age, she started out as a "mail girl" at Newsweek in New York. Later, she worked as a reporter at the New York Post. She went on to earn 15 film credits, write for the New York Times and Esquire and, latterly, write a popular blog for The Huffington Post.
Having divorced her first husband, writer Dan Greenburg, she married Watergate journalist Bernstein in 1976. It was he who prompted her to have a first attempt at screenwriting as she tried, at his behest, to rework William Goldman's script for All The President's Men. Although it wasn't used, it put her on the radar of Hollywood executives.
After the success of her novel Heartburn, Ephron co-wrote the script for nuclear contamination drama Silkwood (1983) with her friend Alice Arlen and went on to receive an Oscar nomination for the screenplay. Director Mike Nichols said later: "Nora was so funny and so interesting that you didn't notice that she was also necessary. I think a lot of her friends and readers will feel that."
Three years later she adapted Heartburn into a film script, but she really hit the big time in 1989, when she wrote the hit movie When Harry Met Sally... and received her second Oscar nomination. Again, she drew the story from real life, this time the break up of director Rob Reiner from his wife Penny Marshall. Her films also recall battle-of-the-sexes comedies of the past, adding modern flourishes such as Meg Ryan's famous faked orgasm scene.
After her follow-up comedy My Blue Heaven, directed by Herbert Ross, failed to have the same impact, she decided to direct her own work in future. She once wrote: "One of the best things about directing movies, as opposed to merely writing them, is that there's no confusion about who's to blame: you are."
It was initially an inauspicious move, with her directorial debut This Is My Life - about a single mum who tries to make it in the world of stand-up comedy - failing to make an impact. She persisted, however, and in 1993 she hit pay dirt again with Tom Hanks and Meg Ryan romcom Sleepless In Seattle - her third Oscar nomination - and would go on to direct them again in modern re-imagining of The Shop Around The Corner, You've Got Mail.
While not all her films were a hit - Hanging Up (2000) and Bewitched (2005) proving largely forgettable - she returned to form in 2009 with Meryl Streep starrer Julie & Julia.
Described as "an inspiration for women filmmakers when there were few" by The Directors Guild of America, Ephron left a legacy that extends beyond her own films, with female characters in many other movies getting a shot in the arm as a result of her success. She also continued to write essays and plays.
Ephron is survived by her third husband, Goodfellas screenwriter Nicholas Pileggi, whom she married in 1987, and by her sons Jacob and Max Bernstein.
Share this with others on...