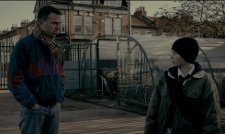 Charlie and Sammy in the film
Charlie Creed-Miles takes the starring role in Dexter Fletcher's debut Wild Bill - a gritty but sweet relationship drama about ex-con dad Bill who gets more than he bargained for when he returns to his family's council flat and finds his kids (Will Poulter and Sammy Williams) home alone. It's a role that sees Bill try to negotiate a tricky path to redemption and is one of Creed-Miles' strongest performances to date. We caught up with the actor after the fim's premiere at San Sebastian Film Festival to talk about the film.
How did you come to the role?
I always wanted to do it and Dexter seems to have had me in mind for it from the beginning so that's really really good. I've known Dexter for 22 years.
What's it like to play a dad?
I've played a few dads and I am a dad so it didn't feel unnatural.
Did you have to do a lot of research for the part?
I wasn't playing a rocket scientist in Bulgaria with a Russian accent. So it's close to home. I relate to all the things in the film.
It's a big role for you, with a character that undergoes a lot of change. Did you enjoy playing a character you could really get your teeth into?
It's massive for me. I've learnt a new word - 'titular' - it's the titular character apparently, hope I've got that right, it sounds a bit rude doesn't it? It's a great part for me and I haven't felt this proud about a piece of work for a long time. I want to champion it. I am really chuffed for Dexter, I think he's done a brilliant job. I'm just really happy that it worked out and that I got to be in it.
You were a child actor yourself. How did you find working with the kids in this film?
It was lovely. I got so much from both of them. With Will [Poulter], his character Dean is a bit stand-offish with me through most of the film. He played that dynamic brilliantly. Sammy [Williams]'s character Jimmy is a bit more open-minded about who his dad is and he's a bit more inquisitive. I read the script but when we actually filmed those scenes - such as me talking to him on the rooftop about what he wants from life - they really jumped out at me. I felt a real connection with the youngest and it seems to come across on the screen.
Although it's a quite a gritty film, it's also quite a sweet film as well.
Essentially, it's set in a council flat and the phrase kitchen sink drama springs to mind. It's funny, today, the clip that they showed at the press conference earlier was me smoking a fag on my own and then putting some bread in a toaster and waiting for it to pop and then going out into a hallway and looking at a dirty toilet that needed cleaning. And I watched that clip and thought, you know what, I would not want to go and see that film off the back of that clip. I think the idea was that at the end of the clip was the paper aeroplane scene but they didn't get that far. There are some hilarious moments in the film. I think that they go down really well.
And it hinges on your character, who is looking for redemption. The theme of trying to change and having a look at yourself is massive. Bill's had eight years in prison and he's taken a long look at his life and something has changed before he comes out. I don't think his expectations are great. I don't think he knows what to expect when he knocks on the door of that council flat.
And what's next for you now?
I'm doing a Dominic Savage film and I just played Shirley Bassey's manager in Shirley Bassey's life story. It really felt good in the execution. I feel like I'm on a bit of a roll at the moment. Things are good and I'm doing stuff that I'm really pleased to be in.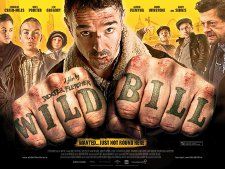 Wild Bill is out across the UK today - you can read our exclusive interview with Dexter Fletcher here. For more information about the film, visit the official Facebook page.
Share this with others on...