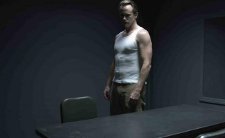 Simon Arthur's debut Silver Tongues impresses here after winning the Slamdance audience award in January.
If the rain in Spain falls mainly on the plain, then I must surely have been the ugliest woman in San Sebastian today, as I seemed to get caught in the periodic torrential downpours every time I set foot outside of a cinema. It was the sort of day that tricks you into thinking you need a T-shirt, only to suddenly spring a deluge on you the minute you find yourself away from anywhere to hide. Tricks were also the name of the game in Silver Tongues. Directed by Pollockshields-born Simon Arthur, this 'con artist' movie, based partially on his 2007 short of the same name, won the audience award at Slamdance this year. I'm pleased to report that those Slamdance crowds have good taste.
The film is very accomplished for a debut feature both in its direction and scripting - proving pleasingly slippery in terms of truth and lies, even for those who think they're too smart to be conned. Lee Tergesen and Enid Graham (who definitely warrant more film work) play a couple whose idea of a good time is to travel around America playing elaborate cat-and-mouse style psychological games with those that they meet. Truth and lies lap over each other increasingly, as it seems that game playing is something that anyone can turn their hand to and Arthur deftly develops a sense of creeping dread both about the situations the couple create and about their relationship with one another. Although a little contrivance is required on one or two occasions to speed the pace along, the central characters are never less than believable and Arthur has the bravery to trust his audience to make up their own minds, walking a tightrope of ambiguity that means his film can be interpreted in multiple ways. Deserves to get a UK distribution - and soon.
Speaking to him later about the film's ambiguity, Arthur: "The whole film is mysterious and ambiguous. I'm wanting you, in a way, to go away thinking about it - some people like that, some people don't.
"It's all about creating drama. What they do comes from masochism, they hate their own lives and they sort of take that out on other people, but it's really about the thrill of becoming someone else."
More of that interview to follow when I have time to transcribe it.
From one debut to another... although this one happened 50 years ago. Jacques Demy's Lola has a joie de vivre despite its hints of melancholy that explores the life of a dancer single mum in Nantes. Lola (Anouk Aimee) is a dancer, doing her best for her seven-year-old son and pining/waiting for the return for her husband, who left to seek his fortune shortly after she fell pregnant.
She reconnects with childhood friend Roland (Marc Michel), who hopes for more, at the same time as waving off an American sailor who reminds her of the one that ran away. Lola's dream may be fixed on a single man but Roland's is less concrete, as he yearns to escape the humdrum to such an extent that he's even prepared to consider a criminal act. At the other ends of the age spectrum lie Cecile (Annie Duperoux) a soon-to-be-a-woman youngster, who experiences the first crush of love for the self-same sailor that Lola is rebuffing and Jeanne (Margo Lion, playing high comedy and earning many of the film's best moments), the mother of Lola's lost love.
The film is in many ways all about potential - the potential to be someone else, to reconnect with someone lost or to simply fulfill a dream. In this, it struck me that young Cecile is a 'potential' Lola in waiting, while Lola herself is a 'potential' Jeanne. Other interpretations are, I am told, readily available. What's most important, however, beyond the bookish analysis is the emotional warmth and humour of Demy's film. Although taking his place among the French New Wave, he has a much less 'intellectual' - and arguably less 'cool' - approach to love than the likes of Godard, which makes his characters quirkily charming.
Also quirky - although charming might be a reach - was the last film of the day, Finisterrae, which is as sure to divide audiences as night is to follow day. In fact, the more I think about it the more torn I am about it - as though there's a devil on one shoulder whispering 'arse' while an angel on the other talks about 'art'.
The plot will tell you much of what you need to know about the film's potential to engage you. If you are the sort of person who will not be able to accept two 'ghosts' - basically men wearing the sort of Halloween sheet costume familiar to Scooby-Doo fans - wandering the Spanish landscape while speaking Russian in an attempt to become corporeal, then it's probably best to stay away. If, however, you fancy the idea of a sort of absurdist, almost surreal mash-up between Samuel Beckett and Monty Python, then you may wish to check in for the trick and treat.
On the treat side of things is some breathtakingly good framing and desert dry humour - if the idea of ghosts talking about psychiatric visits doesn't make you laugh, you may well need to see one yourself. Meanwhile, on the trick side, there is sometimes a distinct feeling - such as when one of the ghosts plays a stick like a flute for five minutes - that Catalan writer/director Sergio Caballero is laughing at his audience not with them. Largely impenetrable, strangely mesmerising and more funny than you would think it was possible for a pair of bedsheets to be, if you fancy something avant garde, it's well worth a look.
Read more reviews and articles from San Sebastian here.
Share this with others on...