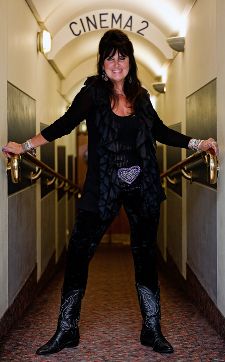 Caroline in the lobby of the Glasgow Film Theatre. Photo by Stuart Crawford.
One of the most glamorous models of her day and a popular actress whose career has spanned three decades, Slaughter High's Caroline Munro is still a beautiful woman, but the first thing one notices about her is her enthusiasm. We met at a late night horror showing just before she was due to travel to a convention, and it was clear from the start that she was in her element. Energetic and passionate about her work, she seems to enjoy talking about her films as much as she enjoys acting itself. After signing autographs for fans, she told me about where it all began.
"I had talked to my Mum about it so I had an inkling of what was going on," she says of the photo, submitted to a newspaper competition, that launched her modelling career. "But then I forgot about it, so it was quite exciting. Still, I wasn't extremely ambitious. I didn't necessarily think of modelling as what I wanted to do - I wanted to do art."
Modelling led naturally into acting, she explains, and as bit parts came her way she spent a lot of time sitting around on the sets of films like Casino Royale, watching what everybody did. She became comfortable with the camera to the point where she could forget it was there. Eventually her agent told her she would have to make a choice between the two professions. What swung it was working with Christopher Lee in Dracula A.D. 1972; she describes him as one of the most impressive actors she'd ever met. She by nature, she felt out of her depth, but Lee helped her to feel more confident and expand on what she could do as an actress.
"I think horror found me," she says, explaining that it was one of several genres that appealed to her. "I found a niche there and I did enjoy it, it was often a lot of fun. But it's not so much the sort of film I like to watch. I actually enjoy more light period dramas. I've enjoyed the Harry Potter films - escapism, you know?"
Appearing in James Bond film The Spy Who Loved Me was also "an exciting experience," and one for which she turned down a role in the first Superman film. "Roger Moore was terrific to work with, very playful, with a good line in double entendre. He was very self deprecating and really a very good actor, though I don't think he thinks so. I do see him from time to time." She laughs. "Not in the Biblical sense! And there were no martinis, shaken or stirred, but it was a fun film to work on."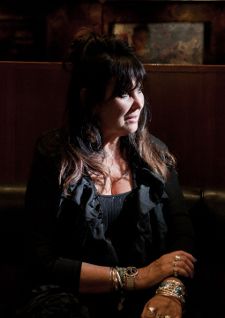 Later, Caroline was offered her own secret agent role in Modesty Blaise 2, opposite Peter O'Donnell. She passed due to other commitments and it's one of her few career regrets. It was around that time that she also made the big decision not to move to the US and pursue a Hollywood career. "My family was the most important thing to me so I had to stay where I could be with them," she explains. "Instead of America I went to Europe. I really enjoyed working there, though it was very different. I'm still doing work there now!"
The subject of her family brings us to Slaughter High, out this month on DVD, which was directed by her husband, George Dugdale. Despite his involvement, she didn't think she'd get the role - apart from anything else she was much older than her character and she thinks viewers have to suspend disbelief a bit on this point. She also felt a bit out of place in a story that revolves around outrageous behaviour in a high school and its late, deadly consequences. "I went to a convent school so it was nothing like that! We were wearing long brown knickers with pockets in until I was 16. The budget for the film wasn't very high and there was a very short time for the writers to get the script together in, so I was pleasantly surprised that it turned out as well as it did, although I suppose at times the dialogue leave a bit to be desired. But my 16 year old daughter saw it recently and really enjoyed it, and she's quite a cool kid. There's a lot of humour in it - I thought the bath scene was very funny."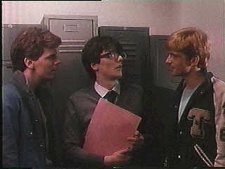 Caroline talks a lot about her daughters. She recently took one to an Adam Ant concert, having worked with the colourful star back in the Eighties in the video for Goody Two Shoes. "He's still in good form. He did fall off the stage though." Later they had tea together, a treat for the daughter, though Caroline nods judiciously sand says she thinks Adam is a bit old for her.
Colourful costumes have also been a hallmark of her own career, and never more so than when she played intergalactic pirate Stella Star in cult B-movie Starcrash. "I didn't get to keep the outfits," she laments. "But I don't think I'd look as good in them today anyway! I had great fun making that film. It was the first time I met Joe [Spinell, who plays villain Zarth Arn]. He was from the Bronx, a brilliant actor, gentle and harsh at the same time. We struck up a friendship straight away and ended up making three films together, but I never quite knew what to expect from him."
By now, Caroline reckons, Stella would definitely be putting up her boots and putting her old spaceship in storage. Personally, she still enjoys working, and she feels privileged to have had such a remarkable career. "There's been lots of lovely travel and it's been really interesting. I've been very lucky, really."
Slaughter High will be released on DVD on July 11 under its US title, April Fools Day.
Share this with others on...