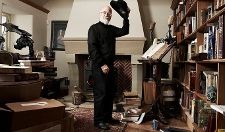 Terry Pratchett
I had the privilege of sitting close to Terry Pratchett while we watched his film, Choosing To Die, with a capacity audience at Sheffield's Doc/Fest. The film was very well received and we were all eager to hear Terry speak. Wearing his distinctive hat, Terry spoke clearly and in a considered manner as he was interviewed by festival chair Steve Hewlett. He injected a lot of dry humour into his answers.
SH: Did you change your mind about anything in the course of making this film?
TP: Given that my mind was changing every two minutes, no. I was pleased that I had seen Dignitas.
Terry explained that nothing was choreographed. There has been a suggestion by The Daily Mail that the snowy conditions were chosen to show the clinic in a pleasant light. Terry denies this and also says "We left nothing out."
SH: How far are you along the road now? (He apologises for the bluntness of the question.)
TP: I have contacted Dignitas. Most of the people don't follow through. Knowing that you can doesn't mean that you will. I'm looking to see assisted dying in the U.K., arranged to suit the U.K.
SH: Do you have sympathy for the other side of the argument?
TP: Yes. But it depends which arguments.
Terry knows that some people are opposed to assisted dying on religious grounds, and he goes on to talk about religion. He talks about the religion he learnt at school, which he describes as "C. of E. Lite" and tells a story of finding a crucifix when he was about six years old, saying "Look, I've found an acrobat on a stick." His mother kept that crucifix and said it reminded her of a very good man killed by religious zealots. She told her son "Don't you worry about going to Hell. You won't get near the fire for vicars."
Terry says "I'm a humanist. God can look after himself."
SH: Do you believe in an afterlife?
Terry doesn't give a clear answer, but talks about someone else saying moments after the death of Peter, one of the subjects in the film, "I believe the soul leaves the body after three days." He is concerned that this wasn't captured on camera and argues with Charlie Russell about whether this should have been filmed.
They go on to talk about the importance of filming the whole scene of dying, which was clearly a difficult thing for the crew. They agree that it was important to show the truth. Terry: "There was no pushing. They (the Smedleys) just opened up to us."
Then Terry talks about the particular difficulty faced by Alzheimer's sufferers. "Unless you are coherent, you can't consent. If someone has to help you (in the U.K.) they can get 14 years in jail. Who wants to see their wife or mother at risk of being in jail? So the clock is ticking for them."
SH: What do you think about the "weariness of life"? (In the film we learn that some people who are not ill but "weary of life" go to Dignitas. Terry's assistant, Rob, claims that the clinic director was evasive when questioned about this.)
TP: I would like to see the weariness of life defined. I would like to see assisted dying in the U.K. The Swiss recently had a referendum and could have stopped assisted dying, but they did not. They could also have voted against "death tourism", but they did not. What I'm fighting for is a system that suits us."
Terry goes on to say that he went to Dignitas as "a certain gesture of solidarity, because I believe assisted dying should be there for those who need it, especially at the moment when the care system is under such pressure."
When picked up on this point, he says "I don't want to spend a long time dying of a disease. I don't believe we should have assisted dying to help the National Health Service. But I know that is a real fear for some people."
He compares the shock of this film with the even more shocking recent Panorama documentary about the Bristol care home. He watched it twice and "I was in tears the whole time. You can see why many go to Dignitas."
Terry received a huge ovation, I believe the longest I have witnessed at Doc/Fest. Was this admiration, gratitude, relief? Probably all three.
Share this with others on...