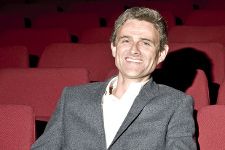 James Mullighan is tasked with reshaping the Edinburgh International Film Festival
Over the last few months the newspapers have been full of stories about the changes underway at the Edinburgh International Film Festival. A lower budget and dramatic reorganisation, together with a lot of secrecy about what was going on, led some to worry that the event was in real trouble, especially when close collaborator Tilda Swinton distanced herself from it in the press. We talked to festival director James Mullighan, the man behind the mystery, to find out what's really going on.
An amiable Australian whose relaxed manner betrays little hint of the frantic work going on at the festival office, Mullighan acknowledges that he was attracted to the job because of its prestige but also because he simply loves the event. "I've lived in London since 1998," he explains, "and since then I've come to Edinburgh every year, in a variety of guises. I've produced arts events before, including the global travelling film festival ResFest, and I just really love putting on film festivals. When it comes to putting on a film festival, I think Edinburgh is the greatest city in the world.
"I was so lucky to get this when I did because it came with a mandate for change, as the festival before had already decided that they wanted to rethink what they were doing. I think that's partly what got me the job because I was ready to answer questions on what I'd like to do differently. Of course, when I started the lower budget was already there so that didn't make much difference to me; I just had to work with what I had. When you find yourself in that situation you can either put on a different show or a smaller show or a mix of the two, which is what we went for."
Mullighan saw this as an opportunity to focus the festival more tightly on Edinburgh itself. This was one of the reasons for abandoning Cineworld as a venue and moving more events into the old town. "One really fun day just before Christmas I asked one of my staff members to get together a list of every building in Edinburgh where we might be able to put a screening," he tells me. "The first big decision, which a lot of the others flowed from, was where we would have the delegate centre. I wanted to make it as open to the public as possible so we needed it to be somewhere big and central, famous, not too expensive and able to handle all the things we needed. It had to have room to house a videotheque and it had to have a room where the press could get on with writing, and it also had to be suitable for guests. But I also wanted it to be a fun place for the press and delegates to hang out and join in various film based activities with members of the public. So we settled on the Teviot Row Union. It also has a lot of bars," he laughs. "If you think about how it's used by the Gilded Balloon during the Edinburgh Fringe, we're aiming for that kind of liveliness and inclusivity."
A key part of Mullighan's vision is that the festival should bring the public and filmmakers together, not set one above the other. This is partly why he has ruled out red carpets at this year's festival, saying that he doesn't consider that sort of thing to be appropriate in an age of austerity. He also thinks that red carpet photos miss out on one of the festival's best assets - Edinburgh itself. All his favourite images from the festival have pictured its stars in front of famous Edinburgh landmarks or city views. It's this, he feels, that helps to give the festival its distinct character.
Mullighan's different approach to venues has also enabled him to experiment with fresh events and see how they go down. Notable among these is the festival's new science strand, which sees films involving science (some classics, some lesser known gems) accompanied by talks from experts who can explain how the real science works. Initial conversations with Mark Cousins and Tilda Swinton about the direction the festival should take revealed a mutual interest in the neuroscience of cinema - how films are processed in our brains and how they affect us at that level. Mullighan took up the conversation with Edinburgh neuroscientists and found them very interested, whilst the Wellcome Trust were also keen to come on board, and the project expanded from there "into its own little sub-festival".
Eye For Film can now reveal that the keynote lecture at the centre of science strand will be delivered by neuropsychologist and writer Paul Broks, author of Into The Silent Land, in the debating chamber of the Teviot on June 22. Broks may not be a big name in the film industry but he's a widely respected scientist with a reputation for being entertaining, so this should provide something a bit different for festival attendees.
In the light of all this innovative work, how does Mullighan feel about the rough ride he's had from some sections of the press? He's philosophical about it. "We knew before we stated that it would be a bumpy ride because we know how much people love the festival," he says. "We also know that if everything's going smoothly, well, that's just not a news story." The public reaction, however, seems to be good. "Some things are selling very well indeed. We've already had to move Perfect Sense from the Cameo to the Edinburgh Festival Theatre because of the level of interest." That's a level of interest likely to rise still further now that star Ewan McGregor has confirmed his attendance.
"I would hope that the things that look different about this festival have not caused alarm," Mullighan concludes, "and if they have, fear not! We have 60 new feature films to enjoy. We hope that people will join us on our journey to explore the nooks and crannies of our culture in this festival."
Eye For Film will be bringing you full coverage of the festival as always and you can also enjoy the contributions of our writer Andrew Grant to the festival's own blog, Cinephilia, part of a related conference looking at film and the media. " What excites me about Project: New Cinephilia is that it allows us to discuss something we all share - a love and passion for cinema," says Grant. "The five of us involved come from quite different backgrounds, which has made for a thought provoking discussion. The Internet has no doubt had a tremendous impact on what it means to be a cinephile, and though there's no way we can address all that goes with it, I'm hoping we at least serve up some food for thought."
Share this with others on...