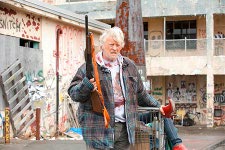 Hobo With A Shotgun
It's an hour before the first film, and already there's a queue of hardcore horror fans snaking out the door of the GFT, everyone good-naturedly jostling in order to get their pick of the seats. As with many events of this kind, Frightfest is the sort of gathering where you can strike up a conversation with anyone around you and be assured they will be at least as excitably geeky and eager to share opinion. For this year's festival - the biggest so far in Glasgow - it seems universally agreed that the boys have come up with a very promising and varied lineup. There's everything from a wacked-out monster movie starring a telekinetic tyre, to a played-straight take on a forgotten Troma classic (thankfully the only remake on offer), climaxing with the nouveau grindhouse thrills of a certain Hobo With A Shotgun.
All this and more awaits the baying crowd on Saturday, but the Friday night represented a very respectable aperitif. The organisers seemed genuinely chuffed with the programme they'd put together, and went out their way to pay appreciation to their audience, even soliciting a round of applause for those fans who had travelled from furthest afield (in this case, a gentleman from Germany and a lady from Canada!). With guests mingling with the audience and more than happy to blether away, the communal spirit and genial atmosphere was, as ever, an important part of the experience. But sooner or later the lights have to fade, and the FrightFest crowd were as respectful as ever as everyone settled down for Little Deaths, a very modern take on the British anthology flick.
The first story - Heart And Home - concerned an affluent couple with an unhealthy interest in the homeless; Mutant Tool dealt with an experimental drug farmed from a less-than-savoury source; finally, Bitch chronicled the disintegration of a sado-masochistic relationship which gave new and disturbingly literal meaning to the term 'in the doghouse'. The films were directed by a trio of Brits (Sean Hogan, Andrew Parkinson and Simon Rumley repsectively) whose work to date has achieved a degree of underground popularity, and these new creations will do their reputation no harm whatsoever. Each film boasts strong acting and well-written dramatic scenes, and a very polished look that belies what must have been very tight budgets. They each also play their cards close to their chest before springing game-changing surprises that leave a refreshing amount to the audience's imagination. Oblique back-stories are subtly hinted at but the films never resort to heavy-handed exposition, their queasy intermingling of sex and suffering leaving the viewer with plenty to chew on in their aftermath. As British horror goes, this was a pleasant surprise, leavening its occasionally ridiculous subject matter with some well-played humour and adopting the cruel sense of poetic justice that characterized the old EC Comics that kicked off this genre.
The Q&A session with the directors and a few of the actors shed some light on what they hoped to achieve with the project, and also gave the audience some insight into how the actors coped with the troubling subject matter, as well as the effect it might have on their careers! Questions from the crowd were rewarded with copies of recent Giallo sensation Amer; the FrightFest guys are nothing but generous, and the audience of course ever grateful.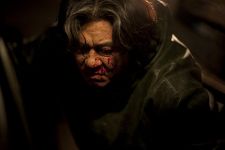 Next up was heavily-hyped Korean revenge opus I Saw The Devil, starring Oldboy himself Min-sik Choi as a ruthless serial killer being persecuted by Byung-hun Lee's agent with a grudge. The film is expertly shot, with many scenes which provoke abject disgust while still forcing the viewer to admire the craftsmanship on display. The film is tense and brutal in its early and latter stages, but for most of its duration it settles into a frustrating groove, maddeningly clinging on to the 'cat and mouse' concept till it's all but drained of its appeal. It also throws some absurd humour into the mix which occasionally works well but is hard to stomach amidst such sadistic violence, throwing the whole experience off-balance when it so closely follows acts of rape and torture, most often against women. The FrightFest tradition of audience members clapping and cheering at particularly gruesome moments was upheld here, but it perhaps wasn't appropriate for a film like this.
As the film progresses, the line becomes blurred between hunter and hunted, justice and implication. The agent, so clinical and almost super-humanly capable in most regards, makes several decisions that beggar belief, allowing his quarry to continue his rampage just so that he is lulled into a false sense of security. While this presents a juicy moral quandary for the audience, it makes the characters hard to care for, and at two and a half hours, the film's eventual return to emotion comes off as an afterthought. Several secondary characters are given such short shrift it's impossible to view them as more than mere pawns in this twisted game; to some extent that's all they're meant to be, but the game itself becomes so repetitive and infuriating that its resolution amounts to too little, too late. The film is still worth a watch for its unpredictable approach to several well-worn genres, but it doesn't quite come together the way it perhaps could have.
Machete Maidens Unleashed! rounded out the night in style, offering an enthusiastic overview of the explosion in exploitation film-making that Filipino culture made possible between the Sixties and Eighties. The makers of the warm and enlightening Not Quite Hollywood work a similar kind of magic with their chosen subject here, the array of talking heads keen to share their experience of a unique period of history in genre film-making. It's great to see such cult faves as Sid Haig and R Lee Ermey, and a whole host of sadly forgotten babes are more than happy to serve up their memories, as well as their feelings looking back on it all now. While the frenetic editing between speakers could give viewers with short attention spans whiplash, the contributions are always worthwhile and surprisingly balanced.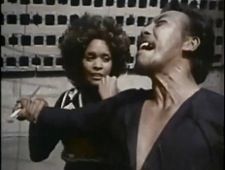 This isn't just rose-tinted recounting for the sake of nostalgia; the film admirably delves into the social and political climate that made these grindhouse classics possible. The role of the infamous Marcos family in the industry is investigated, with some harrowing allegations and revelations that show the whole enterprise wasn't just Yankee fun in the jungle. The importance of women and race in these films is also contested, with some of the participants seeing the movement as ground-breaking and liberating to an extent, while detractors (such as John Landis, not one to mince his words) debunk the artistic and intellectual merit that has been retrospectively attributed to many of the individual movies.
While at some points the breakneck pace of clips can make it feel like you're watching a trailer reel, if the film doesn't make you hungry for a taste of these debauched delicacies then you should probably seek a sense-of-humour transplant. There's everything from papier-mache monsters to whole films built around women in cages, while kung fu masters of every size, sex and colour fight for the audience's affections with all-girl jungle revolutionaries. Director Mark Hartley examines films in chronological order of the director responsible, giving each ouevre equal respect and exposure. What becomes clear is that the film-makers - especially those of Filipino origin - weren't just churnin' 'em out to make a cheap buck (although that certainly figured in their priorities), they were also trying to put as much love and care into them as their budgets and resources allowed, in an honourable bid to reach and entertain as wide an audience as possible. There's a sense of optimism and even innocence amidst their shameless devil-may-care antics.
While the documentary doesn't shy away from some of the more unscrupulous practices - local stuntmen were worked until they were hospitalized, and the local military was called away from its rebel-incinerating day-job for some cheap shots of machinery that made the films look more expensive than they could ever hope to be - it works as a love letter to a period where all bets were off and anything could happen. Everyone from Roger Corman to Francis Ford Coppola is shown to have benefited greatly from that unique Filipino hospitality, and generations of viewers will hopefully find they can too if they give this hugely enjoyable documentary and the films it lovingly chronicles a chance. My Amazon shopping basket has just got a whole lot bigger anyway.
Life imitated art at several points in the evening, with one considerate fan scuttling rat-like to the toilet on their hands and knees so as not to disturb their fellow viewers, and a zombie-like horde later descending upon the stage to greedily scoop up posters as if they were freshly disemboweled internal organs (and no, I'm not ashamed to admit I was at the head of the pack). While some of the crowd dissipated as the night drew towards its close, I'm sure everyone will be ravenous for more by Saturday lunch-time, and I doubt there will be anyone whose appetite for blood and gore hasn't been satiated come the final curtain call.
Share this with others on...