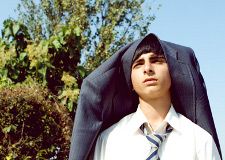 Aqib in West Is West
West Is West is released in cinemas this week and tells the follow-up story to hit Nineties film East Is East. The sequel sees Om Puri reprise his role as George, a Pakistani immigrant who has married a white woman from Salford. Fearing that his youngest son Sajid is getting up to no good, he whisks him away to Pakistan in a bid to teach him about his roots, with some unexpected consequences. Although the film has a strong heritage, it marks a first for both director Andy DeEmmoney and his young star Aqib Khan.
DeEmmony has a long history in television work, from series like Father Ted to Cutting It, but this is the first time he has helmed a feature film. He admits that the idea of directing the sequel to such a well-loved film was "a bit daunting", but says that the storyline drew him in.
"When I read the script, I loved it," he said. "I had to do it."
It's also the first role for young star Aqib, who plays George's son Sajid in the film. He says he felt a certain kinship with his onscreen character.
"As a British Asian boy you would do," says the 16-year-old. "Living in a household absorbing different cultures while living in Britain. You see that as your background, while family members try to bring in family roots, which is quite difficult for some. I found it quite easy, but there are drawbacks and I try to put those into my performance."
Initially, the production company had hoped to shoot the film in Pakistan, but volatility in the country made it impossible.
"It was not long after the Mumbai attack so it was all quite tricky," said Andy.
"We did try to but unfortunately you can't get an insurance bond. At one point we came close to doing hostile territory training at the BBC to be able to go there but it was too tricky. In the end, it was set in the Punjab so we were still shooting in the Punjab, which was split in partition. So I think it has an authentic ring."
The director says that, while those who had worked together on the first film were like a welcoming family, getting used to the Indian way of working did take some adjustment.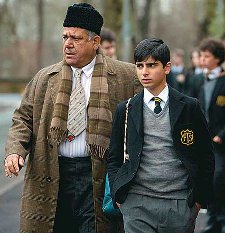 It's just a very different approach to the UK," They make great films and the industry's there but it's a lot more fluid. Here we're used to really tightly scheduled moments and there it's initially chaotic. You've just got to take what comes on the day and who's there and who's not. Once you give into that and go with, it brings about a lot of great moments but there is an adjustment from our normal rigour of filmmaking in this country. I quite liked it in the end."
One thing he might not like is the 15 certificate that the film has been given. Although it has plenty that would appeal to younger audiences in terms of subject matter, there is a healthy (or, the more prurient might say unhealthy) amount of swearing in it. But he says it was important to retain the language.
"We did a lot of debate on it but it felt like you would be castrating the voice of the film somehow," he says "I grew up in that Salford world and there was a truth there that I think that if we'd sanitised it wouldn't have had the same feel. That might bite us at some stage but it felt like the right way."
One thing that we would have liked sanitised, however, is some of the sets in India, where it seems the bovine extras had a habit of leaving the cast and crew some rather unwelcome gifts.
"Cow shit is probably the biggest difficulty we had - it seemed to be everywhere. We had a scene in a small pond with cow shit floating up wherever you trod. It was pretty gross and Aqib had to fall in it."
Aqib seems to have taken it all in his stride, however, and is now hoping more film roles will come his way. Would he like to work in Hollywood?
"Who wouldn't?" he asks. Before adding that, in that regard, they have "yet to find the phone."
On the strength of this performance, he's definitely a young name to look out for.
West Is West is on general release across the UK now.
Share this with others on...