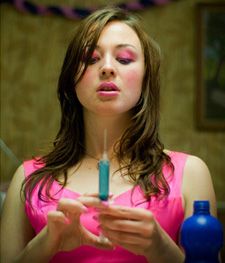 Robin McLeavy as Lola
Sean Byrne's debut feature The Loved Ones is a genre-bending horror that mixes the adolescent tropes of a John-Hughes style teen movie with some altogether more grisly fare. The film, which screened at FrightFest last month and is now out to own on Optimum Releasing DVD, tells the story of Lola, a teenager whose father will go to any lengths to get her the perfect date, even if he has to kidnap the boy of her dreams. We caught up with lead actress Robin McLeavy, to talk about putting the pain into a prom date.
Can you describe Lola, your character in The Loved Ones? Wow, OK… Lola is an outsider, she's a lonely character when you first meet her. And as you quickly find out she's just looking for the boy of her dreams, although she does it in a quite psychologically crazy way. With her Dad she kidnaps the boy who turned her down for the prom and then tortures him. Was it hard to play someone so disturbed?
In that way it was quite hard to play her, but you can't come from a place of judgement. People were laughing and joking on set about what was going on in the movie and in her head, and I felt all protective of her. I kept saying, "Stop mocking her!". She's misunderstood.
But it was an amazing opportunity to play a character with such a bizarre journey. I tried to focus on the creative expression of the character, rather than her disturbances. I wanted to make it a kind of 'magic show', find an imaginative angle.
Did you find it could take its toll; was it easy to leave it behind?
Yeah, it kind of did take its toll. I actually developed a twitch in my eye, after a while. That and her journey did turn into a bit of an obsession.
It's a kind of role you have to get your teeth into, did you do a lot of research to get it right?
Well, my big inspiration was Kathy Bates in Misery. I watched that movie a fair few times. I also read a book for the movie – The Man That Mistook His Wife For A Hat. It's written by this neurologist, Oliver Sacks. It's incredibly disturbing, but it's kind of beautiful in a way. He doesn't see his patients as weird and disturbing things, and that was an inspiration definitely. Aside from that, I know that the director Sean Byrne did a lot of research into serial killers. He mentions Jeffrey Dahmer in interviews a lot, actually.
Are you a horror movie fan?
You know actually I'm not a horror movie fan at all. I'm a huge wimp. Before this they really, really scared me. The movie was quite a difficult process to what I was used to – I come from a theatre background, originally. I actually plan to go to a few plays when I'm here in London. But yeah, I kind of feel this experience has cured me of my fear of horror movies. I know too much about what they are and how they work now.
What's next for you?
Well, the movie is released in Australia on the October 28. I'm going to do some national publicity for that. Between now and then I'm going to spend some time in Australia and then in LA. I've got to spend some time there now. But I love London – I want to come back here. I love the theatre.
The Loved Ones is out on Optimum Releasing DVD now.
Share this with others on...