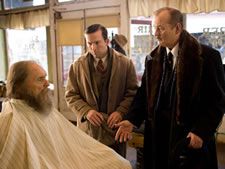 Duvall, Black and Murray in Get Low
If the skies over San Sebastian were leaden again this morning, director Juan Jose Campanella was like a ray of sunshine. The Secret In Their Eyes helmer - who thanks to years of living in New York's Greenwich Village speaks perfect English - is an entertaining and open interviewee.
We manage to cram a fair amount into our 10-minute slot, including his "obsession" with old age - "intrigue isn't strong enough a word," he tells me; his love of mixing humour with more dramatic storylines; and the fact that, despite seeming to only make Spanish-language films, he has three US projects stuck in the development limbo.
While waiting for my second interview of the morning, I fall into conversation with an English scriptwriter who is living in Madrid. I mention I'm going to see The Scouting Book For Boys this afternoon and it leads to an interesting anecdote.
Turns out, he was walking home along the beach at 3am last night after a party, and - against all the odds, considering the inclement weather yesterday - he spots a couple of people out in the sea. He also spots the fact that the tide is coming in and their clothes are about to get soaked, so he goes to shift them further up the beach. The bathing pair see him and wade back in... and it turns out to be The Scouting Book For Boys' Holliday Granger and Thomas Turgoose. They insist he joins them for a dip, saying that compared to shooting scenes in the sea off Norfolk in October, the sea here is positively temperate.
Next, I speak about This Is Love with director Matthias Glasner, whose film contains the heavy-duty themes of paedophilia and human trafficking. When I ask him why he thinks he is drawn to dark subject matter - his previous film Der Freie Wille concerned rape - he laughs and says: "I don't know, ask my mother," adding: "I'm always asked this question and most of the time I invent some silly answer..." How he came up with the idea aside, however, he says that both the storylines in the film - one concerning a drunken police officer whose husband has vanished and the other focussing on a man's not entirely healthy relationship with a child he rescued from traffickers - are concerned with the same theme: "How love can destroy your mind. How much it can destroy you and make you into a monster."
The theme may be dark, but Glasner took great care in shooting the film with regards to his young actress Duyen Pham - 11 at the time This Is Love was made. "A lot of thinking went into that. It was important for me to find a young girl who is able to do this as an actress. The difference is, you don't tell her, 'how do you feel?' or 'please try to be sad now' or 'please seduce this man' because if you do that then you really do something that is not something that is healthy for the child. I needed to find someone who could 'act' it. I would ask her 'what would Jenjira [the girl's character] do now?' We were always talking about 'Jenjira'. She and her family have yet to see the film, since it was only completed two weeks ago, but Glasner says they'll be watching it in the near future. He also tells me that the line I liked about alcohol and reality comes from poet Charles Bukowski. We'll bring you some more of that interview when I get a minute to transcribe it.
Time is definitely at a premium here, so I quickly legged it from the interview to the showing of The Scouting Book For Boys - award-winning short filmmaker Tom Harper's feature debut. It telss the story of two teenagers who live on a Norfolk campsite and are inseparable. But it seems Emily (Grainger) is keeping a secret even from David (Turgoose) and when she runs away from home and reveals it to him their situation begins to spiral out of control. Early scenes have an upbeat energy about them and the script - written by Skins scribe Jack Thorne - is sharply delivered by the two young leads, but as the plot heads into much darker territory, the characters' actions suffer from a lack of believability. That said, for a feature debut, there's plenty of promise here.
Also suffering from a slide into melodrama towards the end is Bong Joon-ho's Mother. Motherhood is one of the key themes at the festival each year and here we get to view it at its most twisted and obssessive, as the mum of a educationally subnormal young man attempts to clear her son's name after he is steamrollered into confessing to a murder.
Initially laced with comedy, the tonal shift to more menacing waters requires a leap from the audience. It is worth a look despite this, particularly for the cracking central performance by Kim Hye-ja, who, I gather, is playing against her usual 'type'as far as Korean cinemagoers are concerned.
Endings seem to be the problem for all the films today - although Get Low, my final movie, is by far the most accomplished and enjoyable I've seen today, its denoument suffers from being rather too predictable and a little schmaltzy. However, these are minor cracks on the surface of what is a fine looking, entertaining and beautifully acted fable. Robert Duvall stars as the curmudgeonly Felix, a hermit who has lived so long on his own that no end of myths have sprung up about him. Fearing he is reaching the end of his life, he decides to throw his own funeral party in an attempt to lay to rest the ghosts of the past.
This would be worth seeing for Duvall's performance alone, but it also features some fantastic support from Sissy Spacek, Bill Murray and Lucas Black, whose character is reminiscent of a grown up version of American Gothic's Caleb Temple.
Share this with others on...